Experience 40 Years of Visual Art with PhotoEspaña
Use your holiday in Spain to experience the splendour of over four decades of brilliant visual art with a visit to PhotoEspaña's Asombrosas Afinidades exhibition in Cuenca this summer. Works by nearly 80 international artists, go on display from the 6th to the 27th of August in this iconic city.
Take your visit to the next level by staying at Paradores' luxury and historic hotel's convent-turned-hotel overlooking the dramatic Huécar Gorge. Parador Cuenca is an idyllic retreat with the best views of the famous Hanging Houses.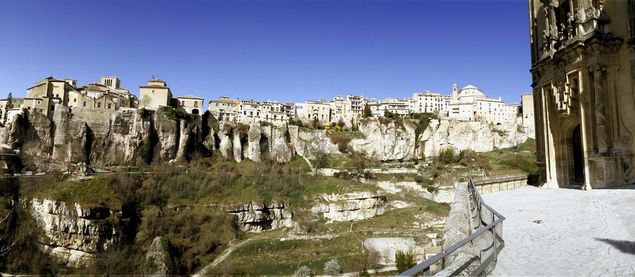 The view of Cuenca from the Parador
The finest photographs
The greatest works by some of the most noted photographic geniuses of our generation come together in Cuenca via the Casa Zavala / Antonio Saura Foundation's PhotoEspaña 2014 exhibition, Asombrosas Afinidades (Amazing Affinities), a selection which features works from Toulouse's Château d'Eau collection.
Held between the 6th and 27th of August, the exhibition provides a unique experience to view four decades of visual art as captured by world class photographers like Robert Doisneau, Walker Evans and Paolo Roversi. The works have been selected from the 4,000 photographs comprising the Château d'Eau's collection, one of France's most important depositories, and are exhibited as part of PhotoEspaña, the international photography festival that strives to expose the general public to the work of the most respected national and international visual artists, as well as works by the sector's youngest prodigies.
While here, visitors can also drop by the Antonio Saura Foundation's general collection, chronicling the works of the renowned Spanish artist and writer, one of the country's most important post-war painters. The visit also provides an excellent opportunity to get to know the Foundation's home, Casa Zavala, one of Cuenca's most iconic 18th century palaces, located in the city's Old Quarter.
An ideal escape
No visit to Cuenca is complete without a stay at its Parador, a beautiful 16th century San Pablo convent atop the Huécar Gorge, with unrivalled views of the Hanging Houses and the San Pablo Bridge.
This delightful spot features a café located in the glass-enclosed cloister, a spectacular swimming pool, and a terrace perfectly suited for a meal under the stars. Enjoy classics like zarajos (grilled lamb intestines) with a local tinto or resolí and wrap up with tocinillo del cielo (caramel custard) with gin tonic gelatine.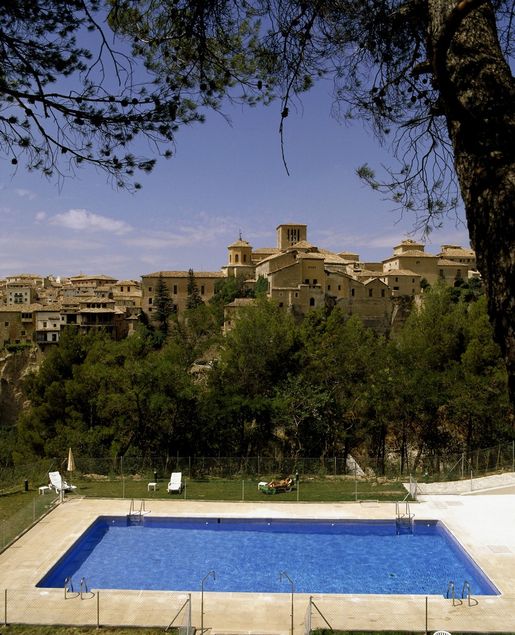 The Parador's swimming pool
Eager to take in the best of Cuenca? Contact the Parador today!