A Pilgrim's Treat at Parador Santiago de Compostela
One of Paradores' luxury and historic hotels' most famous locations is Parador Santiago de Compostela, the former Royal Hospital that has presided over the city's Plaza del Obradoiro since 1499. Over the course of centuries, this iconic hotel has witnessed the arrival of countless pilgrims that conclude their long journey on the Way of Saint James, triumphantly entering Santiago de Compostela's famous cathedral, the route's end-point.
Just as it has done since time immemorial, the Parador continues to keep up the habit of offering a free meal to the first ten pilgrims to arrive at the hotel each day, extending the hospitality that has been linked to its history over time. Regardless of whether you're a weary pilgrim or simply a traveller who demands excellent accommodation, Parador Santiago de Compostela is the perfect spot at which to enjoy a unique holiday in Spain.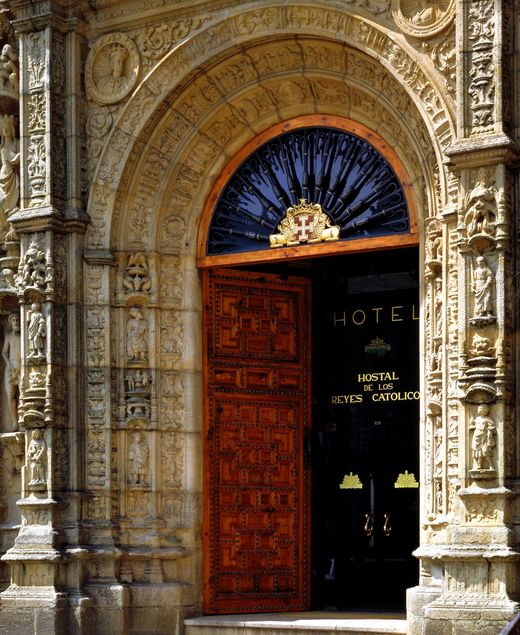 The entrance to Parador Santiago de Compostela
A time-honoured tradition
Parador Santiago de Compostela was originally established in 1499 as a royal hospital with the select mission of attending to the pilgrims that came to the Galician capital via the Way of Saint James pilgrimage. Today, it continues to honour that commitment to the welfare of those eager enough to complete the long journey by offering food to the first ten pilgrims that arrive at the Parador each day.
Those pilgrims that reach the Cathedral and acquire the accreditation certifying their completion of the Way are welcome to come to the Parador and solicit a free meal. Ten breakfasts, ten lunches and ten dinners will be served free of charge within the Parador's luxurious setting to the first ten pilgrims who ask for the meal each day.
Enxebre Tavern at Parador Santiago de Compostela
Imagine the relief they feel after so many days of traversing so many miles, what a reward to enjoy the Parador's special pilgrim's menu after such an epic journey!
Present your compostela
In order to take advantage of this special offer, pilgrims must present documentation accrediting their journey, such as a pilgrim's passport, as well as their compostela, the certificate issued by Santiago's Pilgrims Office to those who have completed the route by walking a minimum of 100 kilometres or cycling at least 200 kilometres.
As a gesture of solidarity, each meal sitting priority is given to those who have not been fed by the Parador in earlier services.
Intrigued by the wonder of the Way of Saint James and curious to enjoy this historic hotel first-hand? Contact Parador Santiago de Compostela today!