Take Off on a Hot Air Balloon Adventure!
Imagine soaring above some of Spain's most spectacular landscapes, taken in from a thrilling hot air balloon! With Paradores' luxury and historic hotels this fantasy is a reality via the balloon rides now offered at Parador Cervera de Pisuerga, the charming mountain lodge located in the heart of Castile-León.
Your holiday in Spain will make you feel like you're on top of the world as you gaze at the Las Tuerces natural enclave, with stunning mountain ranges in the distance, and an infinite number of breath-taking rock formations below.
Up, up and away!
The Las Tuerces natural enclave is a unique space shaped by otherworldly rock formations near Palencia. Great stone mushrooms, bridges and arcs seem to sprout out of this landscape, which has been recognized as a Place of Cultural Interest. Parador Cervera de Pisuerga invites you to explore this amazing area from a completely different point of view, within a graceful air balloon.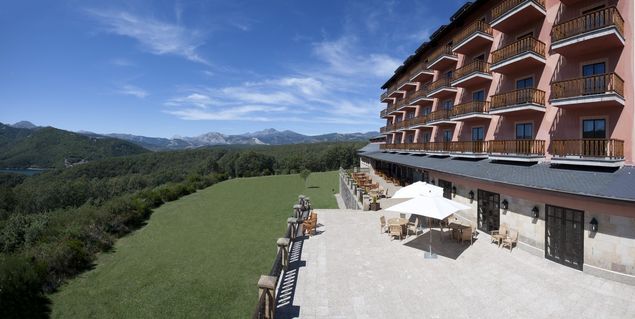 The stunning landscapes by Parador Cervera de Pisuerga
Organized by the Flying Circus Company, you along with your friends and family will be able to explore this stunning region from above, discovering its curious intricacies over the course of an hour. Take-off is at sunrise, so you will not only be treated to the spectacular views of the immediate surroundings, but also that of the overwhelming splendour of Castile-León at dawn.
A rustic escape
Located in the Fuentes Carriones Nature Reserve, Parador Cervera de Pisuerga highlights the best of rural Castile-León. A peaceful refuge, the hotel is an excellent spot from which to explore the surrounding woods or relax with views of the Picos de Europa mountain range. Crisp mountain air and nature trails ensure good hiking, while the youngest guests will no doubt enjoy a visit to the nearby El Robledal del Oso Adventure Park, which features play trails for the entire family.
In the evening make sure that you head back to the Parador for some hearty Castilian cuisine. Suckling lamb roasted in a wood-burning oven and sopa castellana (Castilian-style bread and garlic soup) are two local classics that are sure to reinvigorate you after a long day of strolling, while Golden Reinette apple tart and Camporredondo truffles are the perfect way to conclude the day on a sweet note.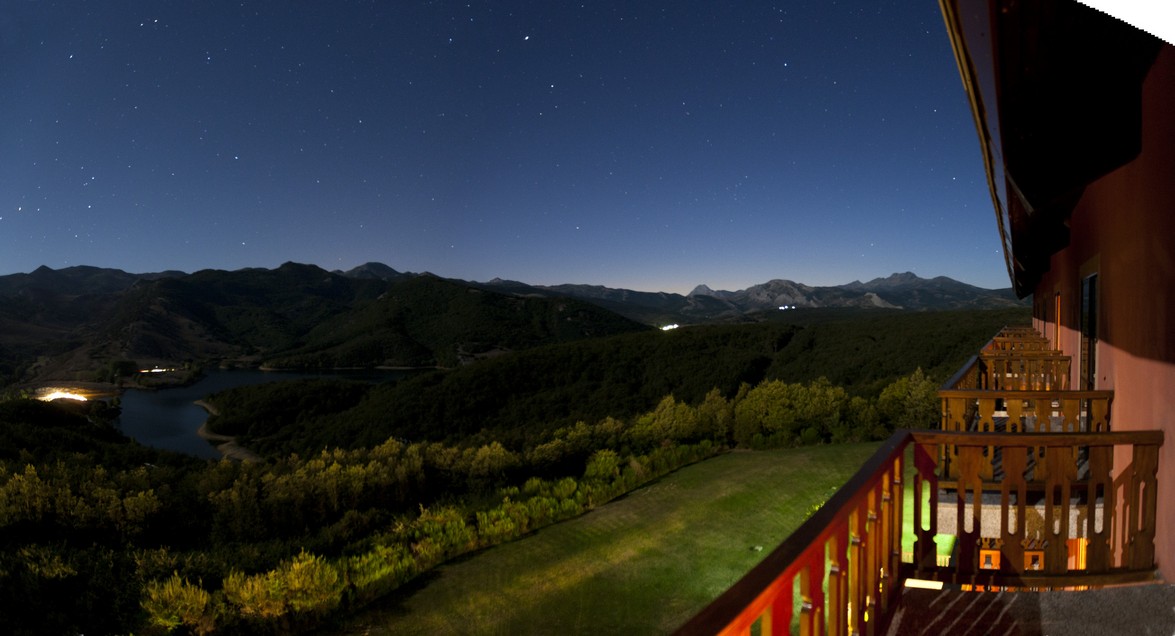 The view at night from Parador Cervera de Pisuerga
Ready to take off? Contact Parador Cervera de Pisuerga today!