Don't Miss El Greco: Arte y Oficio
Over the past year thousands have travelled to Toledo, Spain in order to experience the events being held to commemorate the 400 year anniversary of the death of legendary artist Doménikos Theotokópoulos, better known as El Greco. Paradores' luxury and historic hotels invites you to come to the Imperial City and visit 'El Greco: Arte y Oficio' ('El Greco: Painter & Master'), the anniversary year's final exhibition, which gathers some of the artist's finest works in a single location for the very first time.
400 year death anniversary of El Greco
Compare different versions of his most seminal paintings and analyse the inner workings of this Renaissance master's workshop, all in the city that made him famous. Your holiday in Spain is sure to take on special meaning after a visit to this incredible, once in a lifetime celebration of an artistic genius.
Above all things, a master
The 'El Greco: Painter & Master' exhibition focuses on the artistic technique of the great Cretan artist, who lived in Toledo between 1570 and his death in 1614. A revolutionary force in late sixteenth century art, El Greco's use of colour, expressiveness and morphed shapes had a definitive impact on later generations of artists, including Édouard Manet, Paul Cézanne and Pablo Picasso.
The exhibition, which is on display at the Santa Cruz Museum from the 9th of September until the 9th of December, narrates the creation of his workshop and the work carried out by his numerous assistants, all through specific examples highlighted within his greatest masterpieces.
Amongst the works featured are the Prado Museum's Baptism of Christ, the Metropolitan Museum of Art's Christ carrying the cross and the Art Institute of Chicago's Feast in the house of Simon.
A privileged view
After your visit to the 'El Greco: Painter & Master' exhibition, continue the visual splendour with a stay at Parador Toledo. With unrivalled views of the iconic skyline, you'll be able to immerse yourself fully in this UNESCO World Heritage City as you relax in your room or take a dip in the swimming pool.
Use this as your base to explore the Santa Teresa Quarter or stroll the banks of the Tagus River, but head back to the Parador's restaurant in the evenings for a traditional meal of perdiz a la toledana (partridge braised in wine), pisto manchego (La Mancha-style ratatouille) and ponche toledano (sponge cake topped with marzipan).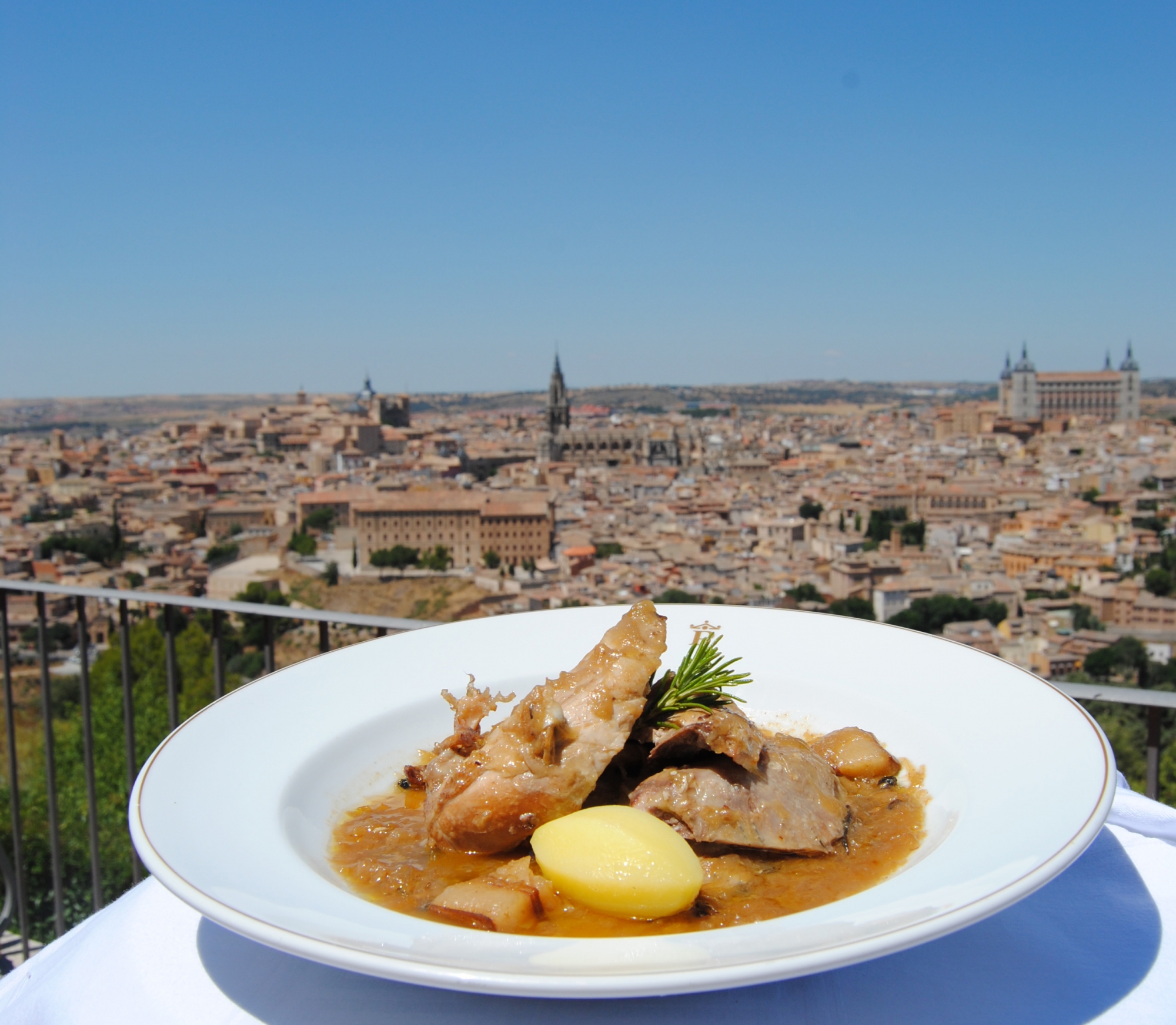 Partridge braised in wine at Parador Toledo
Ready to discover El Greco's genius? Contact Parador Toledo today!