From the 6th to the 15th of July, the whole world looks to Pamplona, where runners face their fears and sprint down twisting city streets as they are pursued by bulls. Made famous by Ernest Hemingway, the San Fermin festival is one of the country's most iconic, a full week of nonstop revelry in the capital of Navarre.
Take in the thrills of this incredible party in style with Paradores' luxury and historic hotels, which offer their stunning location in Olite as your base during San Fermines. Just 20 minutes from Pamplona, Parador Olite is located within a stunning medieval castle. Royal lodgings and an epic festival: the perfect recipe for an unforgettable holiday in Spain.
Parador Olite, the medieval castle
¡Viva San Fermin!
Although the San Fermin festival was made globally famous by Ernest Hemingway, it has been celebrated since time immemorial, held in honour of Saint Fermin, the co-patron saint of Navarre. The most iconic part of the celebration is the encierro, or running of the bulls, which takes place each morning between the 7th and the 15th of July. The encierro features hundreds of runners that dodge bulls as they barrel down the narrow streets, thrilling participants and spectators alike.
Aside from this daily event, however, the festival is defined by the non-stop revelry that consumes this otherwise sleepy provincial capital over the course of the week. Gigantes y cabezudos, papier-mâché giants and people wearing caricature masks, parade down the streets while exhibition sport and dancing events are held in all of the plazas. Spain's finest bullfighters participate in the afternoon bullfight, while each evening an international fireworks competition takes place. Throughout the celebrations, attendees keep energized with local chorizo, vino tinto (red wine)and the regional spirit of choice, patxarán.
Royal lodgings
Staying in Pamplona during the San Fermin festival can be a bit stressful. With an average of over one million attendees, the city is very much at capacity. A perfect alternative is to lodge at Parador Olite, located just 20 minutes from the Navarrese capital, and set within the majestic Palace-Castle of Olite, a national monument.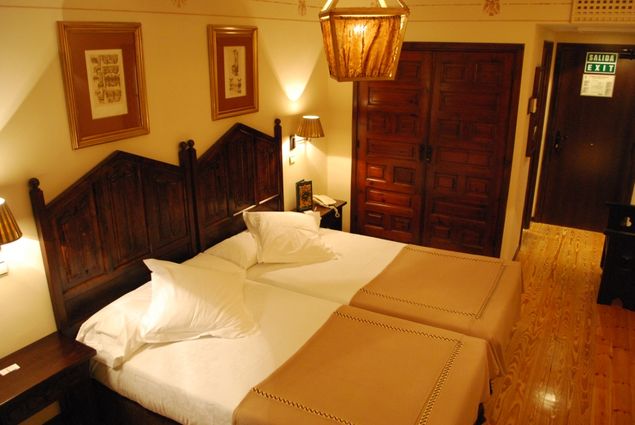 A room at Parador Olite
Once the home of the Kingdom of Navarre's royal court, its stained glass windows, grand stone arches and elegant medieval features define this hotel, where you will surely sleep like a king and wake up ready to take on the San Fermin festival with full force.
Ready to run with the bulls? Contact Parador Olite today!