Say 'I do' at the Foothills of an Island Peak
When the time comes to say "I do", everyone wants a wedding that is so unique it will stay in the minds of both the guests and the lucky couple for decades to come. Imagine celebrating your own special day at the foothills of one of the world's highest volcanoes?
Paradores' luxury and historic hotels is the setting for this one of a kind romantic escapade, recently carried out by a happy pair that decided to combine the very best of a Canary Islands holiday in Spain with the unique thrills of a wedding celebration. The visual splendour of the landscape at Parador Las Cañadas del Teide was the perfect background for the ceremony that was undoubtedly an affair to remember!
A natural wonder
Set at the base of Tenerife's Mount Teide, Spain's highest peak and the world's third highest volcano, and within the Teide National Park, Parador Las Cañadas del Teide is an elegant mountain lodge located in an unrivalled spot, offering panoramic views of the peak, the Çhaorra caldera and the Montaña Blanca (White Mountain).
With Tenerife's year-round temperate weather, the Parador was a natural choice to celebrate this outdoor ceremony, which gathered over 200 guests. It was decorated by D-Bodas.com and had a dessert buffet catered by Freeheart.
The outdoor ceremony
The wedding party reserved the entire Parador for the event and arrived the day before the formal exchange of vows in order to hold a memorable rehearsal dinner, followed by a stargazing session. As a special gesture to the happy couple, the Parador prepared an astral chart for them commemorating the occasion.
An event to remember
Guests were welcomed to the ceremony with glasses of lemonade prepared in accordance with the bride's aunt's special recipe, a refreshing treat prior to the actual event, which took place facing the beautiful mountain.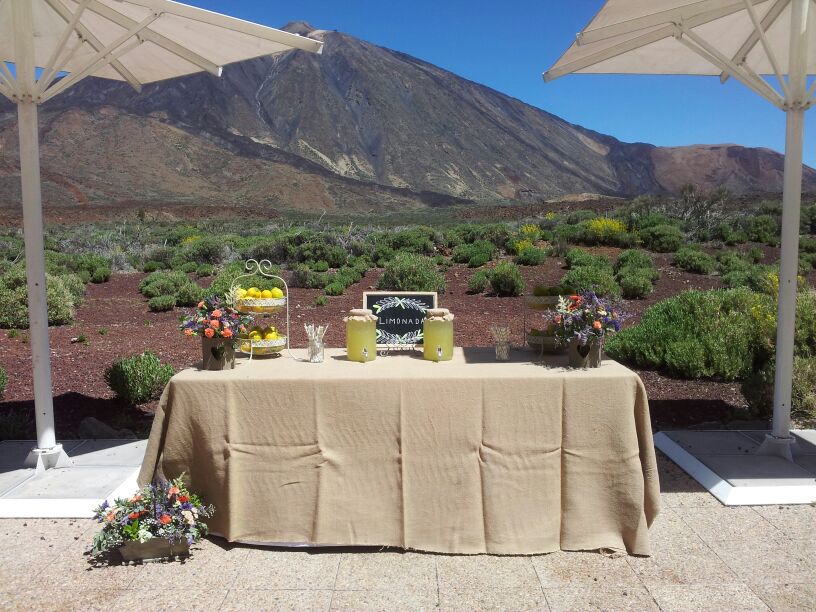 Fresh lemonade for the guests
After the formalities, a cocktail-style meal was held, with a special menu prepared in order to attend to the needs of the many vegan guests amongst the wedding party. There was a special vegetarian station with different crudités with hummus, tabouleh salad made with quinoa, local arroz bomba (rice) with vegetables and tofu burgers.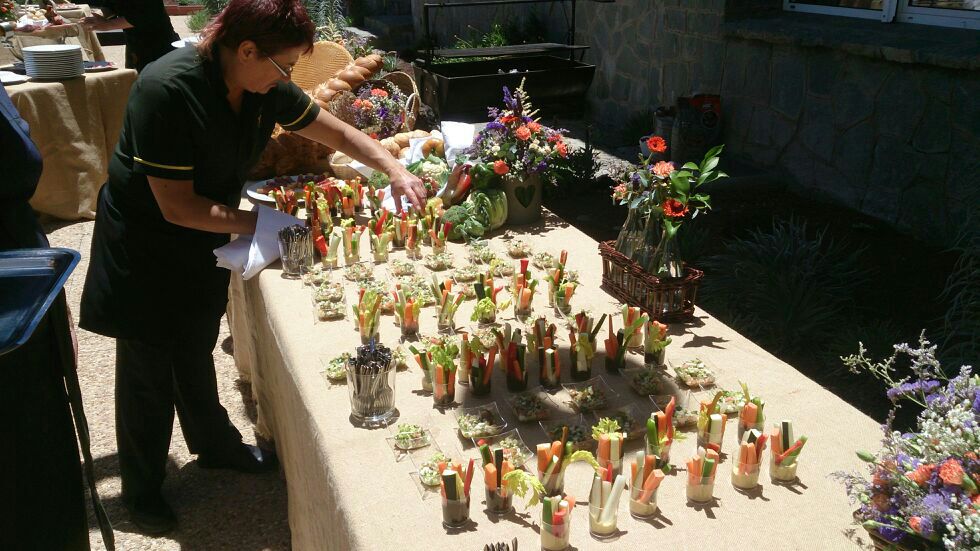 The vegetarian station
Paradores hotels make sure that they cater for their guests' every need on the most important day of their lives. Intrigued by this unique Canary Island wedding? Contact Parador Las Cañadas del Teide to plan your own today!