Home-made rustic bread, by Damián Partido (Chef at the Parador de Antequera)
A tireless researcher on what our Iberian ancestors used to eat, José Damián Partido, chef at the Parador de Antequera, challenges you to get your hands dirty and cook a staple food of our diet: home-made bread.
During these days of confinement, Damián bakes with his kids some gorgeous and appealing loafs of bread with a crunchy crust and a light crumb in the oven of his kitchen. This is an idea that will prevent all lovers of daily bread from leaving their homes to get their supplies. It is much easier than you may think and you will be surprised by the result. Get on with it!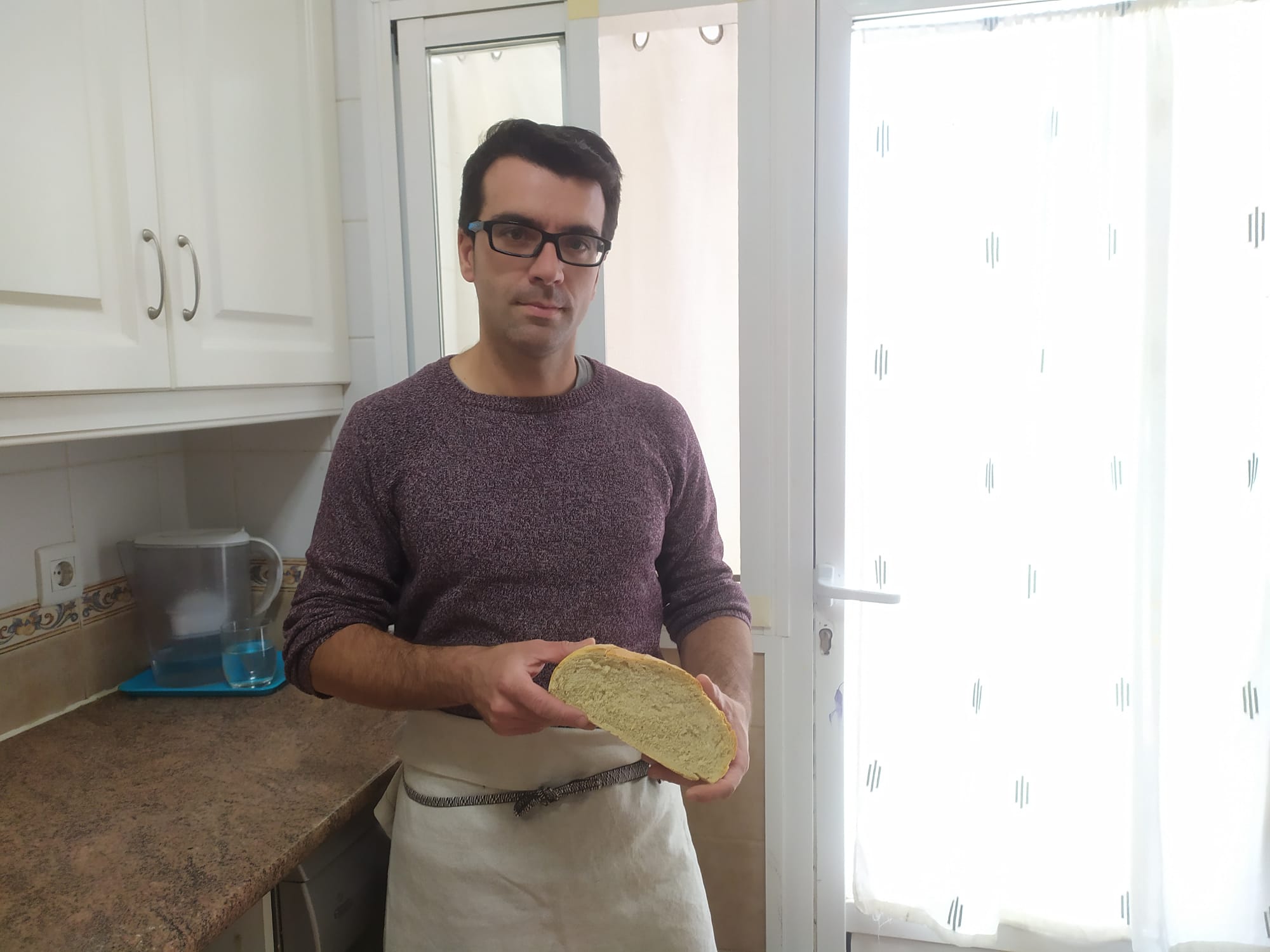 Ingredients for 1 kg of bread

• Medium strength flour (ordinary flour) 400 gr
• Bio spelt flour 100 gr
• Bio barley flour 100 gr
• Table salt 12 gr
• Water 260 ml
• Fresh yeast 22 gr
• 75 gr of liquid sour dough. We should have prepared it the day before with 100 gr whole flour + 100 gr water + 5 gr yeast. Mix everything together and leave it the entire night at room temperature. In the morning, remove half of the mix and add more flour and water. Leave it to ferment for a couple of hours before using it.

Method:
Mix both types of flour, the salt and the water in a bowl and let it rest for one hour.
Then, add the rest of the ingredients and knead by hand or with a mixer until you obtain a fine and elastic dough (the temperature at the end of the kneading should be around 26ºC).
Let the dough rest covered in a cool place for 1 hour. After this time, knead it one more time and let it rest again for 30 minutes.
Next, knead the dough again and shape it forming one piece. Leave a little peak facing down or fold the dough on itself with the peak facing up (as in a rustic bread) on a floured baking tray and leave it to ferment for 45 minutes, until its volume doubles.
Meanwhile, preheat the oven at 240ºC with a container full of water and then bake the bread at 210ºC for 15 minutes. After this time, take the water out and bake for another 40 minutes at 190ºC.
Once baked, let it cool down on a grid and it will be ready to eat!