Ajilimójili sauce and pipirrana (salad with tomatoes, onion and peppers) from Jaén, by Juan Mora (Chef at the Parador de Jaén)
To help you keep a balanced diet during this long confinement, Juan Mora, chef of the recently renovated Parador de Jaén, encourages you to cook a refreshing and delicious salad from the traditional cuisine of Jaén with a fun name: pipirrana. A complete dish in which the source of protein is the boiled egg. Some people prefer to add some tuna fish...
And to make the waiting more bearable, he presents to you this recipe of ajilimójili, a traditional sauce from Jaén that you can have as an appetizer while you prepare the pipirrana. You will lick your fingers!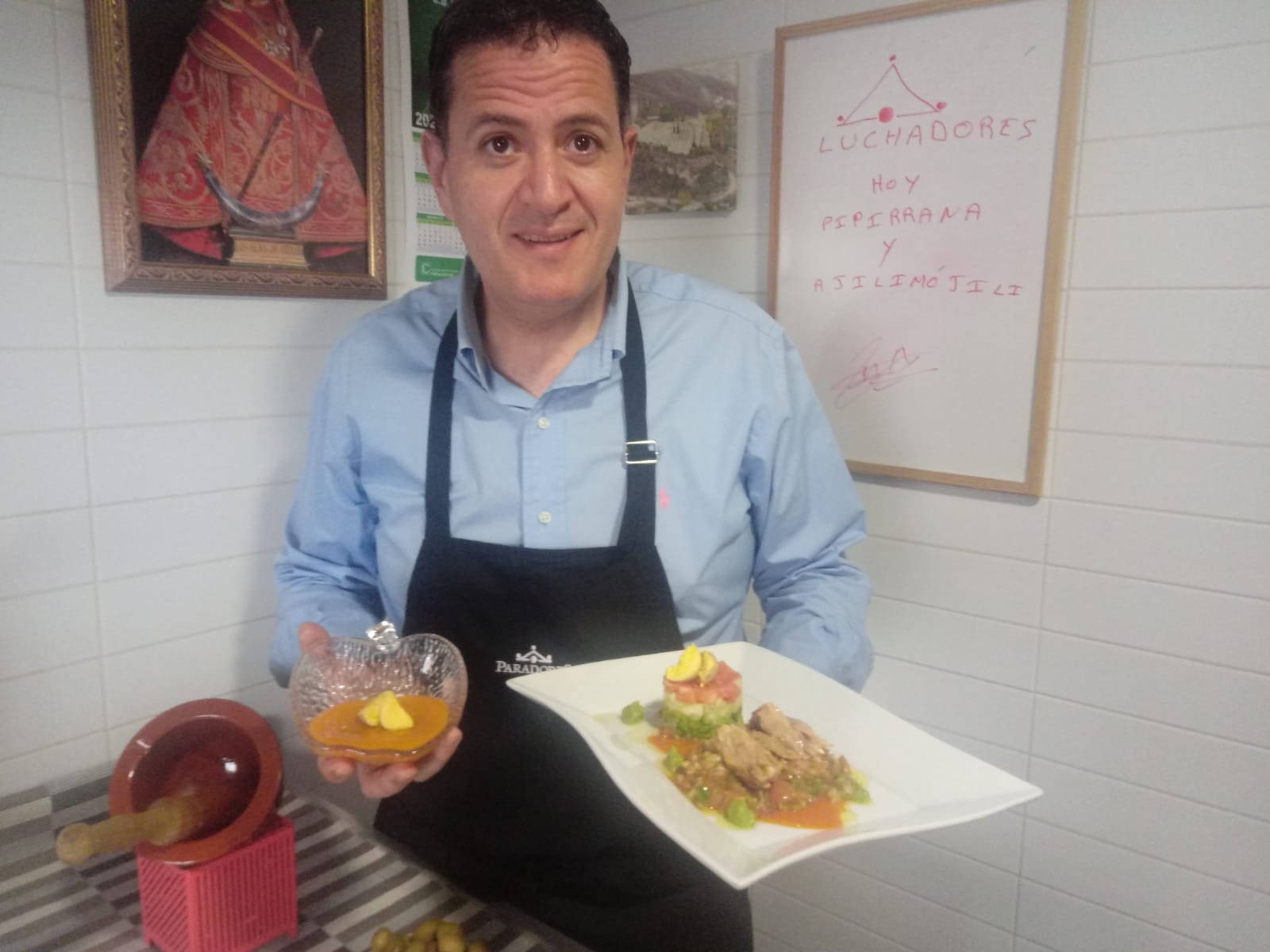 Ajilimójili
Ingredients for 4 people:
Potatoes 500 g
Red pepper 200 g
Vinegar, salt and Extra virgin olive oil 1 tablespoon
Serve with toasted bread or crackers
Method:
Peel and boil the potatoes. Separately, roast the peppers or use already roasted peppers. Once the potatoes are cooked, add the roasted peppers, peeled and seeded. With the help of a mortar, crush everything together.
The idea is to obtain a paste. This can also be done with a food processor, which will help make the sauce smoother and more homogeneous. Add olive oil, vinegar and salt to taste.
Serve with toasted bread or crackers.
Pipirrana from Jaén
Ingredients for 4 people:
Tomatoes 500 g
Cucumber 250 g
Onion 100 g
Green pepper 100 g
Boiled eggs 2
Extra virgin olive oil 50 g
Vinagre, sal y comino 1 tablespoon
Method:
Wash the vegetables, peel them and dice them in very small cubes.
Place the vegetables in a bowl with the chopped egg whites and set aside.
Crush the cumin and boiled egg yolks and whisk them with olive oil. Tip: add some of the vegetables and crush everything together to make it thicker.
Add the mixture to the vegetables and allow to cool in the refrigerator.