Cordovan casserole with Iberian ribs, chicken and vegetables by Antonio Moya (Chef at the Parador de Cádiz)
Antonio Moya Bolancel is specialised in traditional Andalusian cuisine and is the winner of the 1st Tapas and Pinchos Contest of Paradores. He is the current Executive Chef at the Parador de Cádiz-Hotel Atlántico and wants to share with all the friends of the public hotel network the recipe of a speciality of his region: Cordovan casserole.
This is a popular rice recipe with many variants. This time, he prepares it with Iberian pork ribs, chicken and vegetables. A real festive dish, perfect for gatherings, that you can consider for the weekend. Be far-sighted when you go grocery shopping so you have everything you need!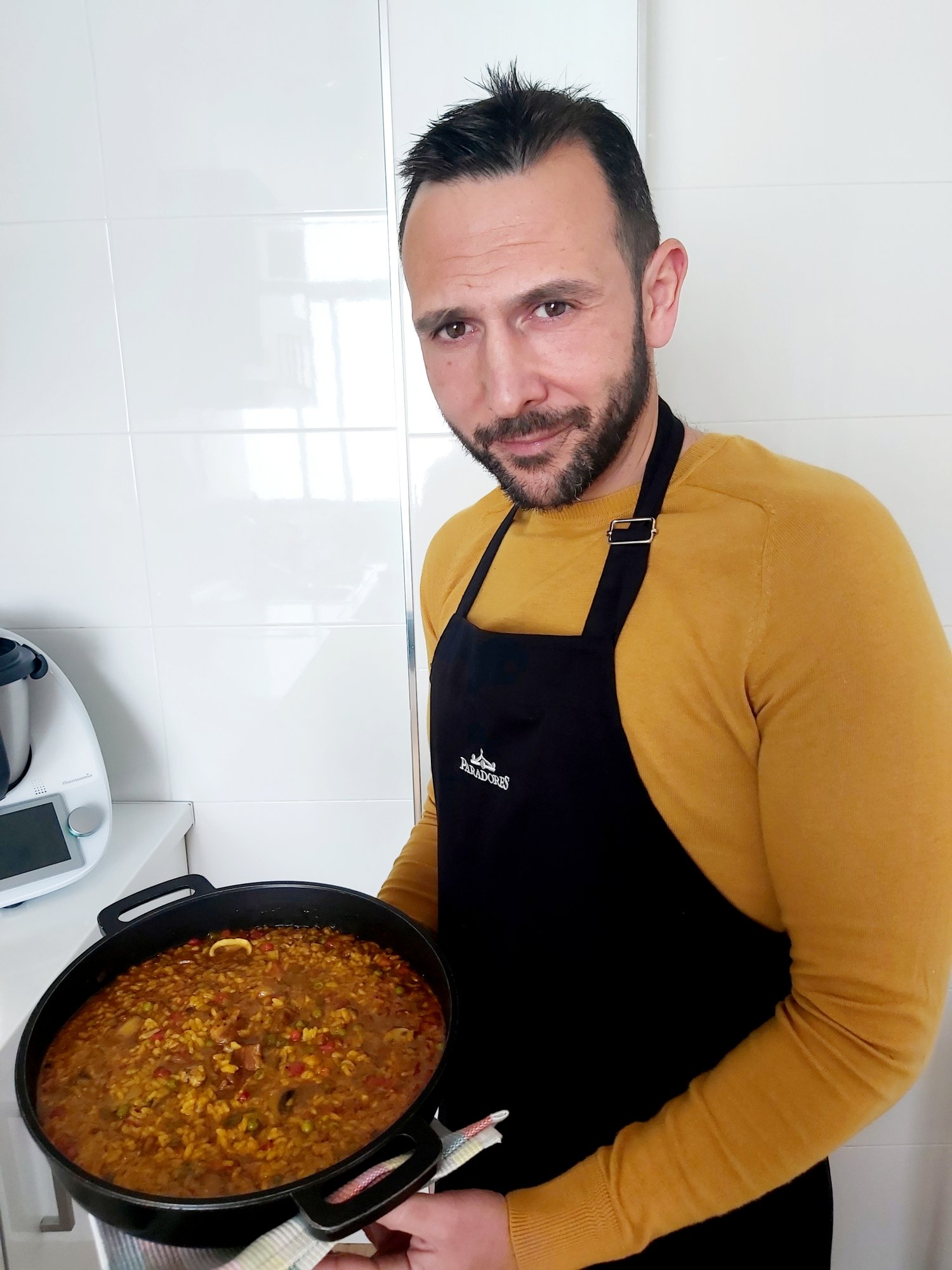 Recipe that serves 6 people:
Chicken 200 g
Iberian ribs 300 g
Salt 1 tablespoon
Ground black pepper 1 tablespoon
Garlic 2 cloves
Onion 200 g
Green pepper 150 g
Red pepper 150 g
Mushrooms 250 g
Tomatoes 250 g
Extra virgin olive oil 3 dl
Saffron strands 1 tablespoon
White wine 2 dl
Water 1 l
Chicken stock ½ l
Bomba rice 500 g
Peas 50 g
Method:
Cut the chicken and the Iberian ribs in small pieces, add salt and set aside.
Wash, peel and finely chop all the vegetables.
Heat the extra virgin olive oil in the casserole and sauté the ribs and the chicken until they are golden brown. In the following order, add the garlic, onion, green pepper, red pepper, mushrooms and tomatoes, keeping it over medium heat until all the vegetables are well sautéed.
Add the saffron strands and the white wine and let it reduce completely.
Then, add the water and the chicken stock until it begins to boil, add the rice and the peas.
Let it cook for 20 minutes over low heat.
Finally, remove from the heat, salt to taste and let it rest for 5 minutes.
Serving suggestion:
Since this is a popular Cordovan dish, it is served in the same casserole in which it is cooked because the regional tradition is to get together and go out into the country on Sundays to prepare this family meal while enjoying nature and loved ones. Now we can enjoy it at home too!