A World Heritage Tour of Spain
A holiday in Spain is the perfect opportunity to familiarise yourself with World Heritage Cities, locations that UNESCO (United Nations Educational, Scientific and Cultural Organisation) recognises as places with outstanding cultural or natural importance to the common heritage of humanity. These landmark locales are home to exceptional architecture, rich history... and fantastic Paradores' luxury and historic hotels!
Take a tour of some of Spain's most spectacular World Heritage Cities with visits to charming Alcalá de Henares, imperial Toledo and elegant Úbeda, remarkable areas with equally notable Paradores awaiting your arrival.
Cervantes' Alcalá and imperial Toledo
Located just outside Madrid, the entirety of Alcalá de Henares' Old Quarter has been recognized as a World Heritage Site, with beautiful 16th and 17th century buildings recalling the city's important role in the Spanish Literary Golden Age. Indeed, Alcalá is the birthplace of Miguel de Cervantes, author of the most famous Spanish novel, Don Quixote. Moreover, the city was home to geniuses like Francisco Quevedo, Lope de Vega, Calderón de la Barca and Tirso de Molina. Relive this period with a stay in Parador Alcalá, located in an ancient monastery school and surrounded by the city's most awe-inspiring monuments, ranging from the famous university to the Archbishop's palace.
Book now at Parador de Alcalá de Henares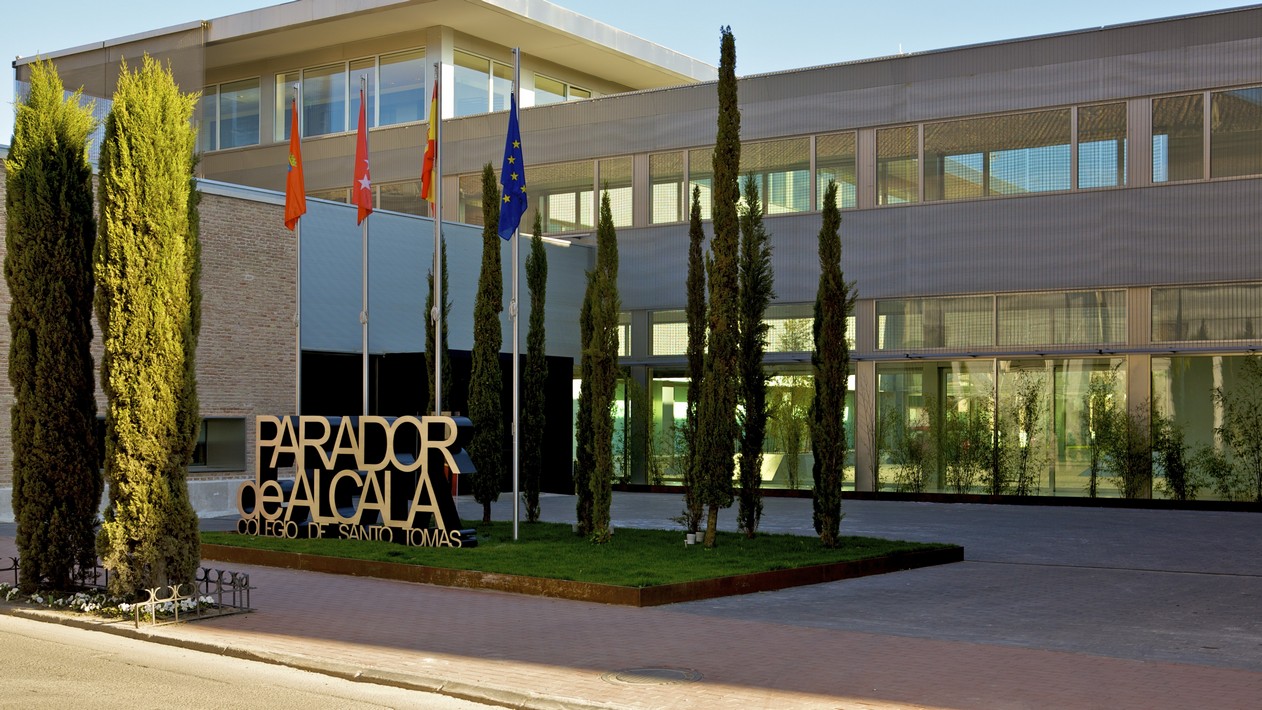 Parador Alcalá de Henares
On the other side of Madrid one finds Toledo, Spain's former imperial capital, recognized by UNESCO because of its unique cultural history, reflecting its Moorish, Jewish and Catholic past. Parador Toledo, an elegant building with traditional Mudéjar motifs throughout, overlooks the city's iconic skyline and provides the perfect location to enjoy a poolside aperitif prior to heading out to explore the towering Alcázar or monumental Cathedral. Spend the day viewing the art of the city's most well-known former resident, El Greco, and later head back to the Parador for a traditional Castilian meal that will make your taste buds scream out for more.
Enjoy a meal overlooking Toledo at the Parador
Renaissance luxuries
Further south, in Jaén Province, serene Úbeda is a Renaissance jewel. Its Old Quarter is full of outstanding architectural marvels like El Salvador Chapel and Vázquez Molina Palace, the current City Hall. At its centre is Parador Úbeda, a 16th century palace with a stately façade and a courtyard that is quite possibly the city's best-kept secret. You'll fall in love with this peaceful town, surrounded by mountains and in one of Andalusia's most picturesque corners.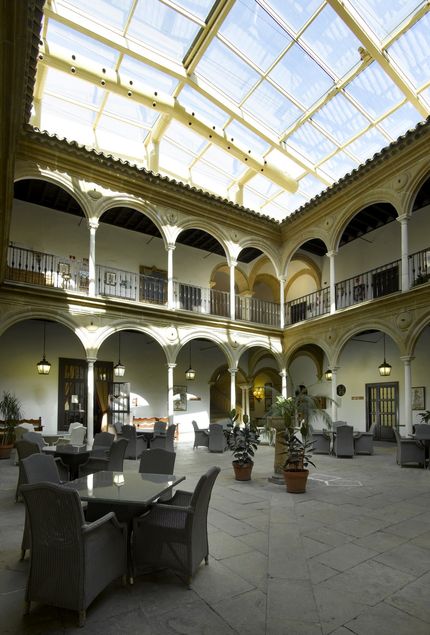 The courtyard at Parador Úbeda
Ready for a world-class cultural adventure? Contact Paradores Alcalá, Toledo and Úbeda today!