Take on Salamanca's Top Five Sites
A Castilian city with a legendary university and countless palaces, convents and other monumental wonders, Salamanca has long been a favourite site for tourist and Spaniard alike. Check out what all the buzz is about during your holiday in Spain and view the city's top-five sites: its Old Quarter, the Ieronimus towers, the beloved Plaza Mayor, the noble Catedral Vieja and the bombastic Catedral Nueva.
Paradores' luxury and historic hotels' outpost in the city, Parador Salamanca, ensures that you will take in this splendour in top comfort. This modern hotel has the best vistas of a skyline full of graceful cupolas and ancient towers.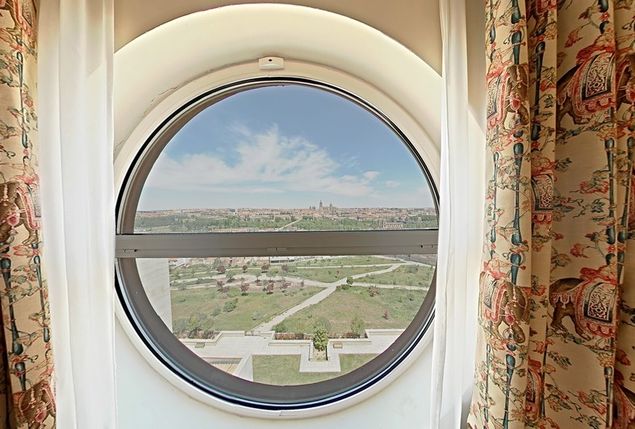 Enjoy the views of Salamanca even from your room!
Delving into the past
Start off with a stroll through Salamanca's iconic Casco Histórico or Old Quarter, a UNESCO World Heritage Site that hosts shops along the Rúa Mayor, the Plateresque Dueñas Convent, and the Casa de las Conchas, a Renaissance home with a façade covered with delicately sculpted shells.
For a total view of the city, scale Ieronimus, the New Cathedral's famous medieval towers. These towers reach 110 metres and allow visitors to learn the history of their construction while simultaneously enjoying the best views of Salamanca. The route includes visits to the cathedral's battlements and balconies, allowing for a fresh perspective of the ancient city.
Continue on to the Plaza Mayor, Salamanca's most well-known landmark. The city square dates back to the 18th century and it is a marvel of provincial Baroque elegance. Take care to view each one of the cartouches that line the plaza. The cartouches bear the faces of famous Spaniards and you'll find everyone from recently abdicated King Juan Carlos II and writer Miguel de Cervantes, to explorer Christopher Columbus and dictator Francisco Franco.
One city, two cathedrals
Salamanca stands out for having two cathedrals, each as fascinating as the other. The Old Cathedral was built between the 12th and 14th centuries and features an intricate, Romanesque and Gothic décor, with an intense main altar well-worth the visit.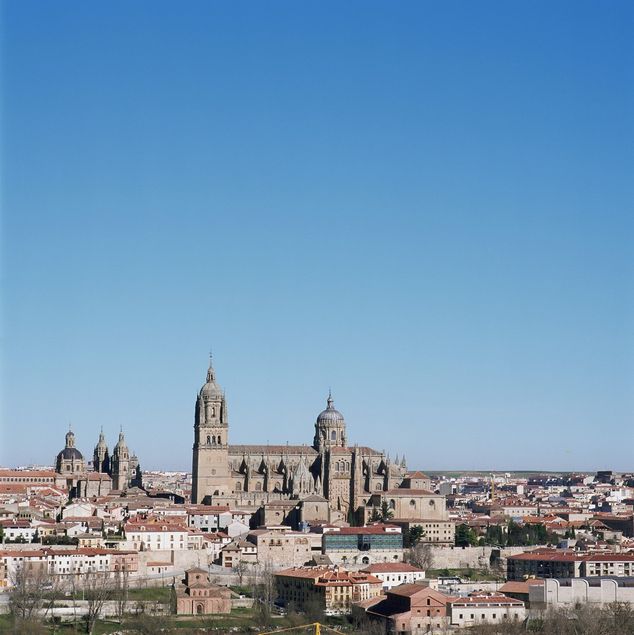 The Old Cathedral as seen from the Parador
Finally, drop by its younger brother, the New Cathedral, which was built between the 16th and 18th centuries and is a charming mix of Gothic and Baroque architecture. Its soaring towers can be seen throughout the city, but you will inevitably be drawn to the intricate carvings that decorate the façade. Keep an eye out for the astronaut!
Ready to take in all of Salamanca's wonders? Contact its Parador today!