Santiago's Top Five Must-See Sites
Despite being far smaller than Madrid, Barcelona, Valencia or Seville, Santiago de Compostela is one of Spain's most popular tourist destinations. Besides being the end point of the iconic Way of Saint James pilgrimage route, the Galician capital is a veritable north-western wonderland that UNESCO has designated as a World Heritage Site.
Let's review Santiago de Compostela's top five sights so that you're well-prepared to take on the city during your upcoming holiday in Spain. Make the visit especially perfect by lodging at one of Paradores' luxury and historic hotel's most exclusive locations, Parador Santiago, a dazzling edifice in the very heart of the Galician capital.
Architectural delights
The discovery of the remains of Saint James the Great in Santiago in the 9th century led to the city becoming a site of Catholic peregrination second only to Rome. The resulting prosperity led to the construction of the fascinating Old Quarter that visitors can visit today.
Enjoy the view from Parador Santiago de Compostela
Begin your visit at Obradoiro Square in all its splendour: the Cathedral, Raxoi Palace - current home to both Santiago's City Hall and the Galician Government -, the San Xerome School, and Parador Santiago. A sight like no other!
Later, step into the world-famous Cathedral, a masterpiece of Romanesque, Gothic and Baroque architecture. Gaze in awe at the 18th century façade before entering to view the tomb containing the remains of Saint James. Follow up the architectural tour by dropping in on the city's third, must-see sight - San Martiño Pinairo Monastery, a 17th century stunner that is a model of elegant style.
Exploring the Old Quarter
The fourth must-see is less a site and more a complex - the entire Old Quarter is worth exploring, with its winding streets and countless bars. Drop in on any for a crisp glass of Albariño, the area's delicious white wine, and a classic tapa of Pulpo a Feira (octopus and potatoes dressed with olive oil and paprika). Later, discover the city's future at the Galician City of Culture, a futuristic complex of buildings designed by architect Peter Eisenman, ranging from the Museum of Galicia to a major library.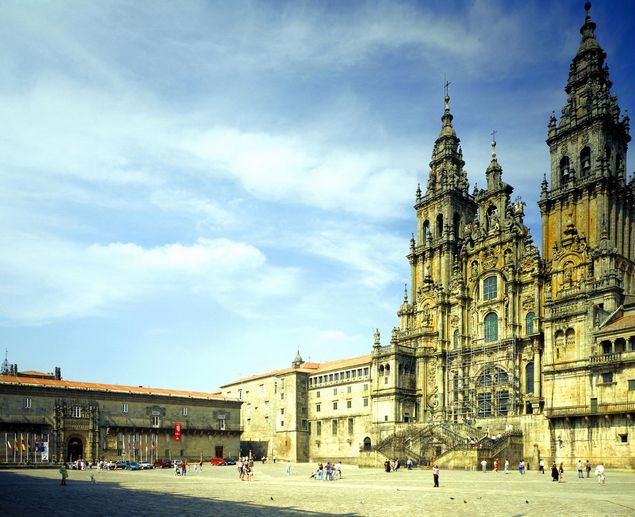 Parador Santiago de Compostela is located near the city's stunning cathedral
Take all of these sites in from stunning Parador Santiago, considered to be the oldest hotel in the world. This amazing building, built in 1499 as a Royal Hospital, houses guests in luxurious comfort, the best way imaginable to take in this glorious city.
Ready to experience it first-hand? Contact Parador Santiago to arrange your visit today!