Autum leaves around Spain: Ciñera Beech Wood in León
The traveller enters the heart of a magical forest; the landscape is so fascinating that one feels as if the place were inhabited by fairies.
A small treasure of beeches, a deep, small, copse that guards one of the oldest trees in the peninsula, a five hundred year-old beech tree. A secret kept for centuries by Ciñera de Gordón, in the middle of a Biosphere Reserve, where the province of Leon becomes the North and coal. Woodland so ancient that modernity hasn't been able to replace the old "F" in its name, and it is still called a faedo [instead of the modern-day term in Spanish for beech grove, "hayedo"], an enchanted space of a thousand landscapes.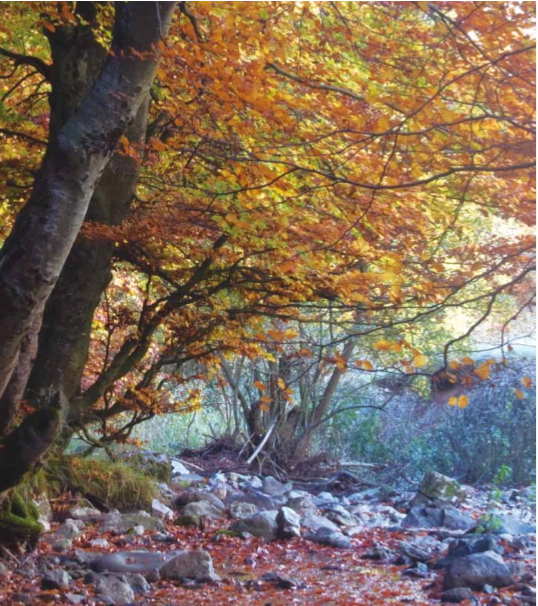 In this small area, we can find the historic 'Bocamina 50', a former pithead from where miners would extract coal, and which today is a museum and an altar to Saint Barba- ra, the large meadow that was a place for workers to rest, the enchanted forest now with its wooden walkways, the canyon carved out by a stream, the path through the gorge used by the miners, crossing the dreaded bridge Puente de Palos, now a plank bridge, which they would pass with great care in the snow or soaking rain, weird Devonian rock formations and glacial potholes, nowadays natural swimming pools for those intrepid travellers daring to take a plunge into the always ice-cold waters.
Fifty kilometres from the Parador de León, insignia, monumental hotel with so much history that its walls have silenced, financed by the Catholic King Ferdinand, an Elizabethan treasure greatly admired in the Old Continent, where Quevedo was once imprisoned, and once a pilgrims' hospital. Extraordinarily beautiful Leonese territory.