Paradores Recipes: Cocido de Taba
We continue our weekly tour of traditional Paradores recipes. Today it takes us very close to Madrid. Chinchón is a lovely little town located less than 50 km from the capital. It is the perfect destination for a culinary getaway or relaxing visit. You'll realize just how far you are from the hustle and bustle of the city the minute you emerge from the car. The air here is purer and this is the perfect place for a hearty meal: a type of chickpea stew known as cocido de taba.
El Bodegón restaurant at the Parador de Chinchón prepares this dish (well, dishes, because it is served in several "courses") according to a traditional recipe. If you're up for the challenge of preparing it at home, take note!
What ingredients do I need to prepare cocido de taba?
400 g chickpeas
300 g minced goose
1 goose neck
25 g breadcrumbs
Tbsp. parsley
400 g fresh streaky bacon
1 hard-boiled egg
Pine nuts
400 g young beef shank
200 g young beef bone
100 g young beef knucklebone
300 g cured ham end
400 g hen
350 g small potatoes
2 g saffron
Tbsp. caraway
100 g crayfish (yes, the dish includes this ingredient)
200 g Cantimpalos chorizo sausage
400 g fresh cardoons
250 g green beans
200 g turnips
400 g cabbage
500 g tomatoes
25 g garlic
Tbsp. cumin
Tbsp. salt
200 g vermicelli noodles
Tbsp. mint
100 g day-old bread
What steps do I follow?
This is one of those recipes that requires both time and dedication. So have patience, because making a chickpea stew like the one at the Parador is a long process. To prepare the stew, you must use soft chickpeas which have been cleaned and left to soak in salt water the night before.
The time has come to prepare the stew, so let's get down to work! Heat some water in a cooking pot and add the chickpeas just as it is about to boil.
Meanwhile, make a stuffing with the minced goose, breadcrumbs, streaky bacon, parsley, egg and pine nuts and use it to fill the goose neck.
Place the beef shank and bones (which should weigh half as much as the meat), cured ham end, stuffed goose neck and hen in cold water. Add the streaky bacon, peeled whole potatoes (if they're small) and saffron crushed with seasoning, and bring to a boil. Lastly, add the crayfish. When they turn red, this indicates that the stew is finished and ready to eat.
Anything else? As we mentioned earlier, this recipe requires time and patience because of the many ingredients it contains. While the other mixture is cooking, prepare the unused ingredients in a saucepan: Cantimpalo chorizo sausage, vegetables (green beans, cardoons and cabbage) and sliced turnips. The other vegetables should be left whole.
Prepare the sauce in another saucepan: cook the tomatoes, garlic, cumin and salt until the tomatoes begin to fall apart. Run this mixture through a sieve. One trick to make it perfect is to add a few cooked chickpeas to thicken the sauce.
How should this dish be served?
Cocido de taba de Chinchón is served in several courses known as vuelcos in Spanish.
We begin with the appetizers, served in clay bowls on a tray.
These are followed by the vermicelli noodle soup flavored with mint. It is served in a clay pot to keep it warm. Add a few thinly sliced pieces of day-old bread for the perfect finishing touch.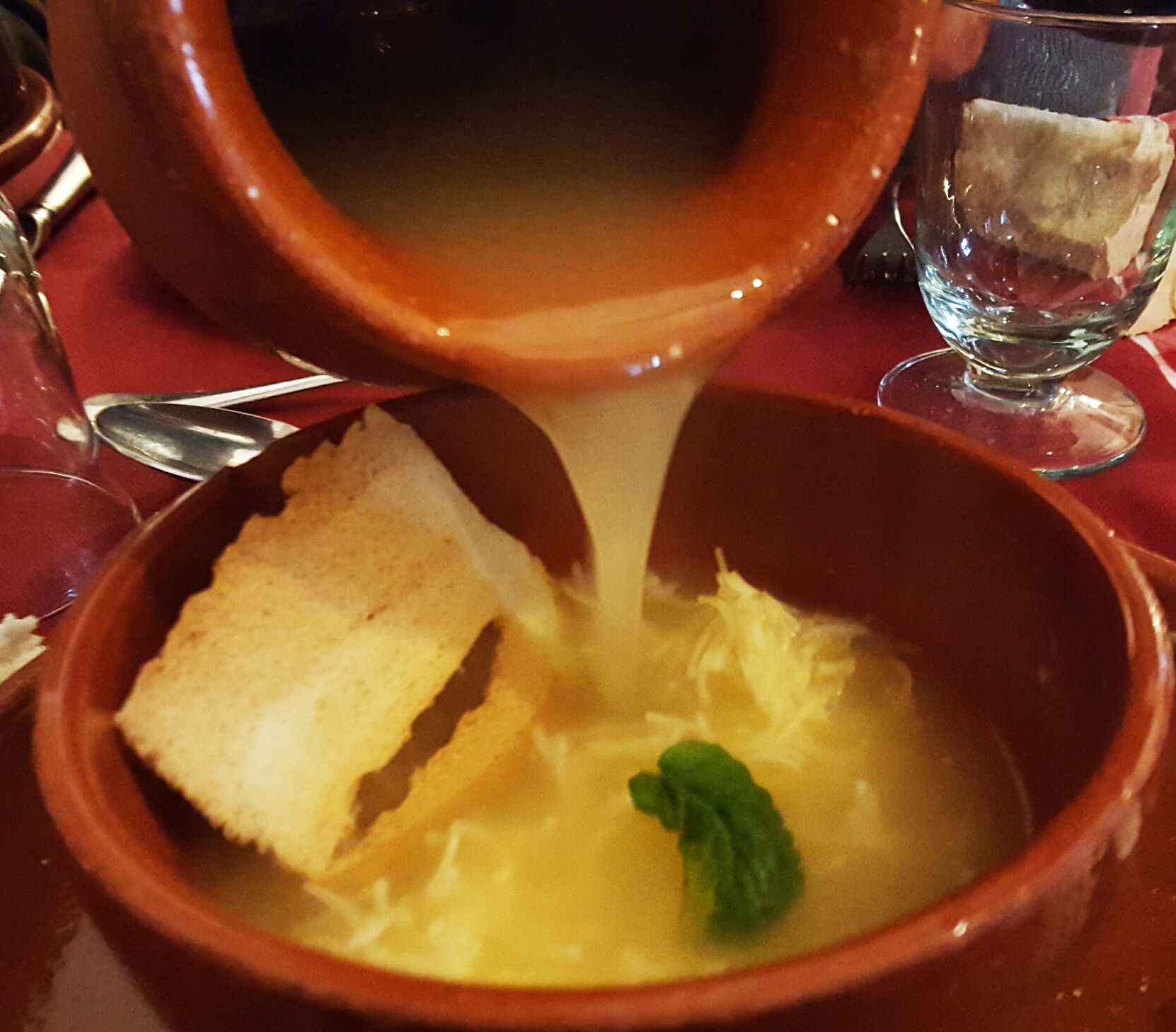 Then comes the final course: drained chickpeas arranged with the vegetables, potatoes, beef, ham, chorizo sausage, bacon, hen, goose neck, bones and crayfish. All of this is presented in a special clay dish because this meal is eaten at a relaxed pace and it is extremely important to keep everything warm as long as possible.