White-Water Rafting in the Spanish Pyrenees Mountains
Few experiences are as exhilarating as white-water rafting down a mighty river - manoeuvring the raft between currents, paddling past enormous boulders, and taking in the incredible landscape while keeping your wits about you. The Spanish Pyrenees Mountains, from the wild rivers of Aragón to the churning rapids of Catalonia, are an ideal spot for this adventure sport. Afterwards, recover from the thrill at Paradores' nearby luxury hotels.
Tearing down the Río Gállego

Huesca's Río Gállego is home to some of the best white-water rafting in Spain, with multi-grade courses available for people of all levels. Prepare for the descent of your life! Once you've regrouped, head to Parador Bielsa, located within the Ordesa and Monte Perdido National Park, which is a UNESCO World Heritage Site.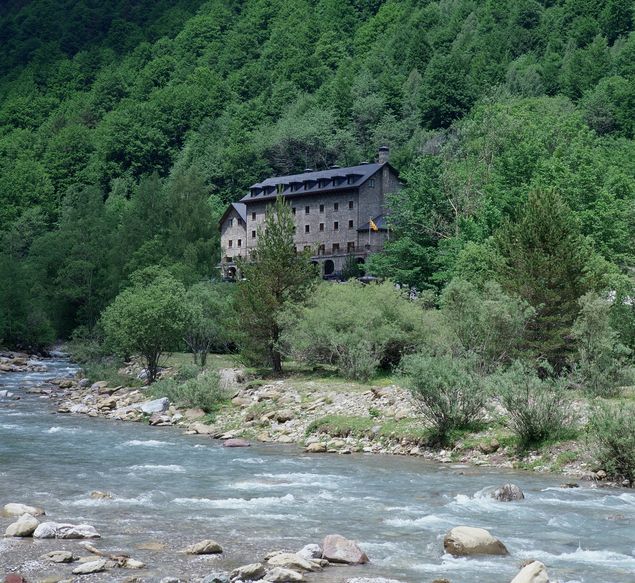 Parador Bielsa
This cosy hotel at the foothills of the Pyrenees boasts spectacular views and comfortable bedrooms, with soaring wooden beams and thick stone walls. In the evening, refuel with a meal of hearty regional Spanish cuisine in its restaurant: migas aragonesas or fried breadcrumbs, local Cinca river trout cooked in sherry, young roast lamb, wild boar stew and teresicas de Aragón, a regional puff pastry dessert.
Rapid-chasing in the Val D'Arán

Still haven't had enough? Cross over to the Aran Valley in Catalonia in the northwestern tip of Lleida province. Surrounded by soaring mountains, this valley used to spend most of the winter isolated due to its southern passes being blocked by snow; the construction of the Vielha Tunnel in 1948, however, guaranteed year-round access for tourists from that point onwards. Today, this area is a favoured white-water rafting spot, with excellent courses down the Río Garona.

The valley also features Parador Vielha, the perfect spot for visiting skiers and rafters, with unbeatable access to the countryside. The hotel's restaurant offers unparalleled vistas of the mountains, accompanied by the simple pleasures of the local stew olla aranesa, wild boar, and pescajus, or pancakes, with cream. You can also unwind from the strenuous day with a trip to its spa.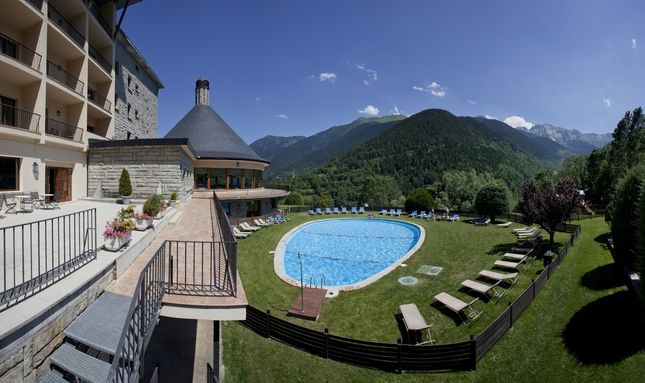 Parador Vielha
Olympic excellence in La Seu d'Urgell

Those seeking Olympic-level thrills can head over to the Parc Olímpic del Segre, a canoeing and kayaking facility used during the 1992 Summer Olympics in Barcelona. This site hosts a world-class white-water rafting course that stretches over 300 metres along the Segre River and features a 6.5-metre drop.

After you're finished, make your way to Parador La Seu d'Urgell, set alongside the town's Romanesque Cathedral and within a Renaissance cloister. With its sauna, covered pool, and amazing views, you'll find everything you need to relax after a day of adventure sports.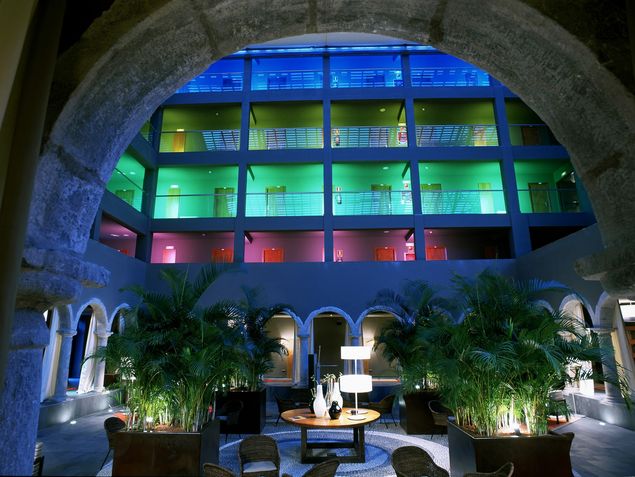 Parador La Seu d'Urgell
Interested in learning more about white-water rafting in Spain? Contact Paradores today.