The Special Way of Saint James Pilgrim's Menu
The Way of Saint James is the legendary pilgrimage route that stretches across Europe, leading countless travellers to the shrine at Santiago de Compostela, Spain. After days of long walks across the Galician countryside and a steady diet of sandwiches and easy to pack food, it's no surprise that weary pilgrims end up dreaming of fine, hearty meals.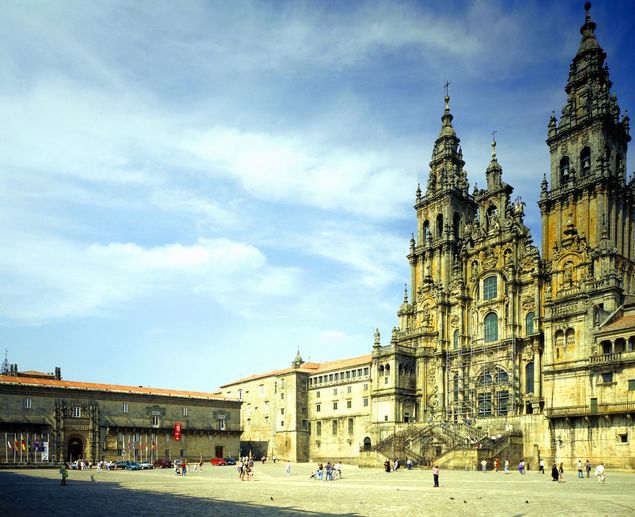 Santiago de Compostela
Should you find yourself taking on the Way during your holiday in Spain this summer, make sure that you jot down the many Paradores' luxury and historic hotels' locations along the route. Their dining rooms offer a special, low-priced Pilgrim's Menu that is sure to help you recover from the road and gather your spirits for your progress on this timeless journey.
Filling meals on the Way of Saint James
For a mere 18€ (except at Paradores Ferrol, Gijón, Pontevedra, Puebla de Sanabria, Tui, Verín, Vilalba, Villafranca del Bierzo and Santiago de Compostela, where it is available for just 15€), pilgrims can enjoy an entree, a main dish from the menu, and a freshly-made dessert.
If you prefer to order directly from the main menu, you can still enjoy a special 10% "pilgrim's discount" at Paradores' restaurants and cafeterias.
To take advantage of this offer all you need to do is present your Official Pilgrim's Credentials (with the applicable stamps) or, alternatively, the Compostela issued in Santiago de Compostela upon completing the Way.
A cross-country offer
Paradores' special Pilgrim's Menu is available at numerous locations along the many Way of Saint James routes which extend throughout Spain. Those coming through the north can enjoy this offer at Paradores Cangas de Onís, Corias, Ferrol, Gijón, Hondarribia, Limpias, Puebla de Sanabria, Ribadeo, Santillana Gil Blas, Santillana del Mar, Santo Domingo Bernardo de Fresneda, Santo Domingo de la Calzada, Sos del Rey Católico, Vilalba, Villafranca del Bierzo and, of course, Santiago de Compostela.
Alternatively, if you are coming from southern Spain via the Portuguese or Castilian routes, you can enjoy this special offer at Paradores Baiona, Benavente, Carmona, Ciudad Rodrigo, Guadalupe, Jarandilla de la Vera, León, Lerma, Mérida, Plasencia, Pontevedra, Salamanca, Trujillo, Tui, Verín, Zafra, and Zamora.
Enjoy the very best of the Way of Saint James with the additional comfort of delicious, affordable meals that bring out the very best in regional cuisine. Contact the corresponding Paradores along your route to plan your visit today!