Spa Treatments at Parador Vielha
Tired of the daily grind? Perhaps a holiday to relax and unwind is exactly what the doctor ordered. Parador Vielha is ready to fill that prescription. Come and enjoy pampering from the spa's staff of professionals that will leave you bright-eyed and bushy-tailed, ready to take on the world again.


Luxury hotel in the Pyrenees

The grandeur of snow-peaked mountains often puts one's heart at ease. The steadfast geographical fixtures are a symbol of strength and stability. Their permanent beauty and wonder inspire a sense of calm. Gazing at the unmovable giants, your everyday problems will wash away, as you gain perspective on what is really permanent and what is only temporary.

Right in the heart of the Pyrenees, Parador Vielha is the ideal location for a spa get away. The mountains, seen from almost every room in the luxury hotel, give off a feeling of peace and well-being to all its guests.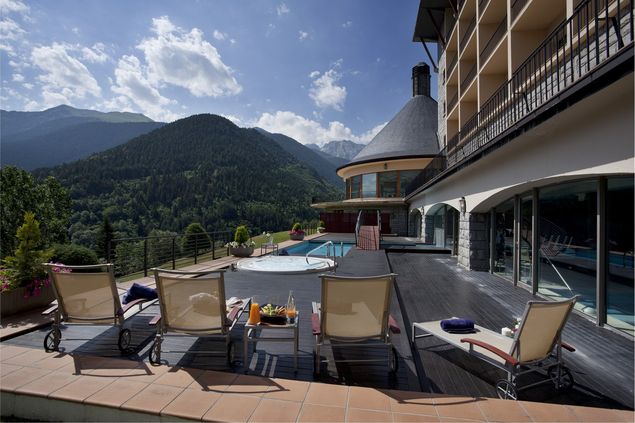 Spa at Parador Vielha
The Spa at Parador Vielha

The recent addition to Parador Vielha, the state-of-the-art spa, is a smashing success. The facilities are open from 11:00 am - 9:00 pm, just waiting for stressed guests to come for serious relaxation and pampering treatments.

Looking for a quick dip? Vielha offers both a heated indoor pool as well as a seasonal outdoor pool. No matter the temperature outside, the soothing waters are capable of melting all the stress away. You can swim a few laps or just sit in silence as you feel the water caress your skin.

After the pools, there is nothing like a full body massage to leave you loose and content.

The spa also offers a variety of top quality treatments, ranging from weight loss tricks and body peelings, to seaweed wraps and mineral baths. Hydrate, exfoliate, cleanse, purify and leave your skin like new!


Romance

Want a romantic moment with your someone special? Immerse yourselves in warm melted chocolate, leaving your skin sensual and invigorated. The heat from the body mask, and the sweet smell of the chocolate is a wonderful experience for any couple.

Parador Vielha offers a honeymoon package for newlyweds that includes a body peeling treatment with pearl powder.

Other highlights of the spa experience are the Finnish and Turkish saunas, the bubbling jacuzzi and the wide array of revitalising, Scottish and essential oil showers. There is something for everybody.

So why not breathe in the fresh air of the Pyrenees and and let it shake the cobwebs and stress from you? Make your way to the top-rated spa for what can only be described as the royal treatment.