Scenic Hiking in the Hills and Valleys near Parador Plasencia
The sparsely populated province of Cáceres in the region of Extremadura is an area of Spain less known to foreigners, but one that is worthy of much fame. Charming towns and historic Roman ruins are surrounded by stunning scenery, perfect for country walks and hiking while in Spain.
The area is characterized by various mountain ranges, the plains and fertile valleys of the rivers Tangus and Guadiana, and the plains of Low Extremadura. Several of these unspoilt landscapes have been officially declared national parks or nature reserves, such as the Monfrague National Park and the nature reserve Garganta de los Infiernos, or Hell's Gorge in English. Both are in the province of Cáceres.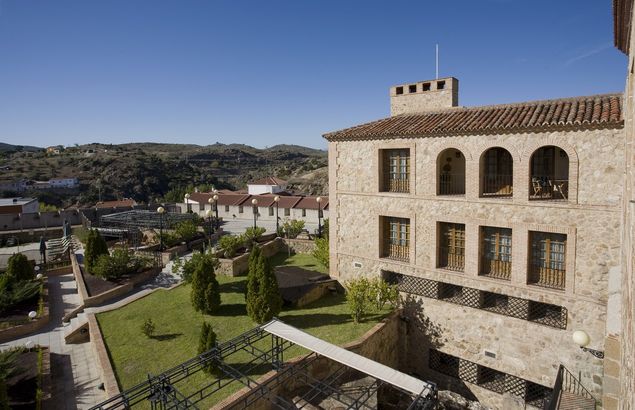 Parador Plasencia
Scenic Hiking
Parador Plasencia, located not far from the Monfrague National Park, is an ideal place to stay if you want to enjoy some walking or hiking excursions in the Caceres region. It is also close to other sites of natural beauty such as the county of La Vera, the Jerte Valley, the Ambroz Valley, Las Hurdes and the Gata mountains.
There are a great number of routes available of varying lengths and levels of difficulty that take visitors through the unique biodiversity of the region. The wide, winding river Tangus, the longest river on the Iberian Peninsula, cuts a natural route through the region for hikers to follow.
The Jerte Valley is certainly worth a visit. The valley is famous for its two million cherry trees that swathe it in a spectacular white blanket when they bloom in spring. For a more relaxed excursion, and for excellent bird watching, try exploring the Mediterranean forests of Monfrague Park.
Wherever you find yourself en route in this area, you'll never be far away from one of northern Cáceres' lovely villages.
Parador Plasencia
Staff at Parador Plasencia can help you decide which route to take. The luxury hotel is offering a special package until the end of this year that includes one night's stay in a double room, a delicious buffet breakfast and a complete picnic to take with you on your outdoor jaunts.
It's a great opportunity to spend a restful night at a former 15th century convent in the heart of the nearly 1,000-year-old city of Plasencia after spending a day discovering the beauty of the surrounding areas. Contact Parador Plasencia for more information.