Say 'I do' in the Royal Monastery of Guadalupe
A stunning, UNESCO World Heritage Site awaits to host your unique wedding, courtesy of Paradores' luxury and historic hotels. Set within the grounds of the Royal Monastery of Guadalupe, Parador Guadalupe is a former, 15th century pilgrim's hospital and royal school that is ideal for hosting nuptials.
Celebrate your special day in any one of its elegant halls, or feel free to marry in the monastery proper and hold the reception in the Parador's beautiful garden. Whatever you're choice, your romantic holiday in Spain will take on special meaning as you say "I do" in this unique location.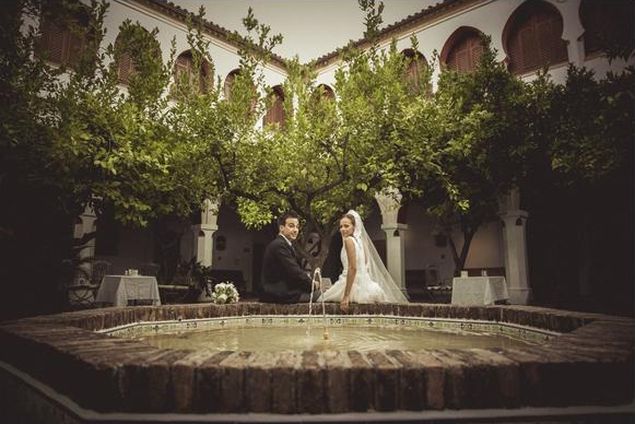 The newlyweds at the Parador
A 15th century masterpiece
As you plan your wedding, look towards this south western Spanish wonder. Located within the former pilgrim's hospital and school for the Infantes (royal princes), Parador Guadalupe boasts exceptional views of the Extremaduran mountains and unbeatable proximity to the Royal Monastery, a UNESCO World Heritage Site.
Surrounded by an idyllic, medieval village, you'll feel as if you've travelled back in time as you wander around the Parador's stately halls and dreamy interior courtyard, full of lemon and orange trees.
Those intending to hold a religious ceremony need only to cross the street to the monastery, where a wide variety of spaces can cater to your preferences. Then let the Parador staff take care of preparing your reception in any one of its halls.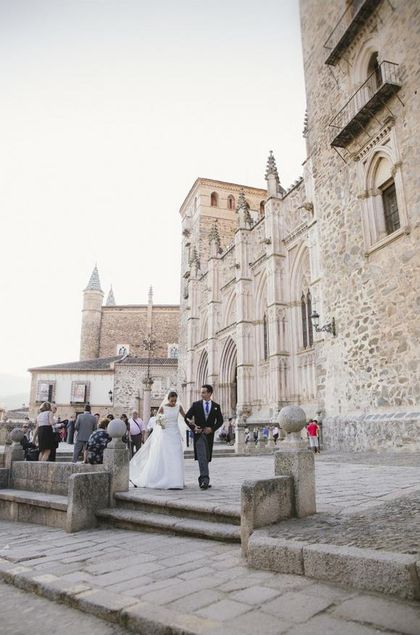 The bride and the groom exiting the monastery
For civil affairs, Extremadura's exceptionally good weather means that you can hold the ceremony during any season while taking full advantage of the hotel's garden and terraces, as well as the expansive Guadalupe, Altamira and Mirabel salons.
An idyllic location
Parador Guadalupe is not only perfect for your wedding celebration, but for all the events surrounding such a special day. The Parador's amenities are perfect for guests who can disconnect from wedding pressures with a dip in the secluded swimming pool, or visit nearby sites like the Monfragüe Nature Reserve and Trujillo.
In addition to the natural and cultural wonders surrounding this romantic site, don't forget its gastronomic offerings, many of which can be included as part of your wedding banquet. The Parador's restaurant specialises in delicious regional cuisine including bacalao monacal (cod with potatoes and spinach), Extremadura-style ajo blanco (cold almond and garlic soup), migas (fried breadcrumbs) and muégados (honey-coated deep-fried pastries).
Ready to say "I do" in this romantic spot? Contact Parador Guadalupe today!