Marta and Ruben's Big Fat Spanish Wedding
Marta and Ruben were married last 30th June in the elegant luxury hotel Parador La Granja de San Ildefonso, a spectacular venue for a noble and romantic Spanish wedding. The bride and groom are thrilled at how everything turned out on their special day.
Parador La Granja is part of Spain's rich architectural legacy. It was built by Charles III in the 18th century for princes Gabriel and Antonio. San Ildefonso was reputed for luxury and relaxation, and the Spanish royal families often came to celebrate their holidays there.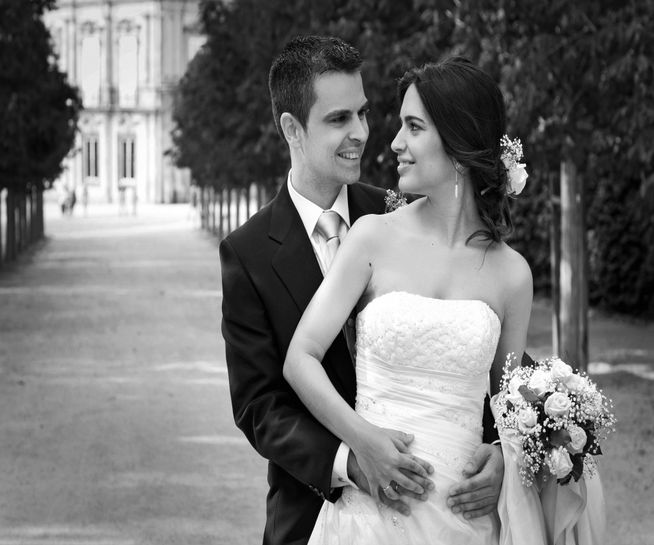 Wedding Bliss in Parador La Granja
The wedding dress
Marta told us about her wedding dress: "It was not at all what I initially had in mind, but as soon as I put it on, I knew that this was my dress! It was strapless with little gems on the front and back of the bodice. The shoes were custom-made. I knew that that way I would be more comfortable, and my footwear would be in the exact style that I had dreamed of." She finished off the romantic ensemble with a sentimental touch: dangling earrings her mother had given her as a present.
The bride also told us that at La Granja de San Ildefonso, she was extremely pleased with her team of expert hair and make-up professionals. "I wanted my look to be very natural and my hair to be in a simple, romantic updo. Patricia Stylo's team got it just right."
The groom chose a black morning coat with a grey waistcoat and a tie to match.
The wedding reception
After the ceremony, the reception was held in the quarters once used for the royal guard. There the guests enjoyed a scrumptious meal, followed by dancing and an open bar. "It was a magical place for the reception. We loved it!"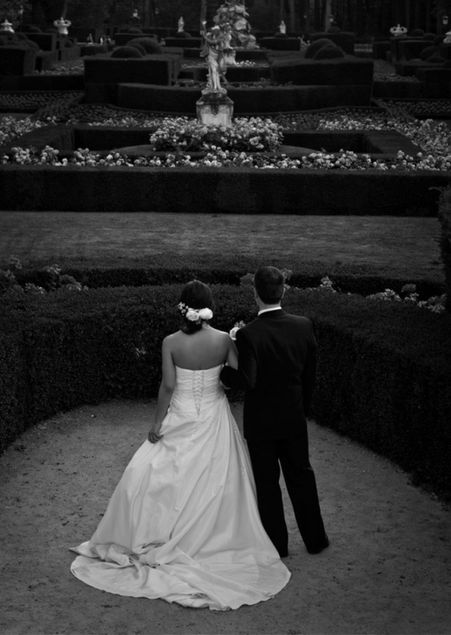 Wedding Photo in Parador La Granja
For Marta and Rubén, the most special moment was during the first dance, when they danced together under a parasol while the guests threw confetti at them. "I remember that moment with great fondness. Chasing Cars by Snow Patrol was playing in the background. The Parador gave us a fantastic DJ".
The wedding cake also played an important role. "The bride and groom wedding cake toppers we had were by Playmobil, and they presented them in an original way with the dessert we had chosen".
"It was a wedding full of unique details, in which we were surrounded by our guests. The Parador made sure that everything went perfectly."