Get to Know El Greco's Toledo
Known by the artistic name of 'El Greco' -'The Greek'-, Cretan-born Doménikos Theotokópoulos (1541 - 1614) was one of Renaissance Spain's greatest painters, and a precursor to the expressionist styles that would be all the rage four centuries later. Discover the wonder of this legendary artist during your holiday in Spain with a visit to Toledo, his adopted city.
Wander the Imperial City's winding streets and familiarise yourself with El Greco's life in the very places where he worked. Later, relax at one of Paradores' luxury and historic hotels' most singular locations, Parador Toledo, with unbeatable views of the surroundings.
A Renaissance master
A painter, sculptor and architect, El Greco was a man ahead of his time... so much so that his iconic, elongated figures raised eyebrows when they were first exhibited, but would go on to serve as the foundations for the Expressionist and Cubist movements of the 20th century. Born in Crete, the painter trained in post-Byzantine art prior to a long stay in Rome, where he took on Mannerist techniques. It was only upon coming to Toledo in 1577, however, that El Greco developed his own, unique style.
Start your visit at the El Greco Museum, where you can learn all about his travels and view works including his portraits of the apostles. Afterwards, drop in on the monumental Cathedral, which also contains works by the Cretan genius, and walk under the same soaring arches as he once did.
Once you've finished there, head to one of those very churches, that of Santo Tomé, in order to view one of the master's greatest works in situ: The Burial of the Count of Orgaz, a masterpiece that depicts the local legend of Saints Augustine and Stephen's descent from heaven to lay the kind aristocrat in his tomb.
Castillian escape
Discover El Greco in the best way possible by retracing his steps from the comfort of Parador Toledo, a modern hotel with incredible views of this UNESCO World Heritage City. Relax in the comfortable guest rooms or enjoy a drink on the terrace while watching the sun set over the Alcázar.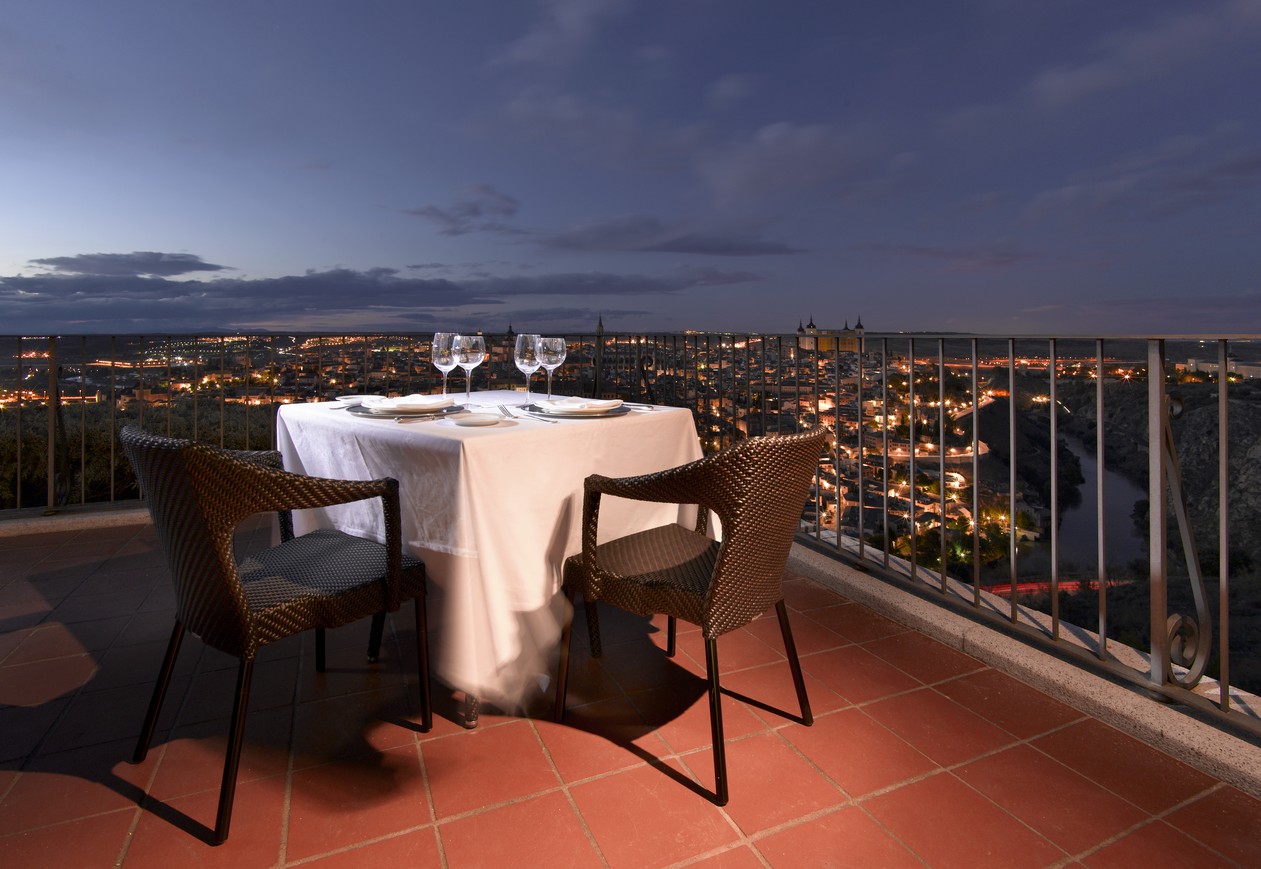 Watch the sun set over the Alcázar from the terrace at Parador Toledo
Later, treat yourself to a traditional Castillian meal at the Parador's restaurant, where pisto manchego (La Mancha-style ratatouille), perdiz a la toledana (partridge braised in wine), and roast lamb are all on the menu.
Ready to discover El Greco and Toledo? Contact the Parador to book your visit today!