Exclusive weddings: 30 Paradores Reserved Just For You
Your wedding day is the happiest day of your life. Have you ever dreamed of having a truly exclusive wedding? Can you imagine a whole Parador just for you on your special day? Spain´s luxury hotel chain Paradores has spectacular venues for your memorable day in Cardona, Tortosa, Cervera de Pisuerga, Zafra and Ayamonte.

There are a wide variety of really spectacular Paradores available exclusively for you and your guests. From € 100 per guest, you will be able to enjoy en entire Parador just for your wedding. This price includes the cocktail hour, the banquet, 2 hours of open bar—plus your guests' accommodation and breakfast (standard double room).

In many of these venues, you can even hold your civil ceremony on site. Some even have their own churches or chapels!

If you and your soul mate opt for Parador Cardona, your wedding guests will enjoy amazing panoramic views over the city during the cocktail hour. The venue includes a 9th century fortified enclosure, an 11th century Minyona tower and an 11th century church where you can hold the ceremony.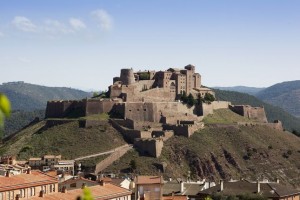 Parador Cardona
Parador Tortosa is another fantastic option for your wedding. During the cocktail hour, your wedding guests can enjoy spectacular panoramic views of the town. No one will forget the outstanding Gothic windows in the banquet hall where dinner will be held.

If you would prefer a secluded setting on a nature reserve, perhaps Parador Cervera de Pisuerga is for you, as it is located in the stunning Fuentes Carrionas nature reserve. Here your wedding guests will be served wonderful traditional Castilian cuisine.

Parador Zafra is located in a 15th Century Castle, where the celebration of your wedding day will be unforgettable. Your guests will be impressed by this grandiose venue's spectacular façade and nine towers with battlements.

Located at the border between Spain and Portugal, overlooking the town of Ayamonte, Parador Ayamonte is the ideal place to celebrate your wedding. You can even hold your ceremony in the nearby Salvador church.
Parador Ayamonte
If a Parador venue interests you, we suggest you contact the one you like best, so its wedding team can give you all the details about what it will provide for your unforgettable day. There are more details about the amazing wedding packages at the Paradores here.

Do not miss the opportunity to celebrate an original and memorable wedding!