7 Brand-New Restaurants Bring You the Best of Galician Gastronomy
The luxury hotel chain Paradores strives to bring the best the local gastronomy has to offer to its clients. There is constant brainstorming for new and improved food concepts. The dedicated staff works hard to renovate and premiere new restaurants using those cutting edge ideas.

Recently, Parador Arties opened up a Tapas and Cocktail Bar in the middle of ski season. This year, Paradores is proud to announce the opening of not one, not two, but seven new establishments in seven of its hotels in Galicia, Spain.

These new additions to the Parador family are called Enxebres, a type of gastrobar that successfully blends an upscale bar environment with scrumptious local cuisine. The contemporary concept was created to introduce the guests to quality Galician food in a one-of-a-kind setting.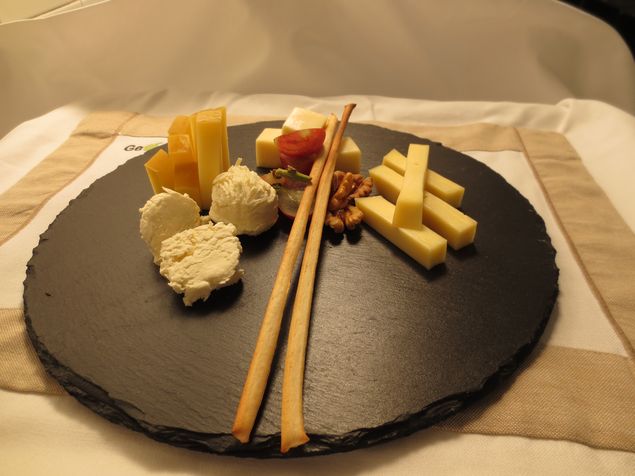 Cheese platter
Parador Santiago de Compostela, pioneer in the Enxebres concept, has celebrated the rich Galician cuisine in its gastrobar for several years. In fact, the citizens of the town voted it the best place for Galician food around. Its smashing success is the reason that Paradores has decided to open up similar restaurants in other Galician Paradores: Parador Baiona, Parador Tui, Parador Pontevedra, Parador Verín, Parador Vilalba and Parador Monforte. In each establishment, the menus are characterized by a combination of select typical Galician dishes, presented in a fresh and modern format, and reasonably priced

Each place has its own name and personality. The staff wants everything to be perfect, so they only buy the freshest and most quality products from the region. Some of the delicacies you'll want to try are the delicious pork strips, traditional meat or seafood pies, a variety of exquisite cheeses, soups, and of course, seafood such as scallops, mussels, and octopus. You won't be able to resist!!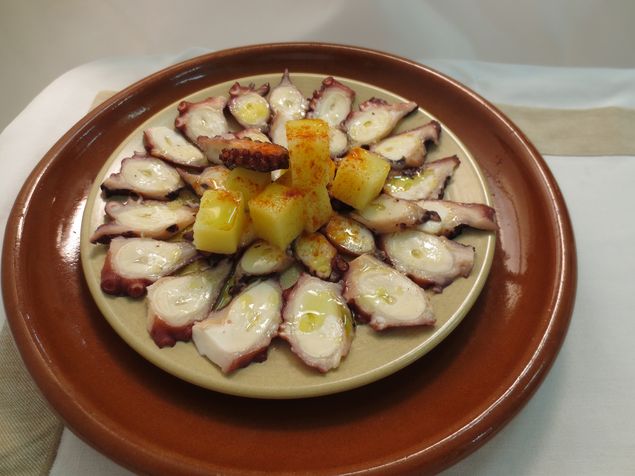 Seasoned octopus
As Spain boasts fantastic wines for all palates, Enxebres will offer the crème de la crème of Galicia: Rías Baixas, Ribeiro, Valdeorras, Ribeira Sacra y Monterrei. And of course, other well-known wines such as Rioja and Ribera del Duero will also be available.

In honour of the grand opening, Paradores has a promotion for all those who'd like to sample the newest gastronomic sensation. Download your Enxebre passport from the website or ask for it in person. Every purchase over 22 euros will get you a stamp in your passport. When you have seven stamps, Paradores will treat you to dinner on the house at the Enxebre of your choice.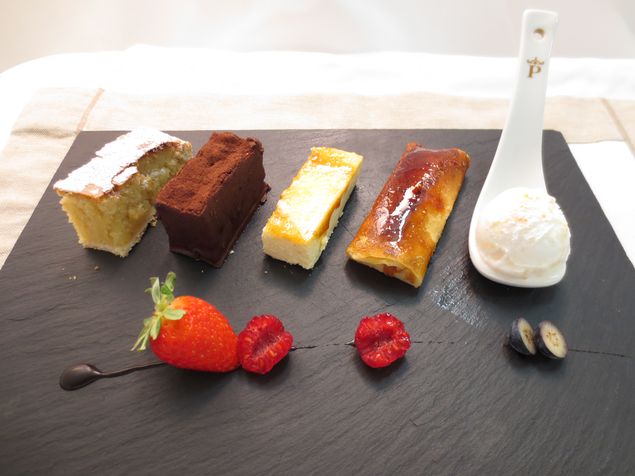 Dessert tray
So now you know. If you want to enjoy the best gastronomic experience in Galicia, your table awaits you in the Enxebres in Paradores. We hope to see you soon!