Update: This information may be out of date.
SEE COMPLETE AND UPDATED INFORMATION ON OUR PET FRIENDLY PARADORES AT THIS LINK
We are Pet Friendly! Paradores welcomes your pet, so that travelling to charming destinations is much easier for you. Remember to check availability at our Pet Friendly Paradors before booking, so that we have everything ready for your pet.

In which Paradores? 
Paradores in the mountain: Arties, Bielsa, Cangas de Onís, Cazorla, Cervera de Pisuerga, Cruz de Tejeda, Fuente Dé, Gredos, La Gomera, Las Cañadas del Teide, Vic-Sau and Villafranca.
Paradores near the sea: Benicarló, El Hierro, El Saler, La Palma, Limpias, Málaga Golf and Ribadeo.
Paradores with history: Ciudad Rodrigo, Guadalupe, Jarandilla, Verín and Zafra.
City Paradores: Albacete, Benavente, Ceuta, Manzanares, Melilla, Tordesillas and Tui.
Which pets are allowed? 
Dwarf, small or medium sized dogs and cats (maximum 25 kg). Only one pet per room is allowed.
How much is the pet supplement?
The supplement is 20 euros per night. To make your pet feel at home, we offer a special bed, water bowl and a welcome snack*. These rooms will also have an even more exhaustive cleaning protocol.
How can i make my reservation?
Reservations of this type can only be made by calling the chosen Parador directly or by calling our reservation centre.
In order to visit with a pet, you must inform the Parador at the time of booking, as Pet Friendly Paradores are subject to a limited number of pets per night. Depending on the characteristics of the Parador, pets may be subject to a specific room category and space. All our Pet Friendly Paradores have a pet-friendly accommodation policy. It is essential to find out about the conditions of access and use of the services in each Parador.
 
Reservation Centre 91 374 25 00
Parador de Albacete: 967 245 321
Parador de Artíes: 973 640 801
Parador de Benicarló: 964 470 100
Parador de Bielsa: 974 50 10 11
Parador de La Gomera: 922 87 11 00
Parador de Cangas de Onís985 849 402
Parador de Gredos: 920 348 048
Parador de Ciudad Rodrigo: 923 460 150
Parador de Cazorla: 953 727 075
Parador de Cervera de Pisuerga: 979 870 075
Parador de Cruz de Tejeda: 928 012 500
Parador de El Hierro: 922 558 036
Parador de Fuente Dé: 942 736 651
Parador de Jarandilla de la Vera: 927 560 117
Parador de Las Cañadas del Teide:  922 386 415
Parador de Villafranca del Bierzo: 987 540 175
Parador de Verín: 988 410 075
Parador de El Saler: 961 61 11 86
Parador de La Palma: 922 43 58 28
Parador de Limpias: 942 62 89 00
Parador de Ribadeo: 98 212 88 25
Ah, and something important worth taking into account:
The maximum number of pets per room will be 1 in the indicated categories.
Dangerous or potentially dangerous breeds of dogs will not be permitted.  
The owner will have to show the pet´s health booklet with the animal´s up-to-date vaccinations, as well as insurance cover. 
Within the facilities, the animal must be on a lead, carried or transported in a carrier.  
The dog or cat´s waste may not be disposed of inside the Parador. (For more terms and conditions, consult the corresponding Parador when making the reservation). 
The Royal Canin food included is part of the welcome kit and does not constitute the total amount of food needed by the pet during its stay.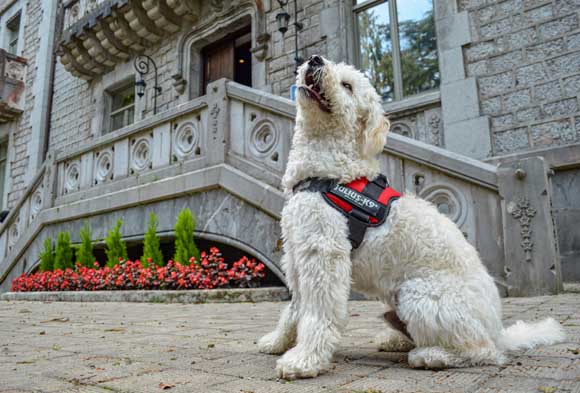 You can also find information by clicking here