A Tour of Spain and its Desserts
If you have a sweet tooth you will likely feel as if you've died and gone to heaven during your holiday in Spain! Indeed, the land of tinto and jamón is also a veritable utopia for those for whom dessert is the most important component of every meal.
For your culinary convenience, here is a review of the most traditional Spanish desserts, many of which are intrinsically linked to certain regions, and all of which you will find offered at the different Paradores' luxury and historic hotels located throughout Spain.
Delicious desserts
Dating back to the 14th century, the curiously named tocino del cielo -or "heavenly bacon"- is one of Spain's oldest, and most beloved, traditional desserts. Allegedly created by the nuns of the Espíritu Santo Convent in Jeréz de la Frontera, this compact, flan-like, Andalusian delicacy is made from egg yolk and caramelised sugar and provides an especially sweet conclusion to any meal.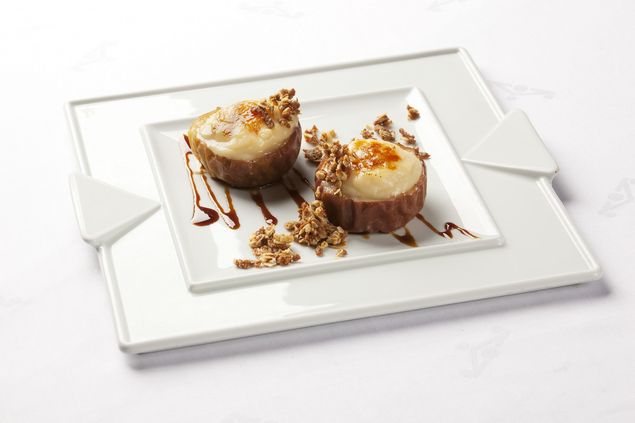 Sample crema catalana at Parador Cardona. Delicious!

Another classic is crema catalana, Cataluña's spin on crème brûlée. Traditionally served on the Feast of Saint Joseph (March 19th), but available year-round nowadays, this dessert which consists of a rich, custard base is topped with a layer of hard caramel, with lemon or orange zest and a sprinkle of cinnamon.
If you're in Madrid or central Spain, however, buñuelos are the name of the game. These fried dough balls are usually available in the springtime and are either filled with anything from strawberry paste to vanilla crème, or covered with chocolate sauce. A hearty but delicious treat!
Scrumptious sweets
In Galicia, a particular regional classic is tarta de Santiago -Saint James' cake-, a rich, almond cake that is make without flour. You'll recognise this delicacy quickly, as these cakes are always covered with powdered sugar except for the centre, where the iconic Saint James Cross is outlined. Filloas, the local spin on crêpes, is another unmissable treat.
Traditional arroz con leche at Parador Cangas de Onís
Throughout the country you'll also find milhojas -the creamy Spanish spin on the French mille-feuille - and Classic flan -custard with caramel sauce- available at most restaurants. Arroz con leche, Spain's version of rice pudding, is another great staple. An age-old comfort food, it stands out for the lemon zest and cinnamon that give it its characteristic flavour.
Ready to treat yourself to an extra helping of Spanish desserts? Contact Paradores today to arrange your culinary tour of the country.