Restaurant La Concordia - Parador de Alcañiz
Castillo Calatravos, s/n, 44600, Alcañiz (Teruel)
+34 978830400
[email protected]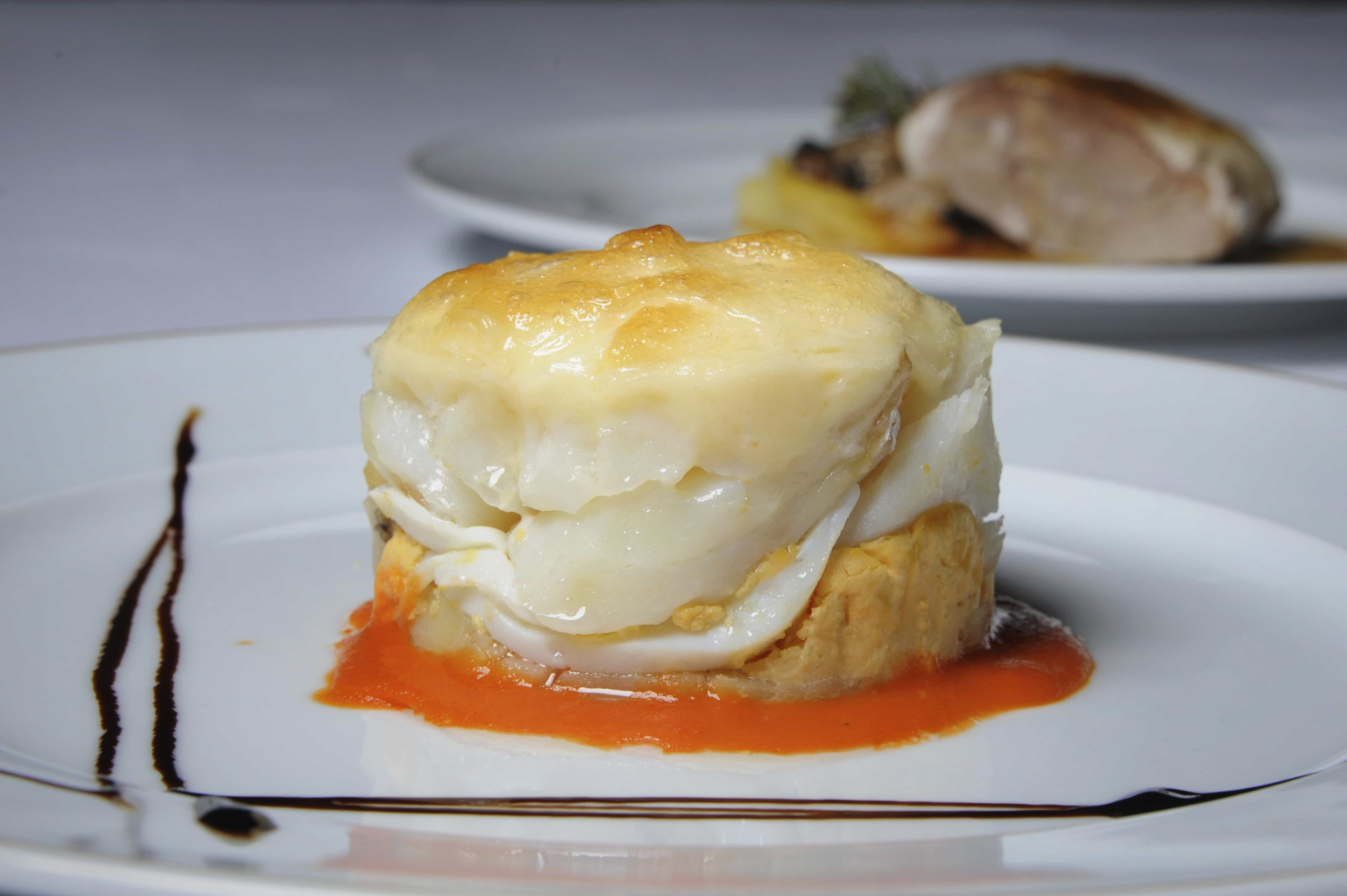 Parador
Brilliant exponent of Aragon's rich gastronomy
The gastronomic offer of the Parador de Alcañiz is based on updated traditional Aragonese cuisine and seasonal local produce. It includes dishes such as El Pilar beans, borage, Aragonese veal, baturra-style cod, ham from Teruel and peaches from Calanda. The cafeteria and, in summer, the Cloister Terrace allow you to enjoy a more informal menu.
Restaurant La Concordia - Parador de Alcañiz
With an elegant palatial décor, in the stately dining room of the Calatravan castle-convent you can taste local specialities of the traditional Aragonese cuisine such as baturra-style cod, migas del pastor (fried breadcrumbs), the famous ternasco (lamb) or quesada aragonesa (Aragonese cheesecake).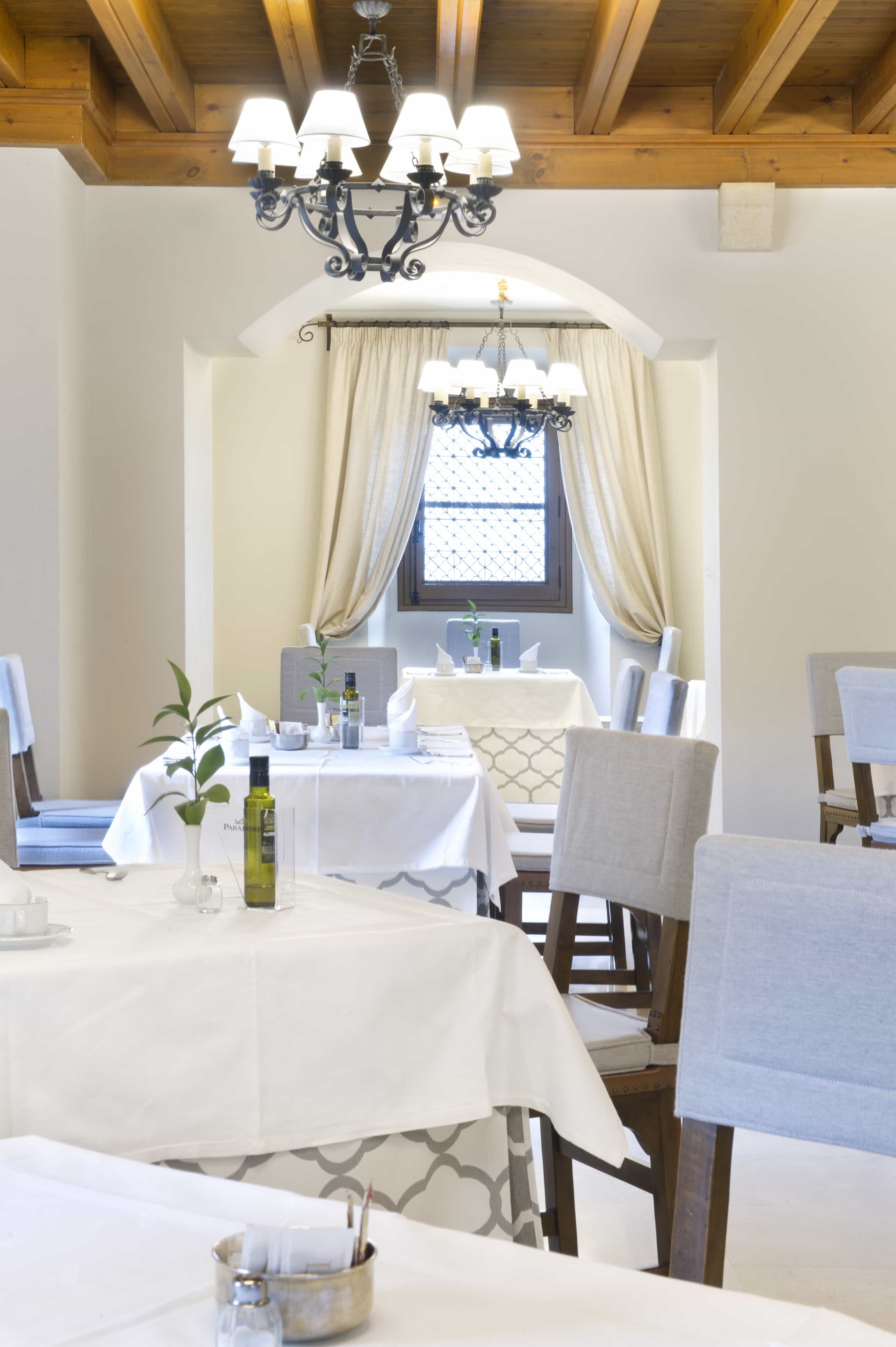 Type of kitchen
Traditional Aragonese
Specialties
Migas del pastor con longaniza (fried breadcrumbs with sausage), borage, baturra-style cod, Aragonese roasted lamb with potatoes "a lo pobre" (fried with onion), quesada aragonesa con miel (Aragonese cheesecake with honey) and peaches from Calanda.
Opening Hours
Coffee shop
11:00 - 00:00
Breakfast
07:30 - 10:30; Weekends: 07:30 - 11:00
The Parador
History, art and motorsport in the land of kings
Built on the summit of the Cerro Pui Pinos, this 12th-13th c. castle-convent still conserves its keep, the belltower-sacristy and the 17th c. Palacio de los Comendadores.
The 14th c. Gothic frescos deserve a special mention. They cover the walls and are set, along with the beautiful Plateresque sepulchre and Baroque façade, in a space of smooth red, ochre and green tones that will take you to another age as you gaze at the marvellous landscape of the Aragonese Maestrazgo's mountain range.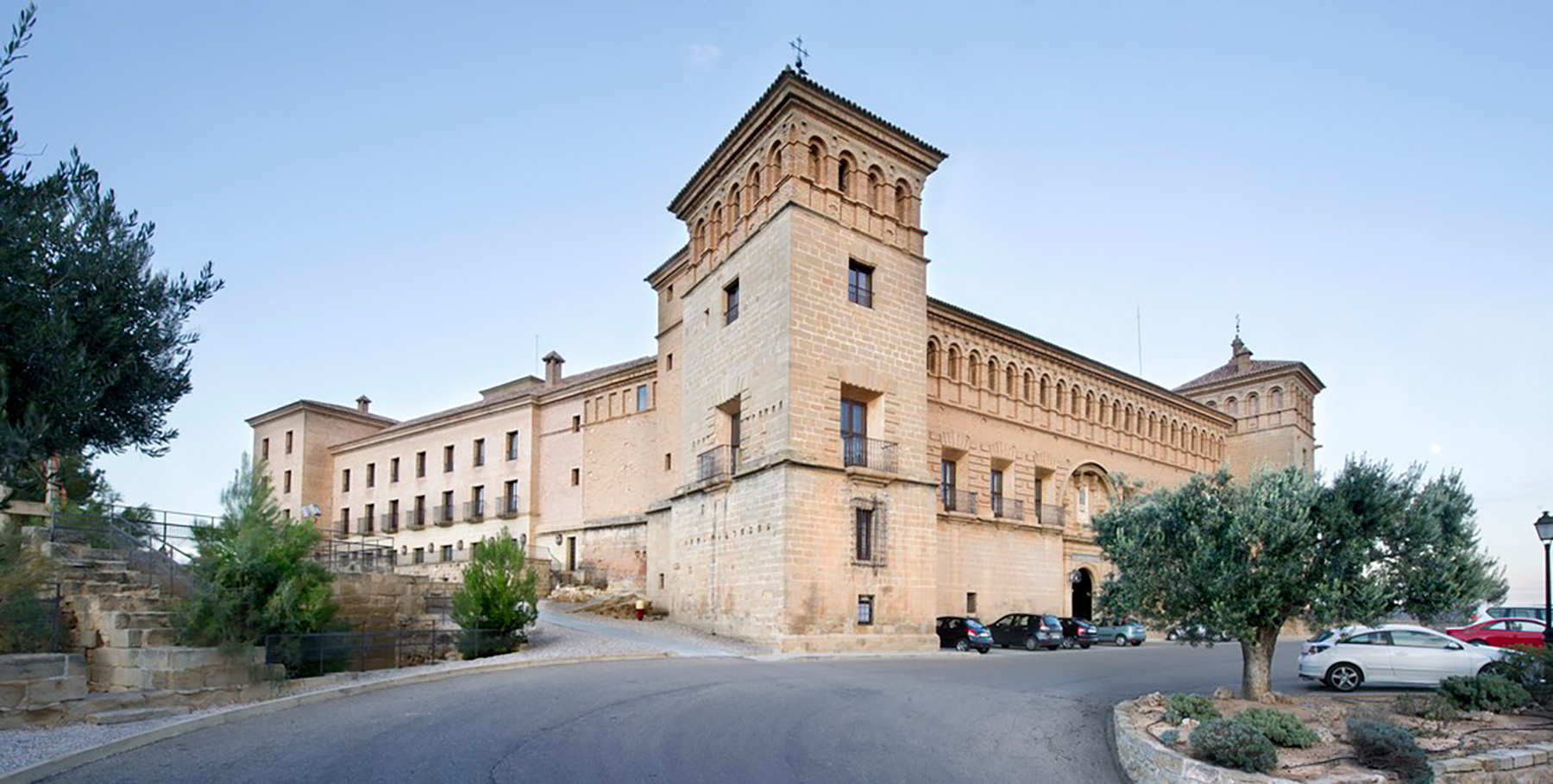 Suggestions
We also suggest these restaurants
The location of the Parador, in a privileged natural setting, determines the cuisine it offers. A place to discover the richness of the flavours of Sanabria cuisine, which draws on...
Vegetable products from the prolific market gardens of Murcia play a major role in the cuisine on offer of the Parador de Lorca. A proposal based on traditional Lorca cuisine,...
An exponent of Mediterranean cuisine, Valencian food is characterised by its abundance of rich and healthy recipes, whose secret lies in the natural products of the sea and the market...
At the Parador de Santo Estevo you'll be able to try the most exquisite dishes of cuisine from inland Galicia, prepared with the best local products. Chestnuts are one of...
The Parador de Tordesillas offers the perfect combination of traditional Castilian cuisine and local produce. Discover a variety of stews based around pulses, roast lamb or suckling pig accompanied by...