Restaurant of the Parador de Cuenca
Subida a San Pablo, s/n, 16001 , Cuenca
+34 969232320
[email protected]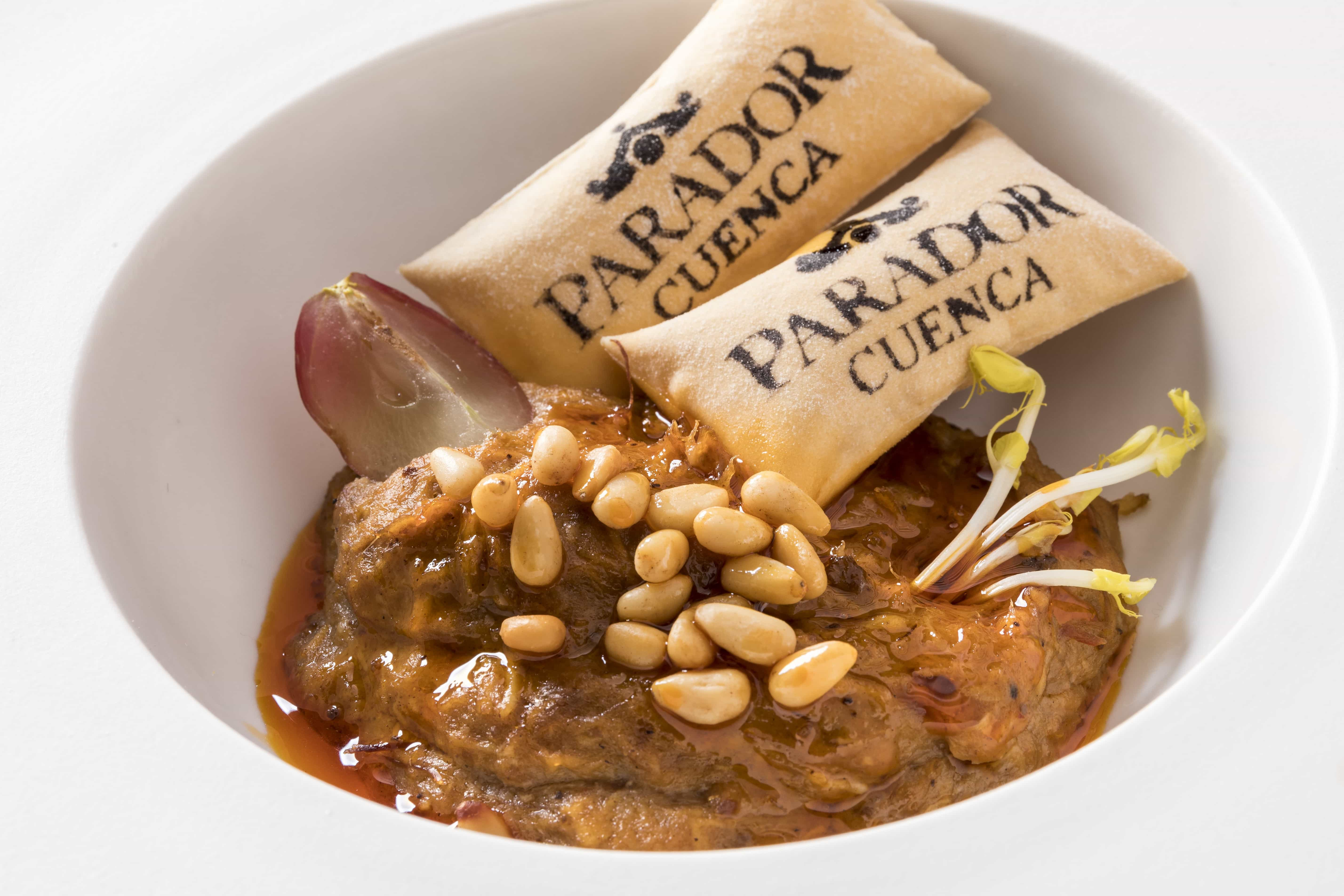 Parador
The charm of La Mancha's gastronomy
Simplicity and originality characterise the gastronomy of Cuenca, of which the Parador de Cuenca is an exponent. Succumb to the charm of an updated Manchegan cuisine with colourful presentations that preserves humble but delicious traditional dishes of shepherds, muleteers and hunters, such as zarajos de cordero (lamb intestines), migas (fried breadcrumbs), ajo arriero, morteruelo (pork liver stew) and mellow alajú (traditional dessert).
Restaurant of the Parador de Cuenca
A monastic dining hall dedicated to fine dining
A beautiful wooden coffered ceiling decorates the spectacular dining room of the Parador de Cuenca, located in the former monks' refectory. As well as traditional dishes, home-made Manchego cheeses and game meats, its specialities include suckling lamb and game dishes; desserts include home-made cheese ice cream and tocinillo de cielo (caramel and egg mouse) with gin and tonic jelly.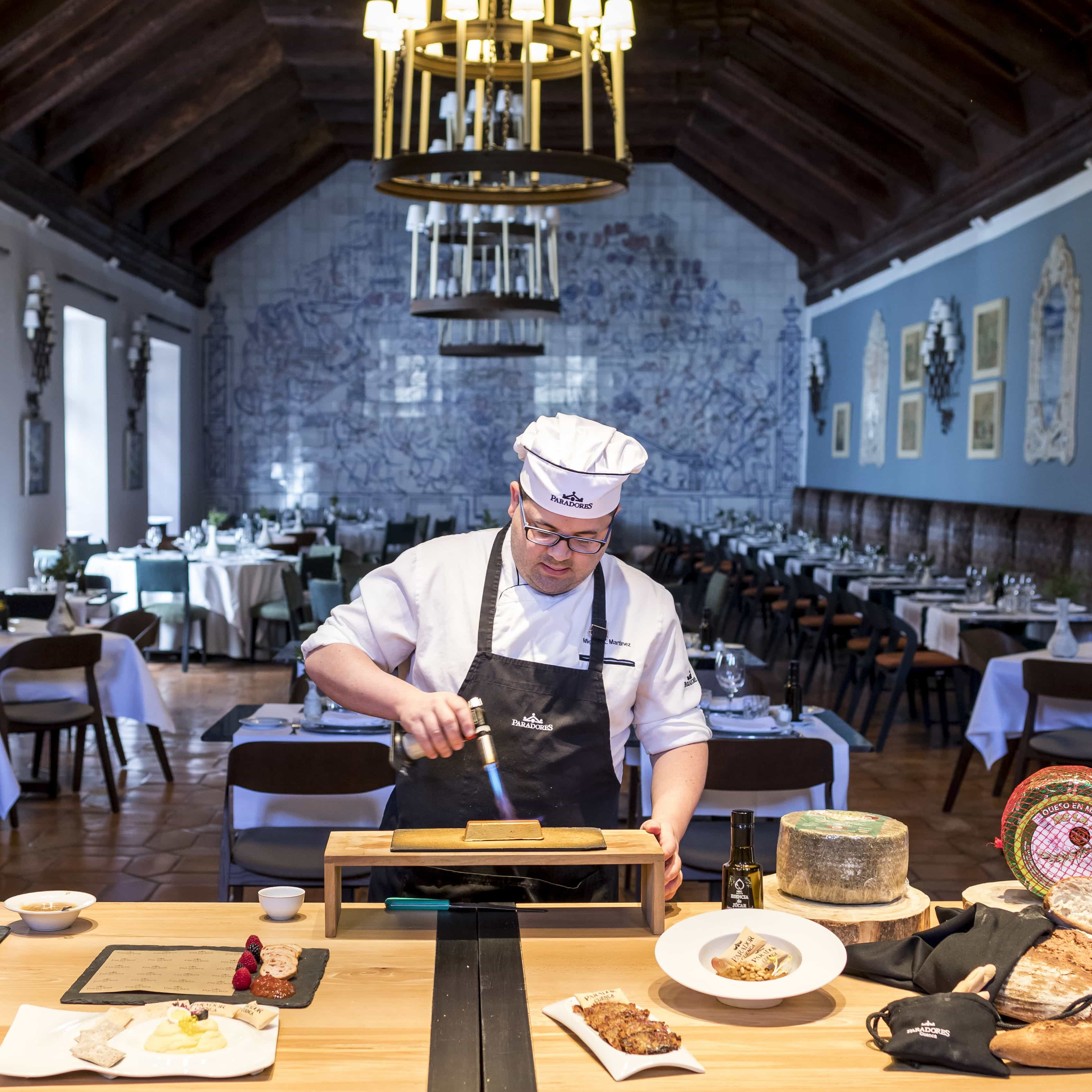 Type of kitchen
Traditional Manchegan
Specialties
Roast peppers, Cuenca ajo mortero (purée of cod, potatoes, olive oil and garlic), lamb from La Mancha, home-made cheese ice cream and honey jelly from La Alcarria.
Opening Hours
Coffee shop
11:00 - 00:00
The Parador
History and modernity in the Enchanted City
The Parador de Cuenca stands in what was the monastery of San Pablo, which was built by the canon Juan del Pozo in 1523 in a Plateresque Late Gothic style and was closely related to the iconic Bridge of San Pablo, which is also named after the canon.
Today, the cloister houses a masterpiece by the artist Julián Casado, entitled "Malevich Series. Variations on the same structure". The work, made up of 42 canvases painted between 1978 and 1982, is a meditation on the tenets of the Ukrainian artist Kazimir Malevich, the father of constructivism, creating variations of the impact of light on a geometrical body.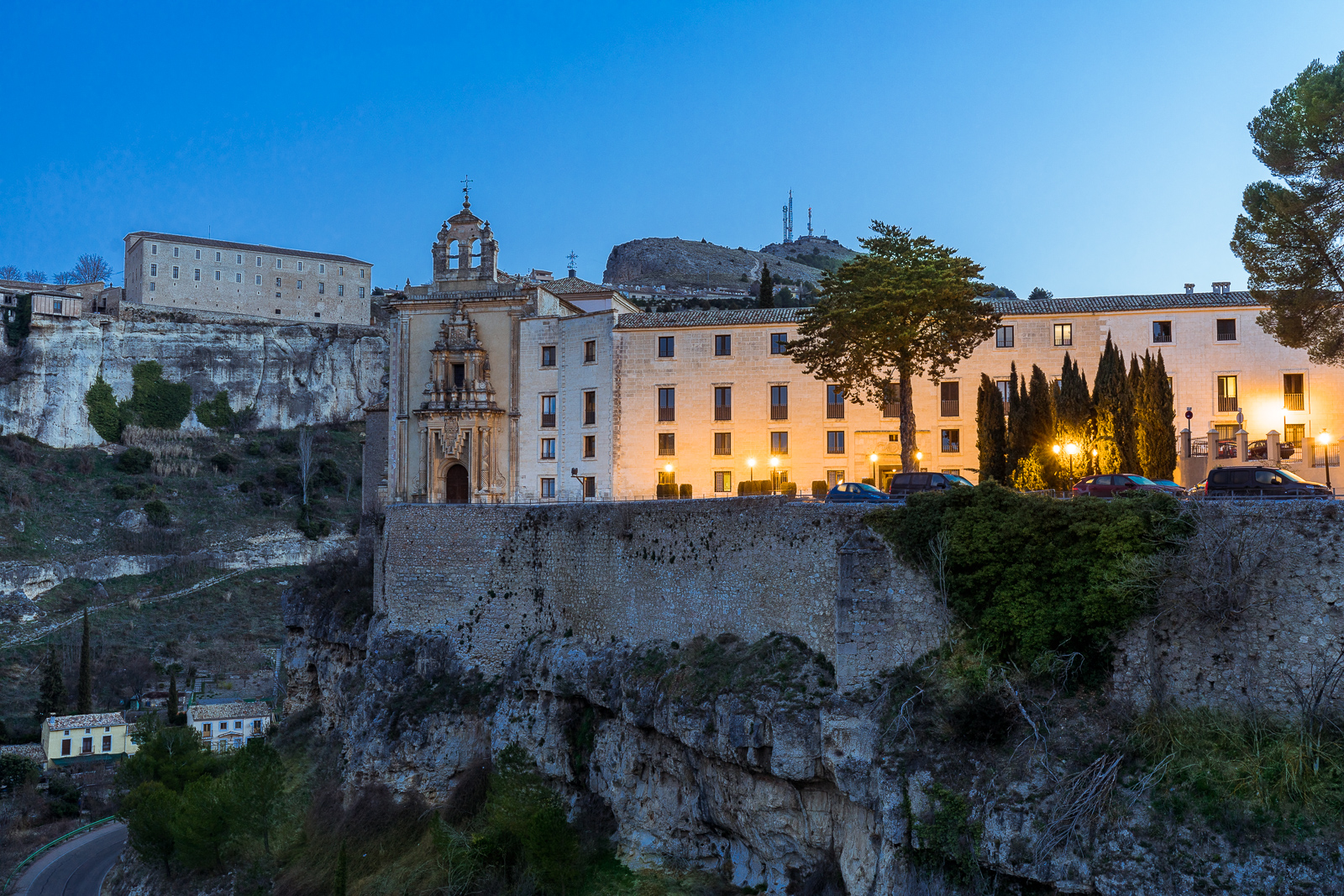 Suggestions
We also suggest these restaurants
At the Parador de Santo Estevo you'll be able to try the most exquisite dishes of cuisine from inland Galicia, prepared with the best local products. Chestnuts are one of...
The cuisine of this Parador in Cadiz is representative of inland Andalusian cuisine, with tapas and traditional dishes such as chard stew or the typical "ajos molineros" (made with garlic,...
As is characteristic of the cuisine of Huelva, the gastronomy of the Parador de Ayamonte, given its privileged location, combines sea and mountains with top quality produce as the main...
The Parador de Argómaniz is the only exponent within the public hotel chain of the internationally renowned Basque gastronomy. A proposal in which the unique seasonal nature of Álava means...
Traditional gastronomy combined with a local concept of the Aran Valley cuisine is the hallmark of the Parador de Artíes. It has a menu of local and regional products, as...