Restaurant of the Parador de Soria
Fortún López, s/n - Parque del Castillo, 42005, Soria
+34 975240800
[email protected]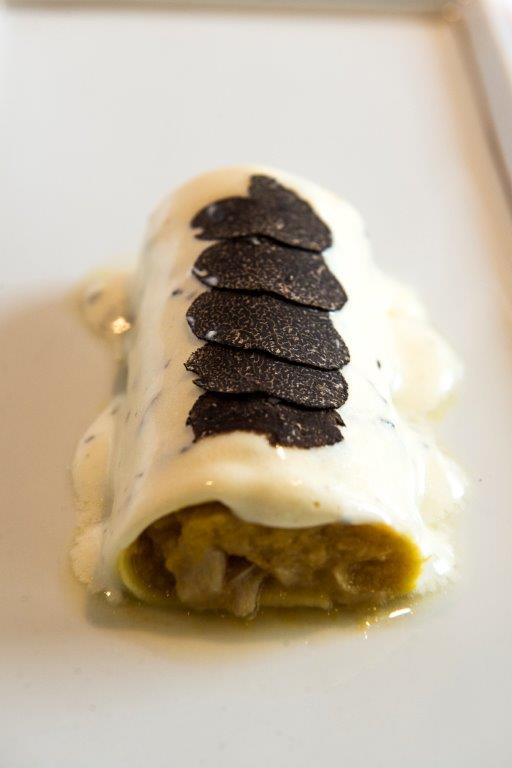 Parador
Renewed traditional Castilian cuisine
The Parador de Soria offers an attractive range of cuisine based on refreshed traditional Castilian cuisine. Local and seasonal products are the basis of traditional dishes, with a special emphasis on truffles and mushrooms.
Restaurant of the Parador de Soria
An appointment with mycological gastronomy
Located in the Castle Park, with stunning views of the city and the River Duero, the restaurant at the Parador de Soria offers delicacies from our menu, made from classic products, such as Soria migas, torreznos, honeyed rice with hare and mushrooms, boned and pressed suckling pig or dishes such as our rack of suckling lamb. During the mushroom season, don't miss the mycological set menu and the truffle-based culinary days.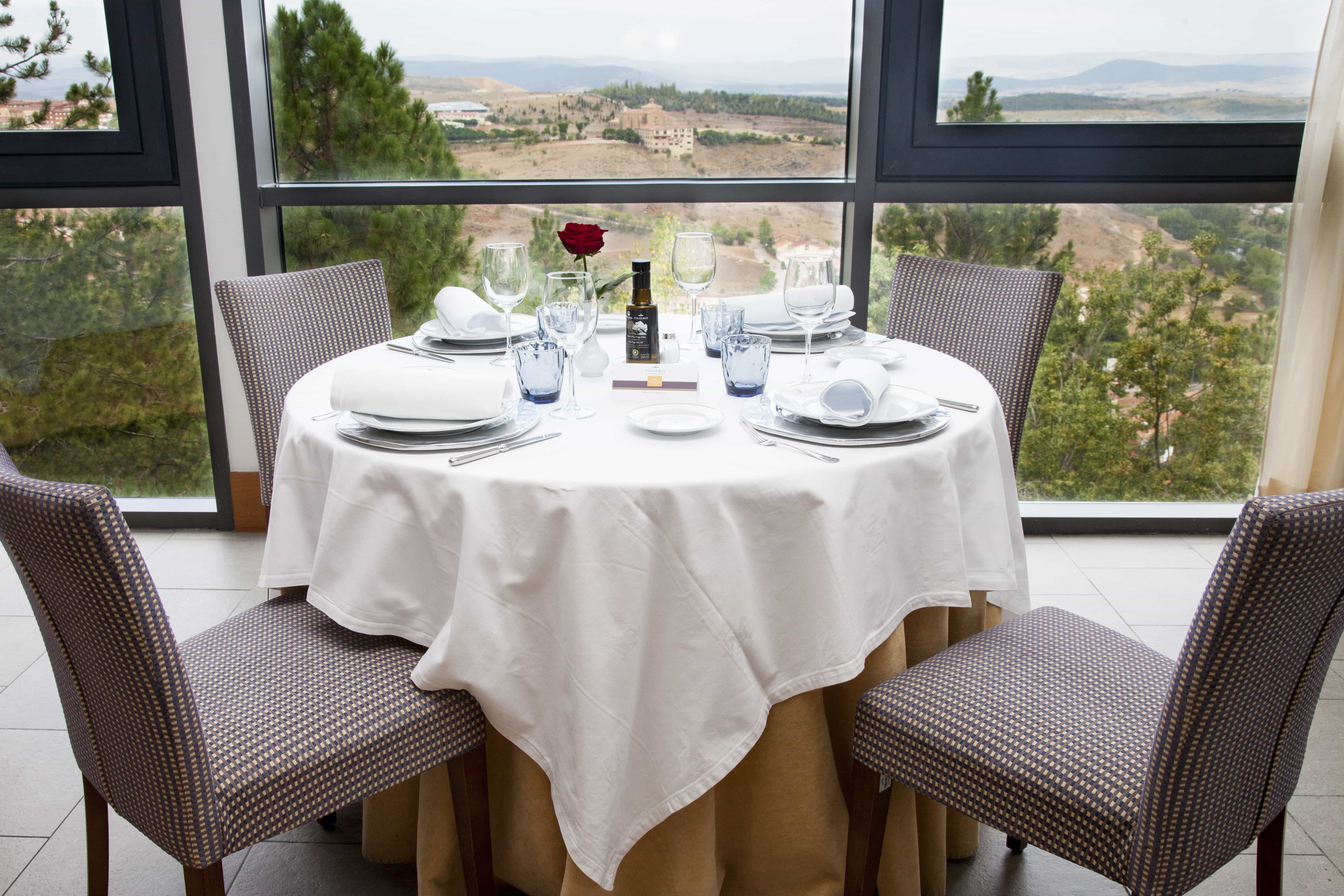 Type of kitchen
Traditional Castilian
Specialties
Soria migas, sweet rice with hare and mushrooms, boned and pressed suckling pig.
Opening Hours
Coffee shop
11:00 - 00:00
Breakfast
07.30 - 11.00, 08.00 - 11.30 weekends and public holidays
The Parador
A Parador on the banks of the River DUERO
The hotel also has numerous large meeting rooms, which are perfect for holding meetings, presentations and all kinds of events.

And, in the restaurant, you can try the traditional food of Soria, such as the exquisite beans, migas, roast lamb and garlic soups, as well as more sophisticated and innovative preparations.

The Parador de Soria is located just ten minutes from the historic centre.

A tour that you can take on foot or by hiring a bicycle from us.

Romanesque churches, monasteries and museums are Soria's main tourist attractions.

But nature is also one of the star attractions.

In the areas surrounding the city you can enjoy places as fascinating as they are beautiful, such as the Laguna Negra, the Cañón del Río Lobo and the Sierra del Urbión.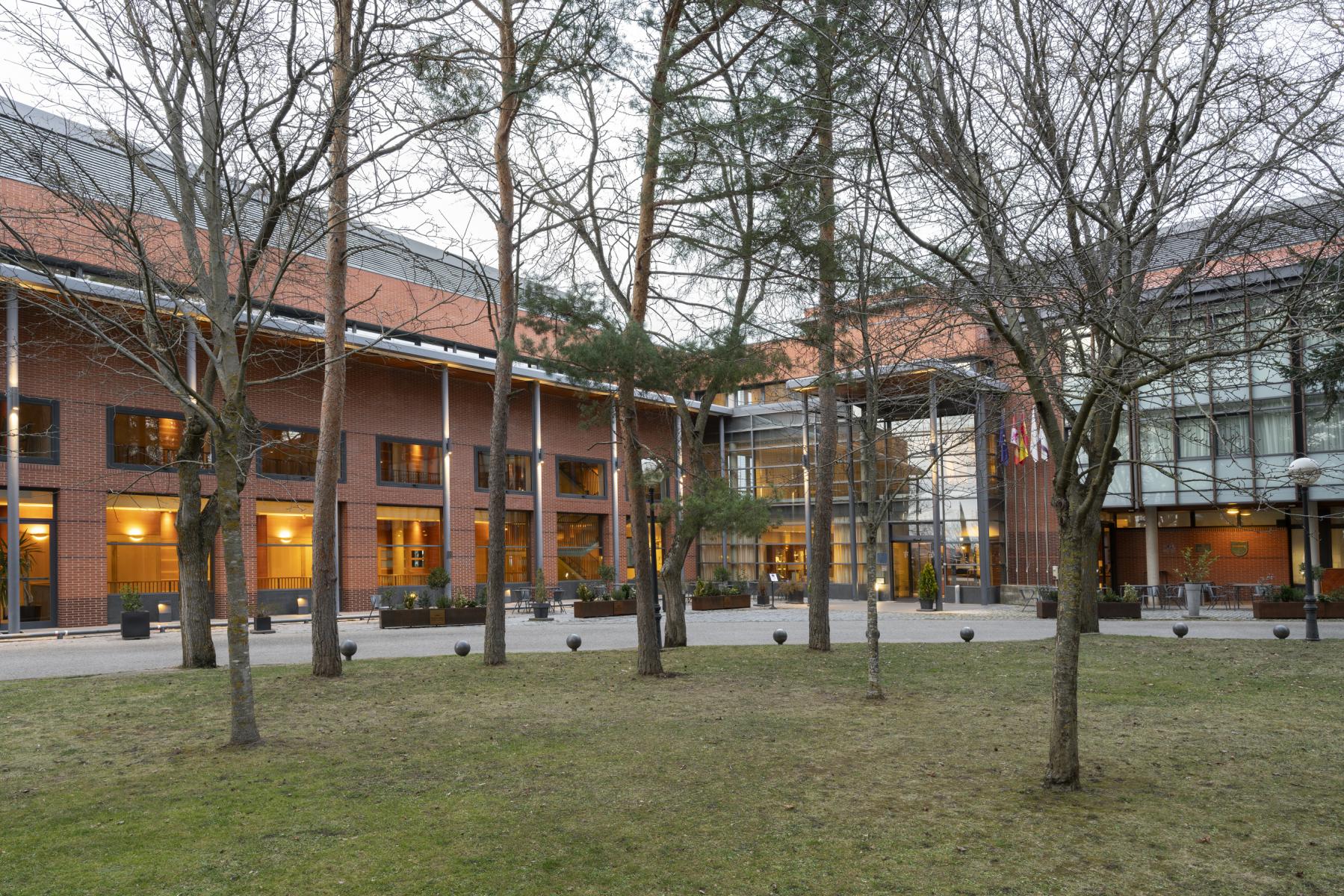 Suggestions
We also suggest these restaurants
Eating at the Parador de Granada gives you the opportunity to enjoy an exclusive gastronomic experience in the Alhambra itself. A culinary proposal that, on a culinary level, is heir...
Authenticity and top quality local produce characterise the gastronomic offer of the Parador de Aiguablava. A proposal that brings to the plate the breathtaking beauty and uniqueness of the landscape...
The gastronomic offer of the Parador de Alcañiz is based on updated traditional Aragonese cuisine and seasonal local produce. It includes dishes such as El Pilar beans, borage, Aragonese veal,...
The cuisine at the Parador de Ávila is a true reflection of the gastronomy of Avila, marked by hearty dishes full of flavour. A menu which highlights the cuts of...
The proximity of Morocco and Andalusia has left its mark on Ceuta's cuisine in terms of flavours, aromas and colours. A cuisine with Andalusian and Moroccan influences based largely on...