Restaurant La Concordia - Parador de Alcañiz
Castillo Calatravos, s/n, 44600, Alcañiz (Teruel)
+34 978830400
[email protected]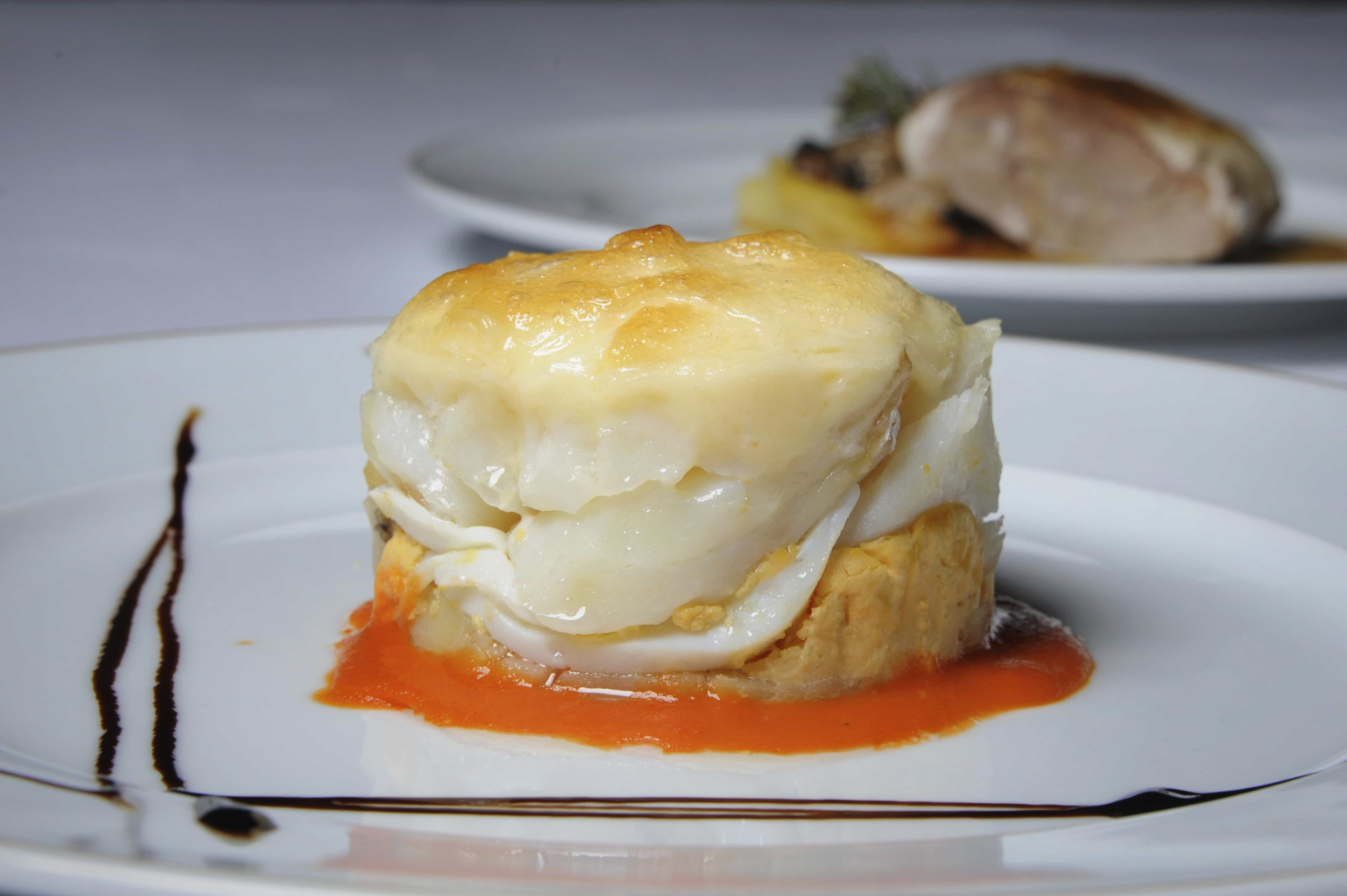 Parador
Brilliant exponent of Aragon's rich gastronomy
The gastronomic offer of the Parador de Alcañiz is based on updated traditional Aragonese cuisine and seasonal local produce. It includes dishes such as El Pilar beans, borage, Aragonese veal, baturra-style cod, ham from Teruel and peaches from Calanda. The cafeteria and, in summer, the Cloister Terrace allow you to enjoy a more informal menu.
Restaurant La Concordia - Parador de Alcañiz
With an elegant palatial décor, in the stately dining room of the Calatravan castle-convent you can taste local specialities of the traditional Aragonese cuisine such as baturra-style cod, migas del pastor (fried breadcrumbs), the famous ternasco (lamb) or quesada aragonesa (Aragonese cheesecake).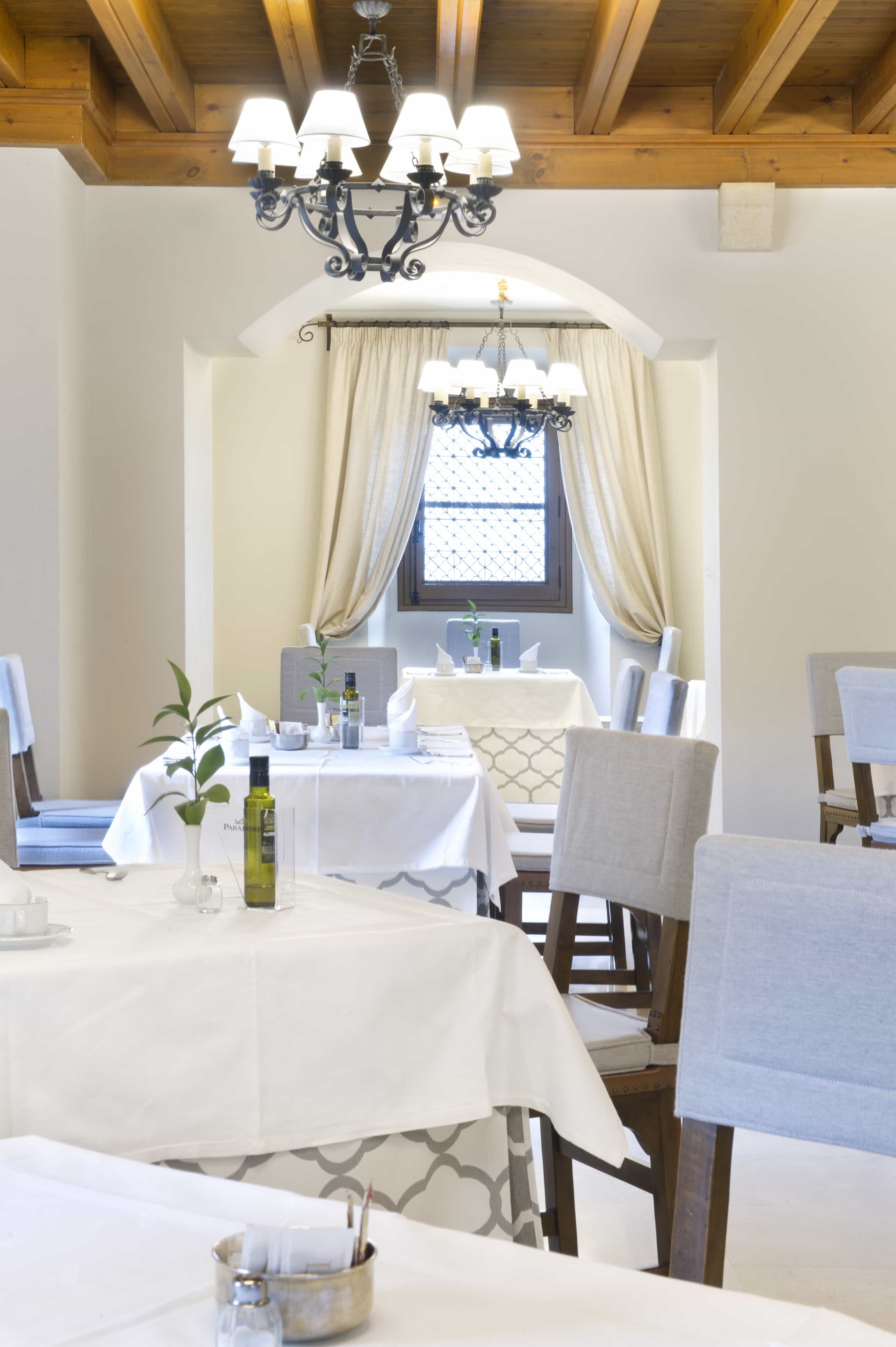 Type of kitchen
Traditional Aragonese
Specialties
Migas del pastor con longaniza (fried breadcrumbs with sausage), borage, baturra-style cod, Aragonese roasted lamb with potatoes "a lo pobre" (fried with onion), quesada aragonesa con miel (Aragonese cheesecake with honey) and peaches from Calanda.
Opening Hours
Coffee shop
11:00 - 00:00
Breakfast
07:30 - 10:30; Weekends: 07:30 - 11:00
The Parador
History, art and motorsport in the land of kings
Built on the summit of the Cerro Pui Pinos, this 12th-13th c. castle-convent still conserves its keep, the belltower-sacristy and the 17th c. Palacio de los Comendadores.
The 14th c. Gothic frescos deserve a special mention. They cover the walls and are set, along with the beautiful Plateresque sepulchre and Baroque façade, in a space of smooth red, ochre and green tones that will take you to another age as you gaze at the marvellous landscape of the Aragonese Maestrazgo's mountain range.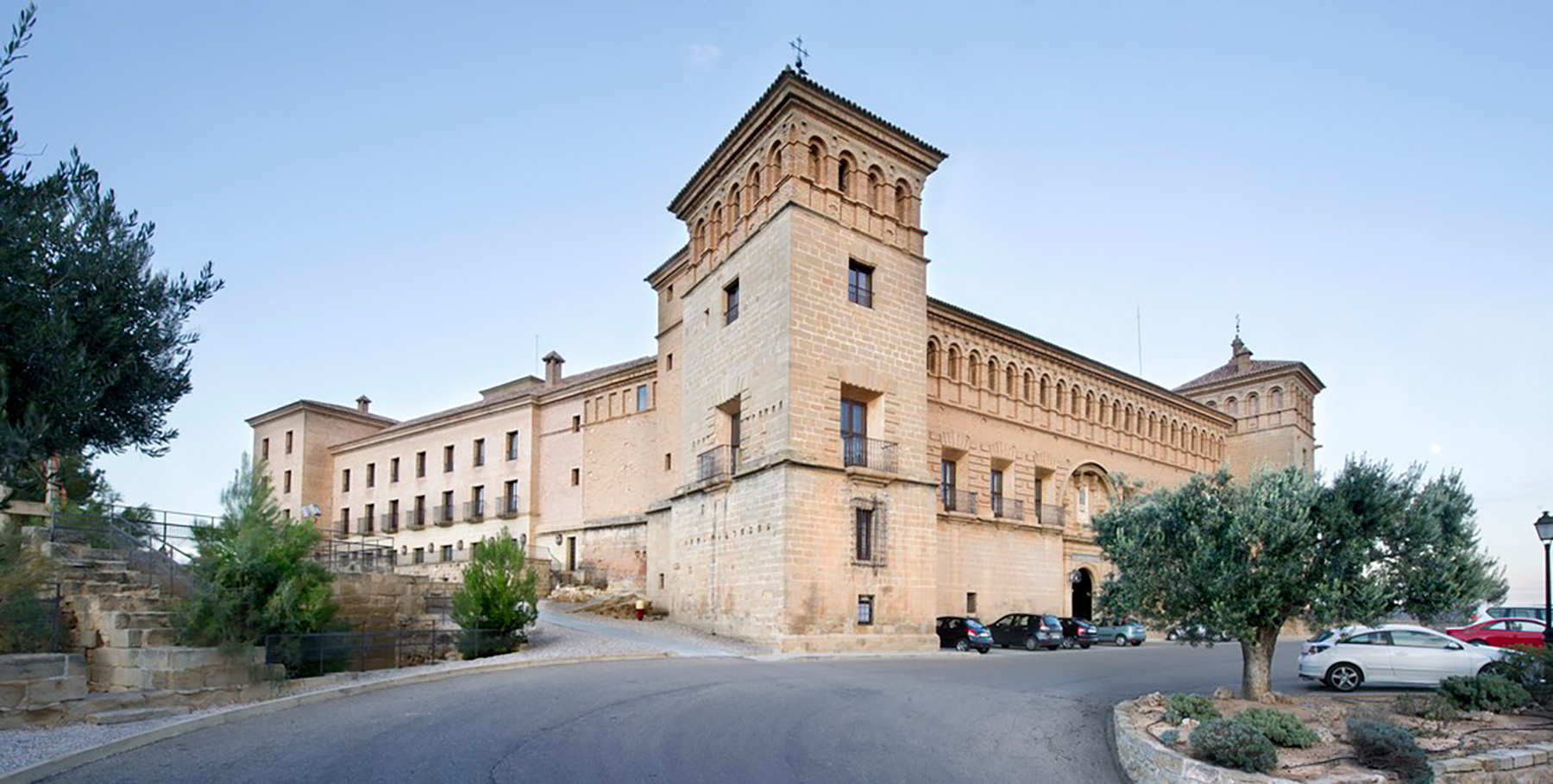 Suggestions
We also suggest these restaurants
The restaurant area of the Parador de Pontevedra represents authentic traditional Galician cuisine. It places special emphasis on the gastronomy of the Rías Baixas, based on the highest-quality local produce....
Mountain dishes with bush meat are one of the hallmarks of Cazorla's gastronomy. At the Parador, located at an altitude of 1,400 metres, you can enjoy seasonal game dishes, with...
Given its privileged location at the main crossroads of Andalusia, in the restaurant of the Parador de Antequera you will enjoy the traditional Antequera gastronomy and the influence of the...
The Parador de Argómaniz is the only exponent within the public hotel chain of the internationally renowned Basque gastronomy. A proposal in which the unique seasonal nature of Álava means...
The cuisine on offer at the Parador de Tortosa is based on local cuisine. The Mediterranean recipes perfectly combine products from the vegetable garden, the Ebro Delta, the mountains and...