Walkway along a cliff's edge: The Caminito del Rey track
There was once a time when the boardwalk was one of the most dangerous routes in the world. This trail, located in the province of Malaga, was inaugurated in 1921 by King Alfonso XII, though it had been used for many years prior to this by the Hydroelectric Power station El Chorro workers between 1901 and 1905, as they undertook maintenance work on the Gaitanejo and Chorro gorges. Let's take a journey to Malaga to follow the footsteps of the Kings on the Caminito del Rey boardwalk.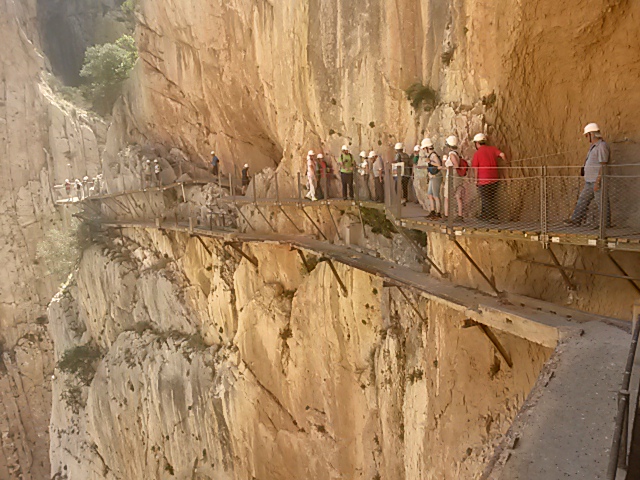 For years this walkway was closed due to extreme danger caused by the passing of time and weather damage, leaving it impassable in several places. This year, in the wake of reconstruction work, once again one of the most impressive locations in the south of Spain can be visited.
The route begins at the reservoir and can be accessed from Árdales, at the highest point of the river. This beautiful green location is ideal for spending the day or canoeing - this area has everything! If you wish to follow the route, it is easier in this direction because it is downhill all the way to the Chorro Dam in the village of Alora.
In many sections the former path can be seen. It has been preserved so that modern day visitors can appreciate just how dangerous this walkway was almost a century ago.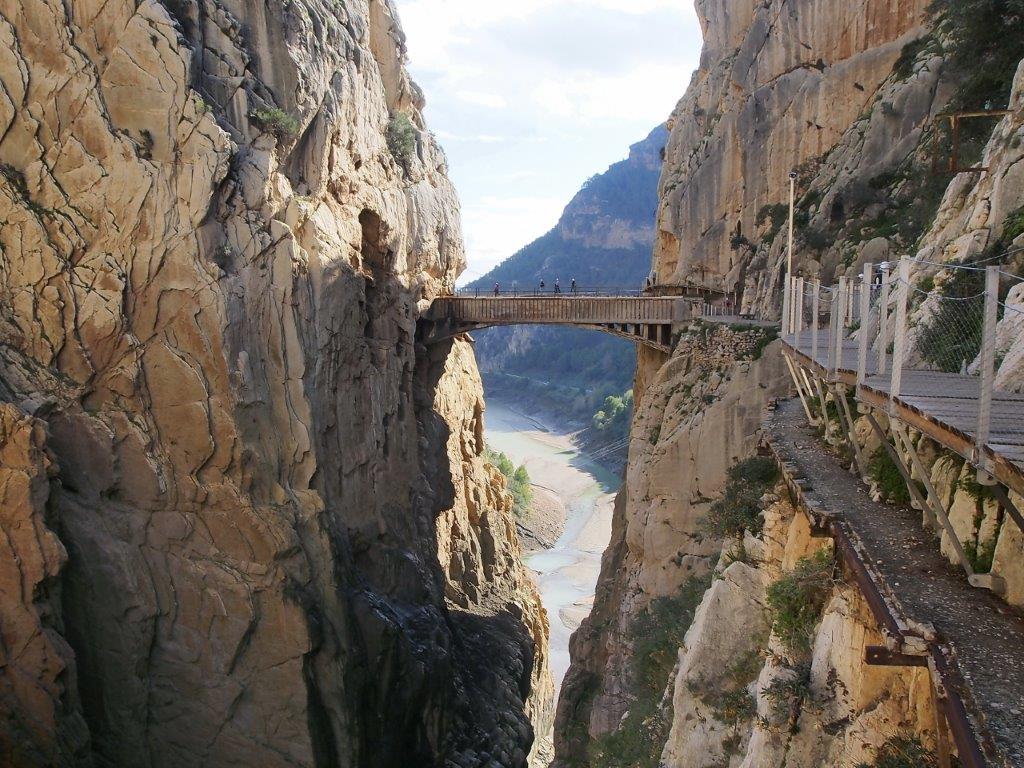 The route is spectacular, and no prior training is required. Perhaps in some parts you may find it tricky to stop looking down from your precarious position perched 100 metres above the precipice, but we assure you that it is a unique journey that is well-worth a visit.
To round off your experience to perfection, we recommend staying in one of the Paradores near the Caminito del Rey. Enjoy the ultimate experience in our charming hotels and restaurants while you visit this extraordinary location.
If you are passionate about unusual locations created from natural formations, don't miss out on the chance to visit the Caves of Nerja (Nerja las Cuevas). They are spectacular and are just a stone's throw from the Nerja Parador.
Book now at the Parador de Nerja
Remember to do your homework before setting off. Your booking must be made from the Caminito del Rey website. Visitor passes are available with 30 minutes intervals in summer between 10:00 and 17:00, and between 10:00 and 14:00 in winter. It is open Tuesday to Sunday and the trip to Caminito del Rey takes between 4 to 5 hours. There are 50 people per group and the maximum capacity is 400 visitors. (For reference, official information is always displayed on the Caminito del Rey website).
As well as the Nerja Parador, the province of Malaga also has other Paradores from where this interesting tourist spot can be reached.