Your Wedding In The Middle Of A Natural Park
There is a beauty in nature that is untouched by man, cannot be recreated, and is fleeting. It is where you will experience the most romantic, intimate moments.

Being able to share it with the one person in the world you love the most is the icing on the cake.

This picture makes for the ideal wedding portrait, and Spain luxury hotel chain Paradores is ready to make that happen for you.

Having found the perfect balance between untouched natural beauty and luxury, Paradores is ready to give you the wedding of your dreams.

Parador Cervera de Pisuerga

There are few areas in nature that can match the majesty of a wild mountain range.

Towering over the rest of Spain, the Picos de Europa are a haven for any happy couple looking to tie the knot in the fresh air and amid rustling leafs.

Parador Cervera de Pisuerga sits right in the foothills of the mountains, in the Fuentes Carrionas reserve.

The luxury hotel is modelled on a five-story hunting lodge, lending a truly rustic atmosphere to that special day. The Romanesque art highlights the natural decor of the area.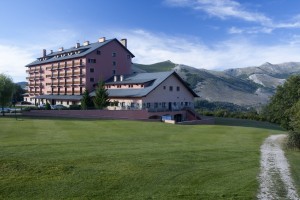 Parador Cervera de Pisuerga
Walk down the aisle among the trees, with the Ruesga Resevoir shining blue and gold as the sun glistens on its surface. Let Paradores offer you a wedding worthy of the beauty of the location.

Parador Vic-Sau

Nestled in between the Guillerías mountains and the Sau Resevoir, this Masía (country house)-inspired luxury hotel will give a Catalan flair to any wedding.

Parador Vic-Sau is surrounded by immaculately maintained gardens which take the hassle out of planning a wedding.

No need to choose a floral arrangement because Mother Nature has taken care of that for you, decorating your wedding with the well maintained gardens and the wild backdrop of the mountains.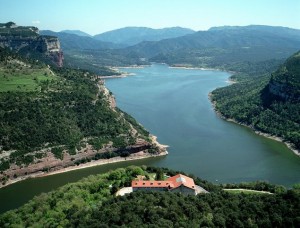 Parador Vic-Sau
Parador Las Cañadas del Teide

While most people think that an island wedding means long stretches of sandy beaches, Parador Las Cañadas del Teide has a different take on it.

This luxury hotel sits high in the mountains of Tenerife in the Canary Islands. An opportunity to express your love before a panoramic view of one of the Mediterranean's most breathtaking islands is not one to pass up.

The Parador is the only building on the mountain, adding a sense of intimacy that can only truly be found in nature.

Parador Las Cañadas del Teide
So which outdoor paradise attracts you for your special day?