Yolanda's Fairy Tale Ending in Parador Mérida
Yolanda and Alberto tied the knot on September 22 in Parador Mérida. To say that their day was special would be an understatement, as it was so much more than that. Their Spanish wedding was their own personal fairy tale, all made possible due to the luxury hotel chain, Paradores.

The location

Parador Merida is located in an old 18th century convent, and the couple fell in love with the luxury hotel on sight. It was the perfect location for their wedding, and the Garden of Antiquities formed the ideal backdrop. The lush garden is an archaeological collection with elements from the Romans, the Visigoths, and the Arab Muslims who were very influential in Spanish art. This combination added a historical flair; making it an interesting and unique setting. While the guests enjoyed cocktails and admired the artwork, the couple posed for photos under the trees in the light of the Spanish sun.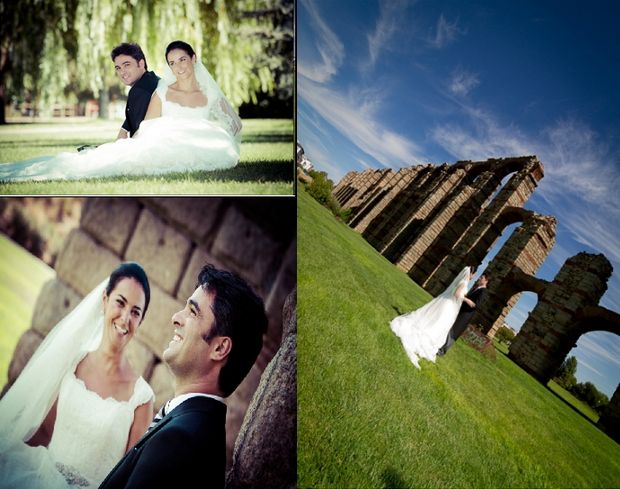 Yolanda and Alberto
The food

The happy couple chose to dine indoors so their guests could get a view of the impressive architecture of the historic building. Served by a professional staff, everyone enjoyed a traditional lunch of local cuisine. The highlight was the main course: an Iberian sirloin with a red fruit dressing and baked potatoes. The meal was gorgeous, both in taste and in presentation.

The dress

As Alberto led Yolanda onto the dance floor for their first dance, it was hard not to notice how graceful and beautiful the blushing bride was in her wedding dress. A Pronovias "couture" dress from 2012, it had a romantic touch of lace around the bodice, and a bold belt that introduced the lace to the chiffon skirt. Dancing with Alberto, Yolanda looked like a princess in the arms of her prince.

Yolanda
The music

Paradores provided the music as well, and the DJ played a mix for all ages and tastes. The couple´s first dance as man and wife was Fly Me to the Moon by Frank Sinatra. The romantic moment was soon followed by more contemporary songs, with energy and rhythm to keep people dancing all night.

A fond farewell

As the party was winding down, and people were beginning to make their way off the dance floor, it was hard not to notice the sea of smiles. Yolanda and Alberto's joyful day was shared by their nearest and dearest, who were thrilled with the experience. Parador Merida was only too happy to play their part in that joy.