The beautiful, mountainous city of Ronda in southern Spain has served as inspiration for many artists over the centuries. British author Mary Anne Evans, known by her pen name George Eliot, famously named the title character of her controversial Victorian novel Daniel Deronda. Deronda is a Jew brought up as an Englishman, and his Spanish surname "Deronda" translates to "from Ronda", understood as a reference to the character's Jewish ancestors who lived in the Spanish village of Ronda before the Jews were expelled from Spain in 1492.
Americans Ernest Hemingway and Orson Welles, who spent a lot of time in the city, were also heavily inspired by Ronda.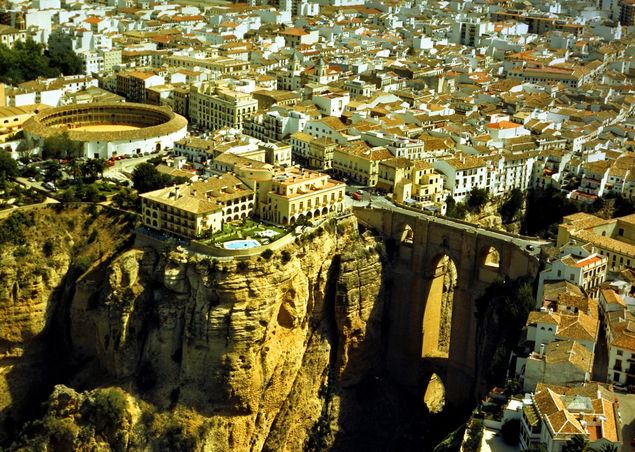 Parador Ronda
Inspiration in Ronda
Pulitzer prize-winning writer Ernest Hemingway was a great bullfighting enthusiast, and he raved about the bullring in Ronda. "There is one town that would be better . . . to see your first bullfight in if you are only going to see one, and that is Ronda." Modern bullfighting was invented in Ronda when local bullfighter Pedro Romero decided to change the sport. Originally, bullfighters rode horses, but Romero decided to get down off the horse and confront the bull on foot. In fact, Hemingway named a character Pedro Romero in his 1926 novel The Sun Also Rises.
But it was not just the town's bullfighting tradition that so inspired Hemingway. He was also moved by the beauty and romance of this mountainous village, with its narrow, winding streets and white buildings. He said that Ronda "is where you should go if you ever go to Spain on a honeymoon or if you ever bolt with anyone. The entire town and as far as you can see in any direction is romantic background."
Hemingway also wrote two non-fiction books about Ronda: Death in the Afternoon (1932) and The Dangerous Summer (1985), which was published posthumously. The Dangerous Summer follows Hemingway's good friend, bullfighter Antonio Ordóñez, from bullring to bullring in the summer of 1959.
Ordóñez, perhaps the most famous bullfighter in Spain in his day, also became a great friend of Welles'. The American director, writer, actor and producer spent a great deal of time with Ordóñez while summering in Ronda. Like Hemingway, Welles was a devoted bullfighting enthusiast. Interestingly, his ashes are buried in a well on Ordóñez's estate.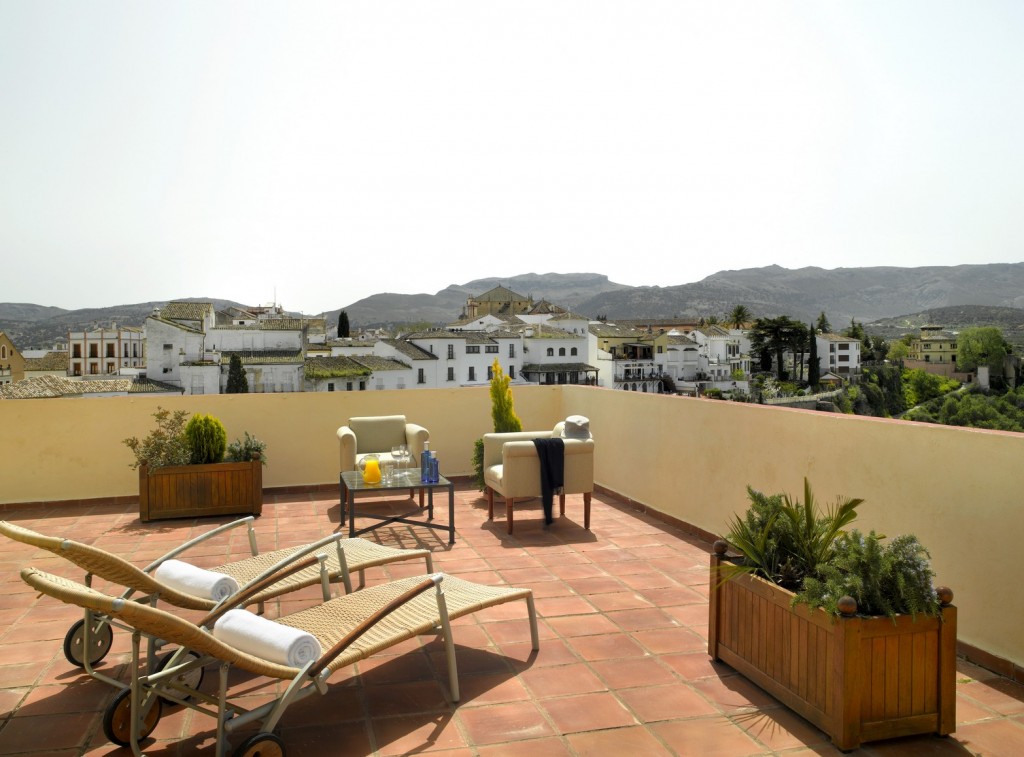 Private Terrace in Suite Rooms
Parador Ronda
Whether you are an artist or writer yourself or you simply enjoy reading, you may also be inspired by this charming and historic city. For a truly unforgettable experience, stay at luxury hotel Parador Ronda. The building that the hotel occupies was constructed in 1734, and therefore was a feature of the city that Hemingway and Welles loved so much.
Sitting on the edge of a steep river gorge, the Parador offers guests impressive views of the area as well as a delicious menu of Spanish cuisine typical of Andalusia, such as bull tail prepared in the local style and cold garlic soup.