Vulture Watching in the Gorges of Navarre
The autonomous region Navarre, on the Spanish side of the Pyrenees, is home to an extensive range of animal species, including a significantly large bird population. Bird-lovers who stay at the luxury hotel Parador Sos del Rey Católico are in the perfect location for bird watching, in particular for observing vultures in the Foz de Lumbier gorge.
Sos del Rey Católico is a small village near Pamplona, the capital of Navarre. It is a National Monument and Historic-Artistic site. Its Aragonese-style parador sits at one end of the medieval town wall, keeping in tune with the character of the village and offering lovely views of the village and adjacent Pre-Pyrenees.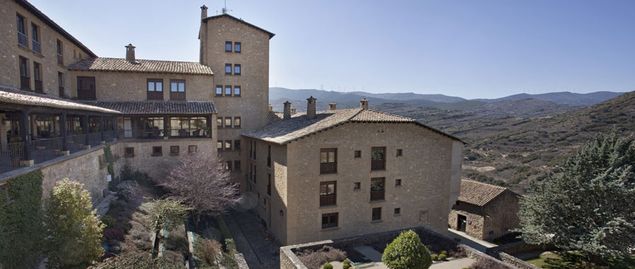 Parador Sos del Rey Católico
The Vultures in Foz de Lumbier
Navarre has a network of Protected Nature Areas which help to preserve the variety of flora and fauna that the region features. One of the area's most valuable species is the endangered quebrantahuesos - the bearded vulture. This bird lives alongside other birds of prey such as Egyptian vultures, griffon vultures, golden eagles and red kites in the gorges of Navarre.
The Foz de Lumbier is one of these gorges, declared a Nature Reserve in 1987 to protect the superb colony of birds of prey that nests in its cliffs. Only a 40 minute drive away from Parador Sos del Rey Católico, this is one of the most spectacular gorges in the region. The hotel can help organize excursions to the Foz de Lumbier, which can be easily explored on foot.
This narrow gorge is just over a kilometre long, with vertical walls of up to 150 metres high. There are two possible routes to take: the short route, just a 2.6 km roundtrip, or the long route which is about 5.5 km long and should take approximately two hours to complete. The short route follows an old railway track and goes through two dark tunnels, ending at the ruins of the 16th century Puente del Diablo o de Jesús (Devil's or Jesus' Bridge).
On both routes, look above your head and you will be able to see vultures' nests in the crevices and ledges of the cliffs as well as great birds of prey perched or in flight. The type of vulture you are most likely to see is the Griffon but this gorge is also the habitat of Egyptian vultures.
If you like this type of activity, we also recommend bird-watching in Parador Guadalupe.