Vegetarians Delight in Parador's Fine Dining
Luxury hotel chain Paradores understands and respects its vegetarian guests. The hotel staff is committed to offering delicious meatless meals for those who have made this dietary decision. The chefs take great pride in their work and use only the freshest local produce to highlight the best of each gastronomic region.

Spain is a smorgasbord of options, and the kitchen staff are well-trained. They often play around to offer us modern twists on classic recipes. You don't have to be a vegetarian to enjoy veggie dishes at Paradores. These menus are enough to leave even the biggest meat-eating mouths watering.

Paradores: Ahead of Their Time

Not only did Paradores kick-start the health food movement in their daily menus, but they also cater to any dietary restriction under the Spanish sun, from coeliacs to vegetarians. Paradores has been recognized for their innovations by both the International Health Foundation as well as the Gastronomy Academy for re-establishing home-cooked healthy dishes in their restaurants.

Their gastronomic creations are another reason that they were granted this reward. The head chefs have the ability to create a menu that attracts everyone. The care that is put into creating the menus only shows just how important the dining experience is to Paradores. They want to give you the meal of your dreams.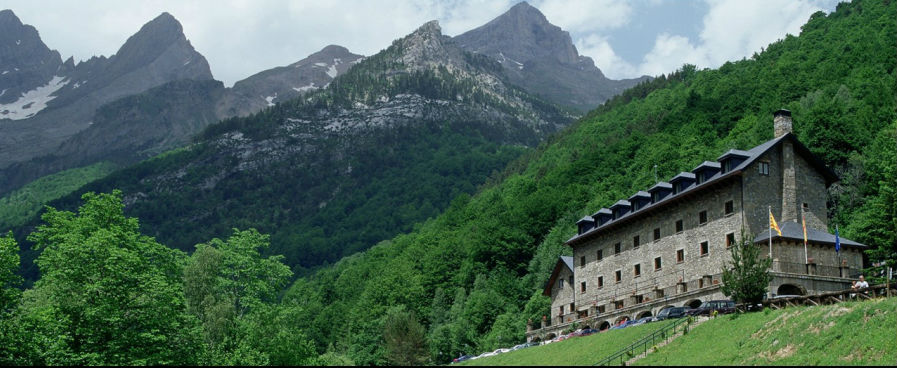 Parador Bielsa
Just for Starters

Chef Gistau at Parador Bielsa loves creating new recipes for all taste buds and food preferences. His Aragonese fried vegetables are paired with a zesty alioli sauce that shouldn't be missed! He mixes traditional veggies like tomato, pepper, onion and courgette with unexpected flavours like coconut. It's a surprising twist on the classic alioli recipe that will leave your palate wanting more.

A Hearty Soup

Another example of a vegetarian dish is this Herreño Cheese Soup. Parador El Hierro takes the traditional papas arrugadas from the Canary Islands and gives them a bit of a twist. With the excellent blend of chopped vegetables, this is the chunkiest, heartiest soup you will ever come across. Topped with a special cheese, you will get your serving of protein to keep you energized for the rest of the day.

Don't Forget Dessert!

This pastry from La Mancha is a wonderful blend of basic ingredients like milk, flour and honey. Not overly sweet or gooey, the fried treat is the perfect end to a delicious meal.

With so many options to choose from, Paradores only has one question: Can we take your order?