Úbeda's Top-Five Must-See Sites
Located on the border between Granada and Castilla-La Mancha, Úbeda has historically been a key Spanish transit city, and this geographic advantage led to its considerable wealth between the 14th and 17th centuries. The modern result is a UNESCO World Heritage Site full of Renaissance wonders, well-worth visiting during your holiday in Spain.
Discover Úbeda from the comfort of Paradores' luxury and historic hotels' outpost in the city, Parador Úbeda, housed in a 16th century palace in the very heart of the Old Quarter. Let's review the top five sights in this marvellous town.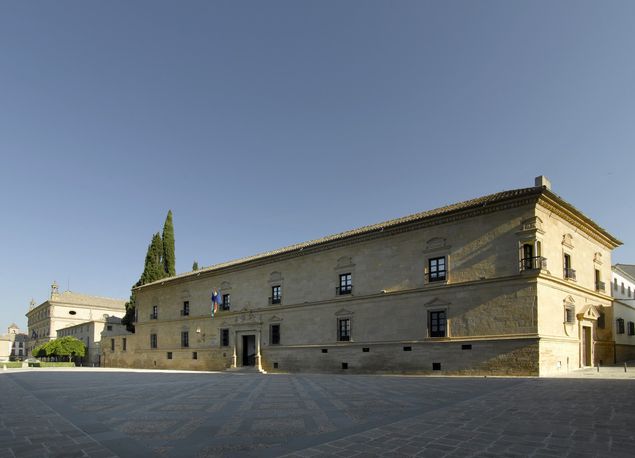 The exterior of Parador Úbeda, a 16th century palace
Ancient wonders
Start your visit at the Sinagoga del Agua (Water Synagogue), an ancient structure that was accidentally rediscovered during demolition operations just a few years ago. Believed to be a medieval synagogue, visitors can now wander through the building and view areas like the former mikveh, where bathing rituals were once undertaken.
Later, visit Plaza Vázquez de Molina, a monumental Renaissance square that contains buildings including Deán Ortega Palace -where Parador Úbeda is located-, the Palace of the Chains -known by this name because of the decorative chains that once hung on its façade-, and Santa María de los Alcázares Church.
While here, drop in on the Holy Chapel of El Salvador, one of Úbeda's most iconic monuments. Built to serve as a pantheon for Francisco de los Cobos, secretary to Emperor Charles V, its façade is considered to be the most beautiful in all of Andalusia.
Local beauties
Intended to serve as a hospital, church and palace, the Hospital de Santiago is a National Monument often referred to as 'El Escorial of the South'. With its Carrera marble columns, Mannerist decorations and soaring towers, it is a sight to see!
Finally, get to know Úbeda's local crafts with a visit to Alfar Pablo Tito, the city's leading pottery and ceramic workshop. The Museum covers the development of this craft and visitors can actually watch the jugs and vases take form under the steady hands of master artisans.
Discover it all from Parador Úbeda's elegant guestrooms and grand interior courtyard, where you can relax after a day on the town. Later, treat yourself to a traditional meal of andrajos (rabbit stew) and local olive oil ice cream at the Parador's Restaurant. A perfect treat after a perfect day.
The grand, interior courtyard at Parador Úbeda
Ready to discover Úbeda?