Typical dishes that you have to try at our Luxury hotels in Andalusia
Are you a food lover and fan of Andalusia? Then you need to take a trip to Spain and explore the typical most delicious dishes from Andalusia. And what better place to do it than in Paradores Luxury Hotels, because with beautiful restaurant, great chefs and quality local products, what can go wrong?
The luxurious Paradores at Córdoba, Cádiz and Jaén are situated not so far from each other, so if you have time and are feeling adventurous, organize a tour and visit these three cities and get ready to try the authentic exquisite cuisine of the south.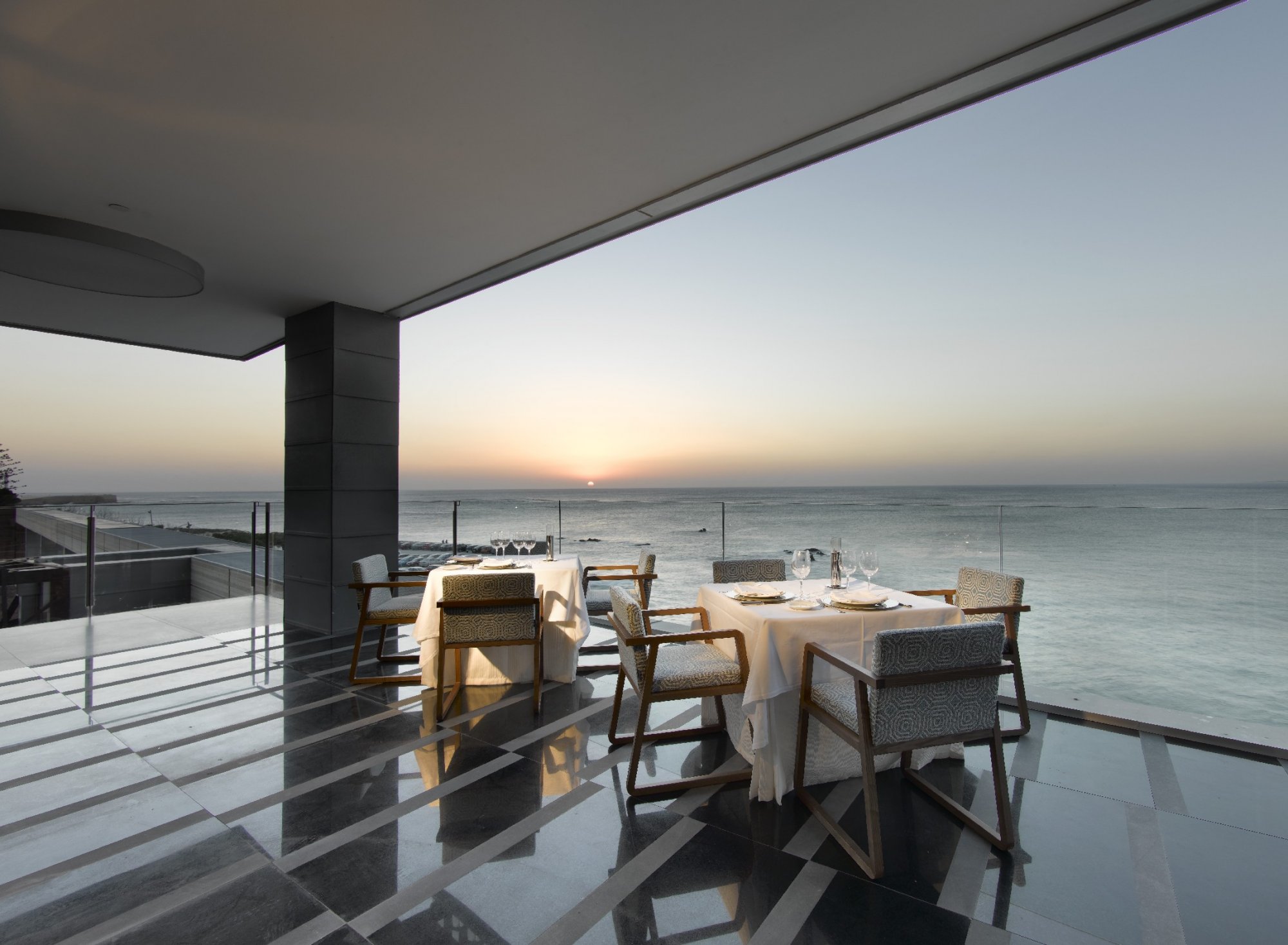 Restaurant at Parador de Cádiz
Parador de Córdoba
Córdoba, a World Heritage City, what can be said about this city that says it all with great food, Arab influences and beautiful landscapes and great ambiance. The Parador de Córdoba, located atop the ruins of the summer palace of Abd-ar-Rahman, is the perfect place to stay and discover all the known and hidden treasures of the city of the caliphs and taste the exquisite gastronomy.
Córdoba-style salmorejo and Rabo de Toro are two specialties of Córdoba and of the Restaurant at the Parador. This elegant dining room with Arab and Andalusian décor, will give you the opportunity to enjoy delicious meals made with local products and with lovely views.
The Salmorejo is a tomato purée made with red tomatoes, hard bread, extra virgin olive oil, garlic and salt and topped with jamón ibérico and hard-boiled egg, a fresh and tasty dish served cold, usually as the entrance of the meal. The perfect main course of the meal would be the Rabo de Toro (oxtail) stewed cordobese-style with tempura vegetables and of course, don´t forget to leave room for dessert which will be a hard choice between cordobés pie, chocolate passion and many others. Among other things worth trying at this restaurant you will find gazpacho blanco, crispy eggplant with honey, carnete and traditional Andalusian stews.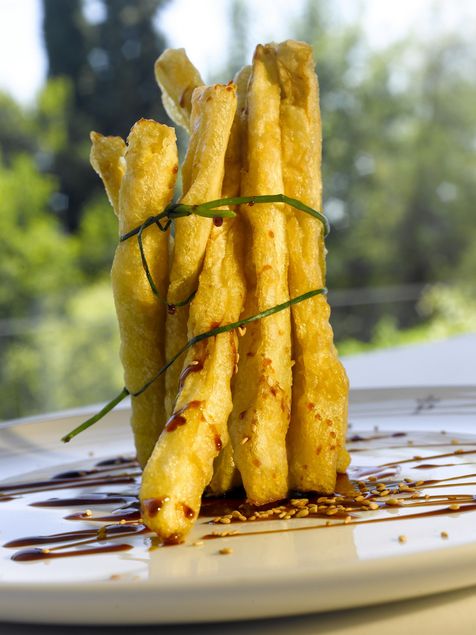 Crispy eggplant with honey at Parador de Córdoba
Book now at Parador de Córdoba
Parador de Cádiz
Cádiz, a beach city with -possibly- the finest seafood of southern Spain and well known for its beautiful beaches and many cultural and historical monuments. The Parador de Cádiz is located in the centre of the city and in front of the beach, the best location you could ask for to enjoy all the features of this southern spot in Spain.
The many pools, the incredible spa, the gorgeous and modern decoration of this hotel, the restaurant and other gastronomic spaces within the Parador, are what make the Párador de Cádiz a paradise on earth.
Cazón en adobo and Tortilla de Camarones are two of the most popular typical dishes in Cadiz that you can taste at the Parador, accompanied by spectacular sunsets and views of the sea and the Bay of Cádiz.
As the name says it, cazón en adobo (marinated dogfish) is simply a marinated type of fish from the Gulf of Cádiz, so simple and so delicious. Keeping up with the seafood, the tortilla de camarones (shrimp pancakes) is mainly made by shrimps, wheat and checkpea flour and fried in olive oil.
Among other delicious plates served at the restaurant of the Parador de Cádiz, you will find sea urchin, papas aliñadas, net-caught tuna and fried pork rinds.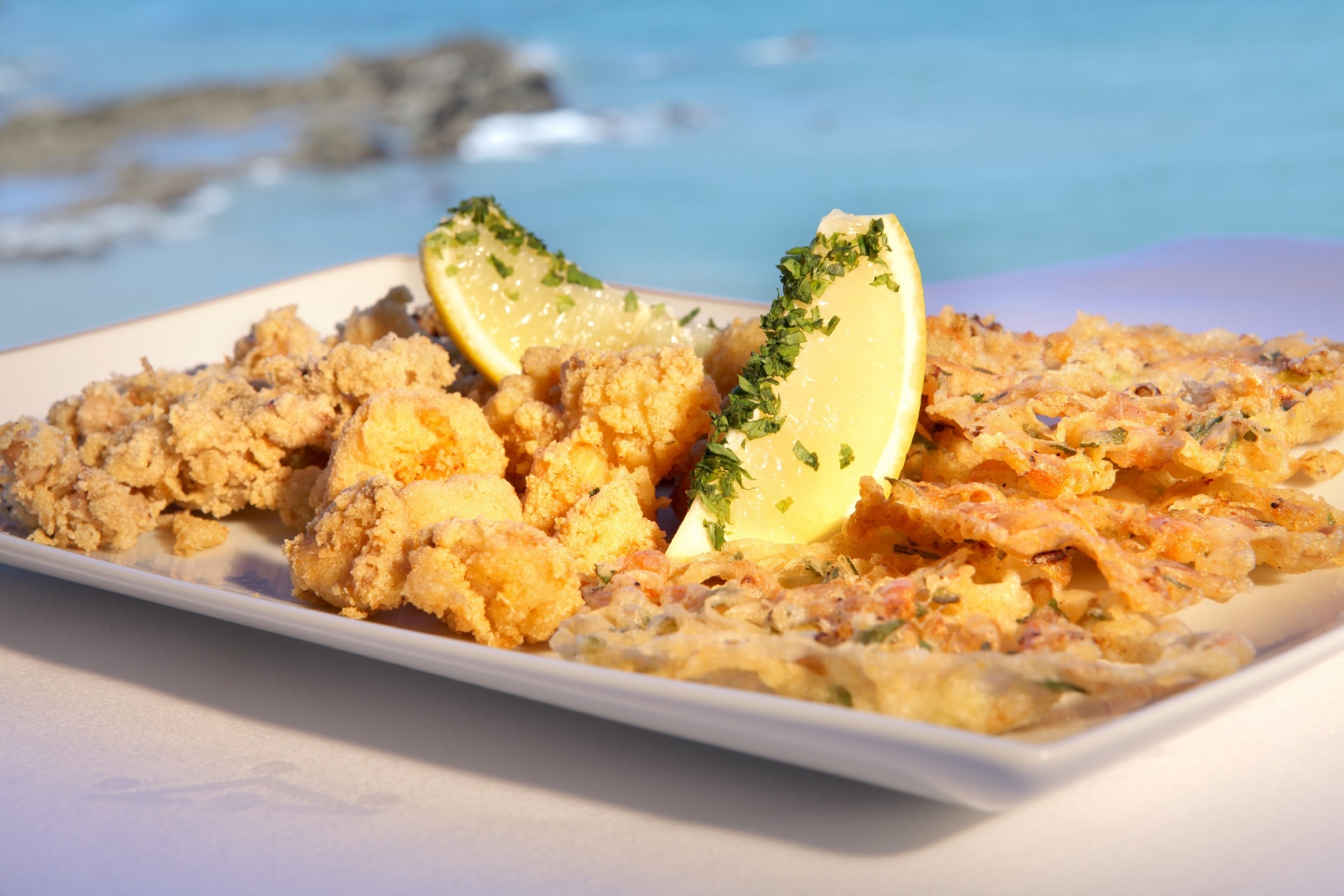 Assortment of fried at Parador de Cádiz
Parador de Jaén
Jaén, the land of olives and olive oil, great food and renascent Andalusia. A beautiful city full of history, culture, antique influences and charm. Here, the Parador de Jaén stands high above the city atop Santa Catalina Hill, and its restaurant serves great traditional dishes made with local products.
Ajo blanco y Pipirrana are two specialties of Jaén and of the restaurant at the Parador de Jaén. The Pipirrana made with tuna and vegetable salad is a fresh dish perfect for every occasion and the gazpacho de ajo blanco is something similar to the cordobese-style salmorejo but in this case its main ingredient is garlic and also has almonds, bread and olive oil.
While in Jaén, don´t miss to try other traditional dishes with Moorish influence such as hake with mozárabe sauce, partridge pate and Jaén-style espinacas esparragadas (spinach with mashed bread and egg).
Gastronomy at Parador de Jaén
Come to our Andalusian Paradores and be prepared to get delighted by these and many other gastronomic treats that will leave you craving for more, besides enjoying the beautiful hotels, the facilities and the surroundings.