A Three-Day Escape to Jaén
Give your holiday in Spain an extra dose of romance with an exotic getaway to Jaén, one of Andalusia's most delightful cities, nestled at the foot of the Santa Catalina mountain range and home to countless cultural wonders including a grand Renaissance cathedral and stunning Arab baths.
Take it all in from one of Paradores' luxury and historic hotels' standout locations, Parador Jaén, an imposing castle upon a hill with unrivalled views of the city.
A unique getaway
Start your Andalusian idyll by checking in at Parador Jaén, located within an ancient castle on Santa Catalina Hill that has been occupied by Moorish warlords, Christian kings and even Napoleonic troops! Today, it is an elegant hotel with Renaissance touches, waiting to delight guests with unrivalled panoramic views of the city... and your home for three days!
Descend into Jaén proper to explore the Old Quarter, where you can visit sites including Nuestra Señora de la Asunción Cathedral, a National Historical-Cultural Monument famous for its three façades with distinctly different architectural styles (Renaissance, Gothic and Neoclassical). Later, drop in on the Arab baths, which date back to the 11th century and are the largest and most important in Europe.
Natural delights
On day two, take full advantage of the natural treasures surrounding Jaén and visit Sierra Mágina National Park, located near the city, which plays host to a rich variety of local flora and fauna. Soaring peaks, including Pico Mágina, and the bubbling Cuadros River provide the perfect setting for a romantic picnic in the woods.
Later in the day, visit the neighbouring city of Baeza, a UNESCO World Heritage Site, and take in its lovely array of Romanesque, Gothic, Renaissance and Plateresque buildings, a wonder well worth seeing. In the evening, head back to the Parador for a traditional dinner of pipirrana (tuna and vegetable salad), ajoblanco (a soup made with garlic, oil, almonds and bread), and Baños-style venison. Say goodnight with one of the local pastries, ranging from convent sweets to sponge cakes.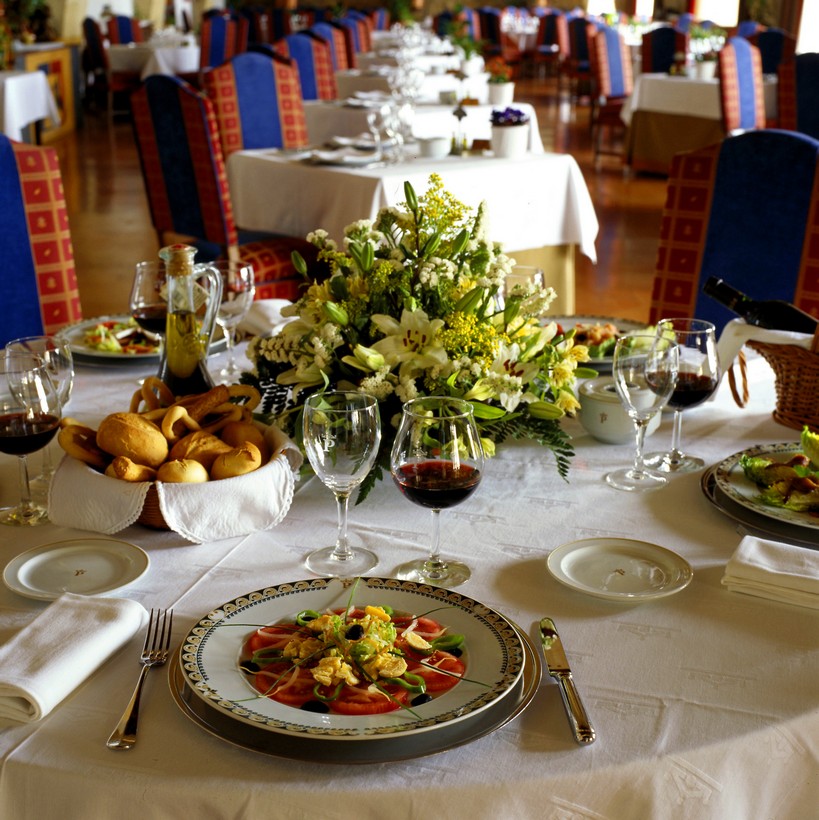 Enjoy a traditional dinner at Parador Jaén
On your final day, enjoy the sumptuous breakfast buffet at the Parador before visiting the Jaén Museum, where you can enjoy the best of local art. End your visit with a stroll through the Alameda de los Capuchinos, a 400-year old garden where peace and tranquillity are the order of the day.
Ready for your Andalusian getaway? Contact Parador Jaén to book your visit today!