Sweet or Sour? Cider Tasting at Parador Gijon
How do you like your Spanish cider? Sweet with a rich taste of juicy apples or sour and crisp with a tart apple finish?
A region rich with apples and famous for its cider, Asturias sits on the northern coast of Spain. Orchards stretch for miles, and the area is green and lush, reflecting the changeable weather that differs greatly from the southern Mediterranean side.
Cider Tasting and Pouring
In this part of the world, cider drinking is taken very seriously. The Asturians pour cider unlike anywhere else on earth; it is essential that the amber-coloured alcoholic beverage is poured into the glass from a great height in order to aerate the liquid and achieve optimum taste. This ritual is known as escanciado.
Parador Gijon in Asturias is the perfect location to sample Asturian cider at its best, with the hotel located just kilometres from a cider mill. Guests regularly visit the mill to sample the different types of cider straight from the barrel. Each cider has a different colour, taste, aroma and tone, and all cider tasting is accompanied by local meats and Spanish cheeses, both staples of Spanish gastronomy. The hotel itself also boasts a special cider room for cider lovers to drink in.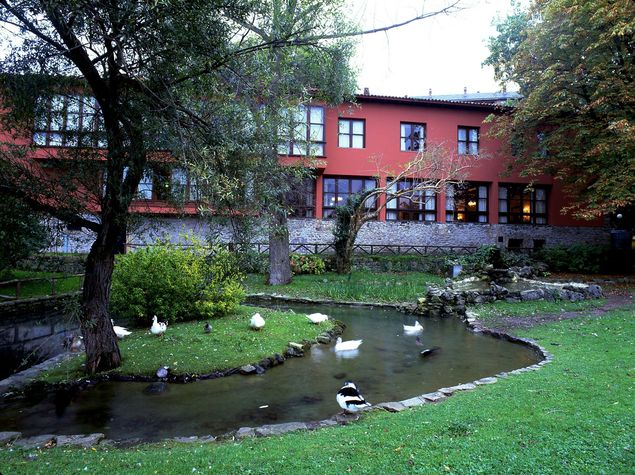 Parador Gijon
In autumn, the apples and the pears throughout the region are picked, washed, crushed, pressed and left to ferment for six weeks. The resulting liquid is stored in cool barrels away from sunlight and is never shaken or kept too cold.
Parador Gijon
Located just minutes from San Lorenzo beach and moments from a beautiful national park home to many migratory birds, Parador Gijon overlooks an island in the park where many birds, including black and white swans, enjoy the water.
The mountain range Peaks of Europe is not far and the city's harbour, and the fishing port are fabulous spots to take a stroll. Other striking tourist areas include the church of San Juan Bautista, the city museum and the Jovellanos museum, which houses the Gijon's art collection.
Many festivals are held in Gijón, including Carnaval festivities, known locally as 'El Antroxu'. They also celebrate Black Week, a literary festival dedicated to crime, horror, and sci-fi books. There is also an annual cinema festival held every year in November.
When will you come and sample the delicious and tangy Asturian cider?