Surprises in Soria: A tour of the Little-known Spanish Province
Have you ever heard of Soria? Although it is not very well-known, Soria, the least populated province in Spain, is an area of the country that will surprise visitors with its beautiful scenery, historic monuments and interesting archaeological sites. Why not take advantage of hotel chain Paradores' special offer this year and discover this enigmatic region while staying in the luxury hotel Parador Soria?
All around the province of Soria, in the autonomous community of Castille and Leon, there are delightful towns, villages and landscapes to be discovered. It is also the starting point for a wine route in Ribera del Duero.
Discover Soria
Not to be missed is the city of Soria, the province's capital, which sits on the banks of the river Duero and has old city walls and a number of architecturally distinctive churches, including San Polo and San Saturio. Those interested in archeology can go to Garray, a short drive away from the city, to visit the Numancia archeological site.
The area of Pinares Bajos is rich in archeological sites and natural landscapes. It encompasses the historic route of El Cid, a passage through various towns and villages such as the historic cathedral town of El Burgo de Osma, and San Estedabn de Gormaz, with its fine example of Soria's Romanesque architecture.
In the Land of Agreda, the town of Agreda is worth a visit, as it preserves traces of three historic cultures: Christian, Arab and Jewish, in three walled quarters.
In northern Soria is the Land of Yanguas-San Pedro Manrique where little hamlets are perched around the mountains and small valleys. It's a great place to go hiking and to visit towns such as Villar del Río and Bretún which have museums that document the presence of dinosaurs in the region.
To enjoy nature and gorgeous landscapes, visit the spectacular canyon in the Río Lobos Nature Reserve and the fascinating but mysterious lake, Laguna Negra, at an altitude of 2000 metres.
Parador Soria
In Parque del Castillo, a lovely wooded area in the town of Soria, is Parador Soria where you will be able to relax during your tour of the province. This luxury hotel is perched high above the river Duero, lending it wonderful panoramic views of the city and the Duero valley. From the rooms you can contemplate serene views of the valley or the forest that surrounds the hotel.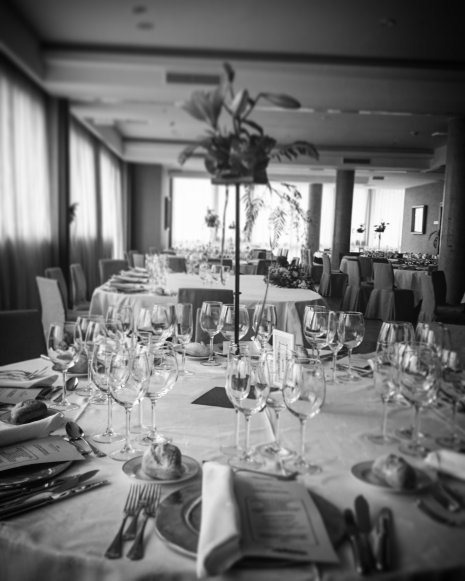 Parador Soria
The best views can be enjoyed in the Parador's restaurant, where guests can savour traditional dishes such as garlic soup, migas (flavoured breadcrumbs) and roast lamb or try contemporary dishes made with local ingredients, like pheasant pate, liver terrine, roasted suckling pig and wild mushroom sweetbreads.
When booking your room, make sure to sign up for this special promotion before arriving at the Parador!