Summer Wedding Trends: The Headdress
This summer the latest trend for weddings, for both brides and guests, is the headdress. What used to be a rare sighting at a Spanish weddings is now all the rage. Perhaps inspired by Kate Middleton, or by Sarah Jessica Parker, many guests and brides have chosen to adorn themselves with lovely decorative hats.

Some pieces have been truly eye-catching, such as the one Princess Beatrice wore to Kate and William's royal wedding, designed by Philip Treacy. However, many brides and guests opt to wear a more subtle looks. The key to doing this is matching the style and colour of the headdress to the rest of your outfit. In the photo, you can see María Cortés on her wedding day at Parador Guadalupe with her mother, whose blue headdress perfectly complements her dress.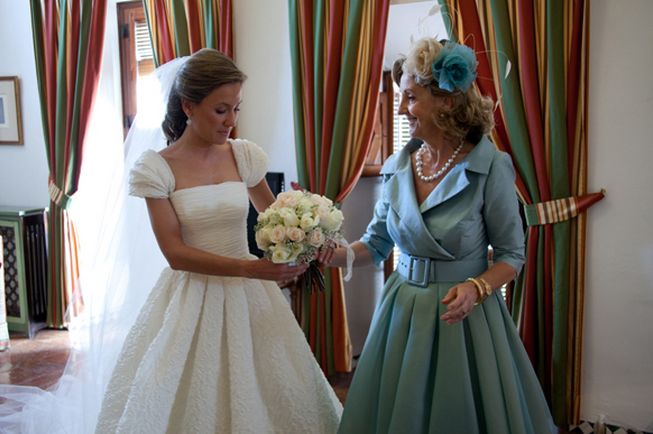 Mother and bride
A good rule of thumb is to keep in mind what time of day the wedding will be held. Just as with hats, the earlier the wedding starts, the larger your headdress should be. Early afternoon weddings allow for more decorative, eye-catching styles, but you should not wear silver, gold or sparkles—those shades are strictly for evening wear.

Summer headdresses tend to be made of light fabrics such as linen and cotton. Felt and tulle varieties can be worn all year-round. It's also important to keep in mind that headdresses must be worn both at the ceremony and during dinner. So make sure they are comfortable and securely in place!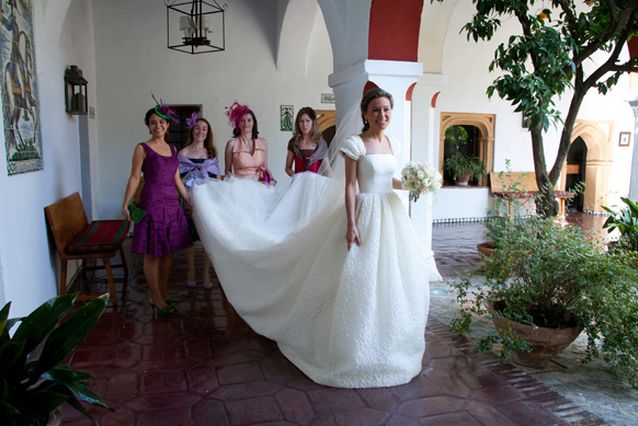 Fashionable Friends
Parador Chinchón

The luxury hotel Parador Chinchon would make a lovely setting for a wedding. This hotel is inside a converted seventeenth century Augustinian convent. Its roots in the Renaissance can be seen in the splendid tapestries and murals that adorn its walls, and in the Castile-style classical furniture. Guests always admire the decor of traditional Spanish tiles.

Parador Cardona

If you are attending a wedding in Catalonia this summer, you may be lucky enough to see this Romanesque 9th-century castle. A stunning setting for any wedding, Parador Cardona takes guests back to the Middle Ages, with its medieval moats, towers, and walls, as well as its gothic cloister.

Which headdress will you be wearing at your next Parador wedding?