A Stunning Wedding in the Heart of Galicia
Love is always in the air at Paradores' luxury and historic hotels, where singular settings provide the perfect stage upon which to celebrate the most unforgettable weddings. Mamen and Rogelio recently celebrated their nuptials at iconic Parador Santo Estevo, a beautiful Galician monastery that dates back to the 6th century and is located deep in the woods, where guests and the happy couple came together for a unique ceremony in a timeless location.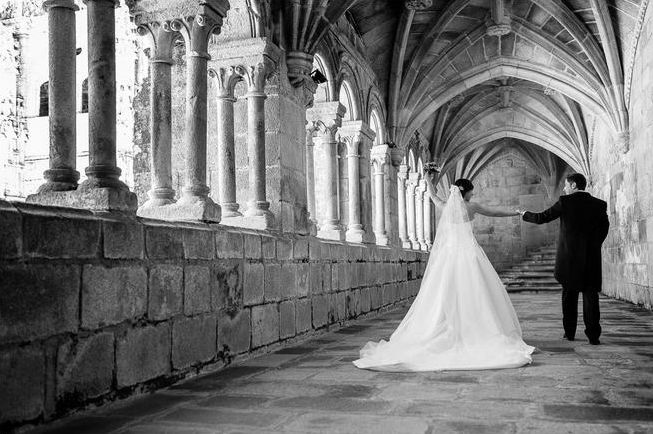 Parador Santo Estevo
A spectacular building, flawless décor and just the right dash of romantic gravitas... Take note of Mamen and Rogelio's special day, and maybe you, too, will opt for combining your wedding with a grand holiday in Spain!
A grand Galician affair
Ever since they undertook the Way of Saint James, the legendary pilgrimage route that crosses Spain and concludes in Galicia, together; Mamen and Rogelio knew that they wanted to marry in this beloved, north-western region. With this in mind, it's no surprise that the happy couple decided that Parador Santo Estevo would host the affair. A monastery in the Ribeira Sacra region, it features a variety of architectural styles that define its three cloisters: one Romanesque, one Gothic and the third, Renaissance. Set in a lush forest and with great views of the Sil River Canyon, this is a location that truly takes your breath away.
This past May the wedding party gathered in the Parador's church, where the region's traditional culture was evoked by a troupe of Galician bagpipers which accompanied the bride's descent down the aisle to the tune of The Beatles' Let it be. Mamen was flawlessly attired in a Pronovias 'princess-cut' dress and long train, while Rogelio wore a dashing morning suit.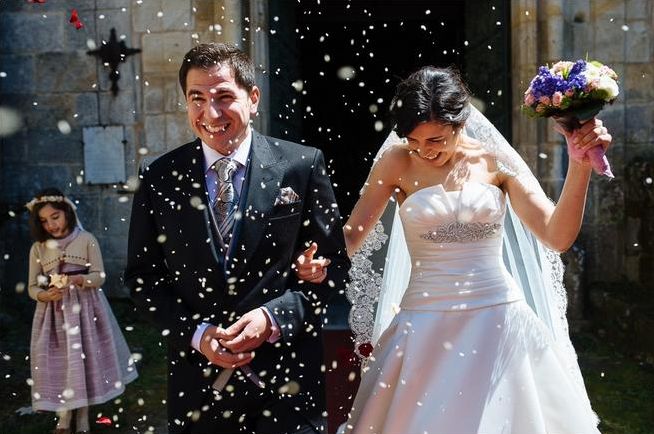 The happy couple
A great party
The post-ceremony cocktail took place in the monastery's open-air cloister, while the formal meal took place in the Parador's main hall, where exceptional regional delicacies, perfectly matched to Galician wines, were served.
Malú and Tizziano Ferro's El amor es una cosa simple (Love is a simple thing) was the song selected for the couple's first dance, a beautiful swirl which soon gave way to a dance-floor full of delighted guests. After many hours of dancing, the wedding party received lovely gifts with which to remember the occasion: Mr. Wonderful trinkets for the ladies and bottles of D.O. Ribeira Sacra Bodegas Adega Vella wines for the gents.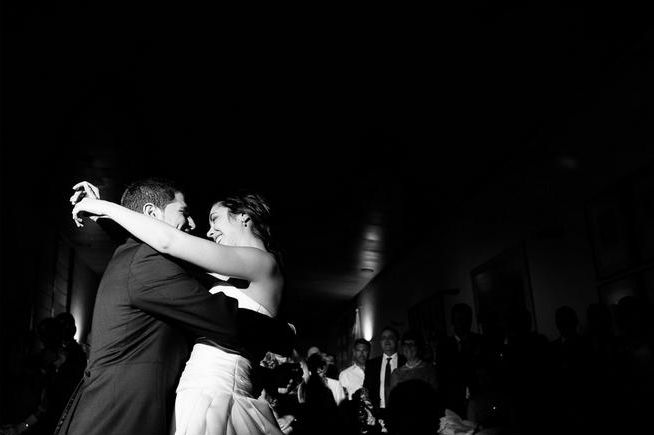 The newlyweds' first dance
Interested in planning your own wedding in the heart of Galicia? Contact Parador Santo Estevo today!