The Star Dishes of Paradores' Menus
Luxury hotel chain Paradores is not only famous for its historic settings in Spain, but also for its excellent in-house restaurants, bringing guests a wide variety of regional Spanish cuisine. It's difficult to choose a favourite dish, but recently guests were asked to do just that. With more than 150,000 votes entered, we now know which dishes are the stars of Paradores' menus. Let's find out which ones have made the cut!
Venison, octopus and cochinillo

Tender venison loin from Parador Cazorla rose to the top of the list. This hotel, located in the mountains within the Sierras de Cazorla, Segura y Las Villas Natural Park in Jaén, features panoramic views of the surrounding evergreen landscape.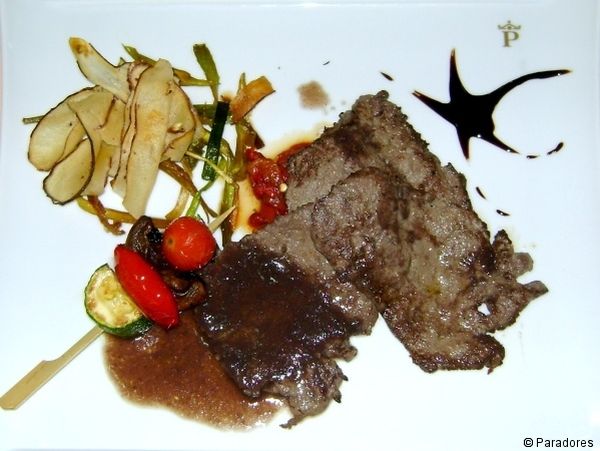 Tender venison loin at Parador Cazorla
Parador Ferrol, meanwhile, is located in a Galician mansion overlooking the port city of Ferrol. The area has a long tradition of fishing, so it's no surprise that the Parador's restaurant also features a wide selection of Galician seafood, including guests' chosen dish: traditional pulpo a feira, or boiled octopus served with paprika, olive oil and potatoes. This delicacy goes well with a fine regional wine and perhaps a helping of local Ferrol cake afterwards.

Cochinillo, or roast suckling pig, from Parador Segovia was also a stand-out dish. The meal is emblematic of this famous city, with its soaring, fairytale towers and iconic Roman aqueduct.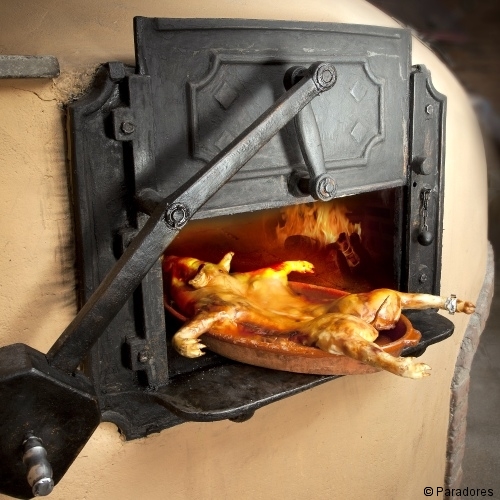 Roast suckling pig at Parador Segovia
Local favourites

Another guest favourite was Parador Zamora's arroz a la zamorana con torreznillos de ibérico. Historically a peasant dish, the Parador's zamorana rice is prepared with pork bits, rice and sweet paprika—a delicious way to capture the spirit of Zamora while staying in a 15th century Renaissance palace in this beloved Castilian city.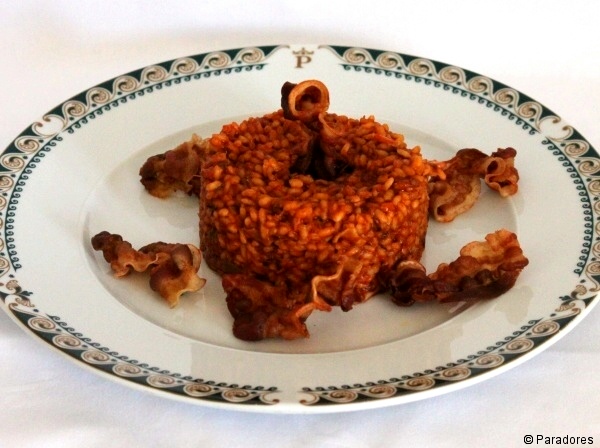 Zamorana rice prepared with pork bits and sweet paprika at Parador Zamora
Guests at Parador Mérida, an 18th century convent built over a Roman temple, were delighted by more than just the peaceful setting and ancient gardens. The restaurant's solomillo de Ibérico relleno de hongos y foie—sirloin stuffed with mushrooms and foie gras—served with spicy potato wedges also left an impression.

Others fell in love with Parador Ávila's judías del Barco, a locally grown white legume served with different pork bits. This traditional dish is a staple of the Parador, which is located within a 16th century palace set against the massive city walls.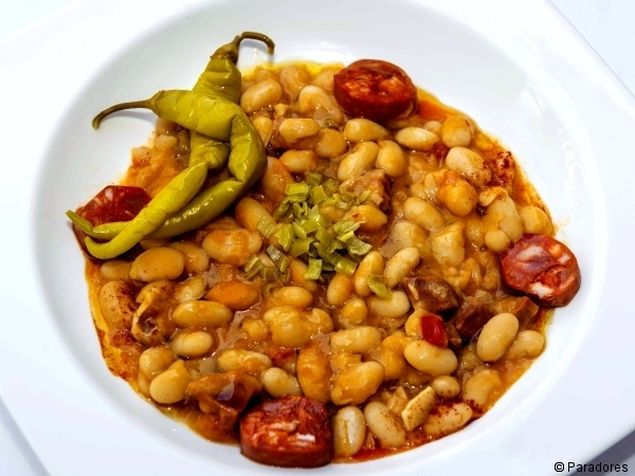 White beans prepared with pork at Parador Ávila
Indeed, every Parador boasts a dish on its menu that is sure to tickle its guests' fancies. Whether it's Parador Arcos de la Frontera's hake with cocochas, Parador Cervera de Pisuerga's grilled beef chops, Parador Manzanares' cod with fried vegetables au gratin with saffron aïoli, or Parador Verin's classic empanadas, your stomach will appreciate the visit.

See the full list of the Parador's most beloved dishes here.