Spend the Christmas Holidays in Spain's Historic Monasteries
For time-honoured traditions like Christmas and New Year's Eve, why not celebrate somewhere equally historic? Many of Paradores luxury hotels in Spain, such as Parador Corias, Parador Monforte de Lemos and Parador León, were once monasteries, and offer the perfect Christmas getaway during this special time of the year.
Ancient history, modern comfort

Paradores only recently welcomed Parador Corias to the family. Founded by Benedictine monks in 1032, the ancient San Juan Bautista monastery in Corias in the lush, northern region of Asturias boasts modern amenities in a historic setting, and features two grand courtyards and panoramic views of the Asturian landscape. The Parador is flanked by a cloister, which surrounds the main courtyard and was built in a Tuscan-style, Latin-cross plan. Make sure that you take a peek at the Baroque altarpiece, which features sculptural reliefs recounting the monastery's founding.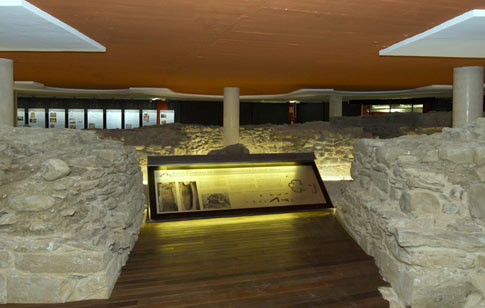 Parador Corias
Despite its millennial history, the Parador is remarkably modern, and features a leisure pool and a fully equipped gym for guests. Disconnect for a bit in hotel spa, whether in the Turkish bath or in one of the special treatment rooms.

For the best of the Spanish countryside, simply step outside Parador Corias. The hotel is surrounded by the Fuentes de Narcea, Degaña e Ibias Natural Park. Occupying 8,660 acres, this breathtaking area features towering wooded mountains that bring to mind a lost fairytale world. Indeed, the woods feature prominently in local legends, including Busgosu, the mythical satyr that protects the forest from lumberjacks. Guests at Parador Corias, which is open throughout the holiday season until 7 January, can easily spend an entire day wandering throughout the reserve, which includes hiking routes for all levels.
Stunning stonework, charming cloisters

Thought to be one of the first monasteries build in Galicia after the Arab invasion, Parador Monforte de Lemos has its origins in the 10th century, and it was rebuilt in the 17th century. The long history lends this Parador, with its stunning stonework, charming cloister and cosy bedrooms, a magical air that makes it the perfect destination during the holidays. Also, the hotel is not far from the city of Lugo, which is the only city in the world to be surrounded by completely intact Roman walls, an extraordinary feat considering they were built nearly 2,000 years ago.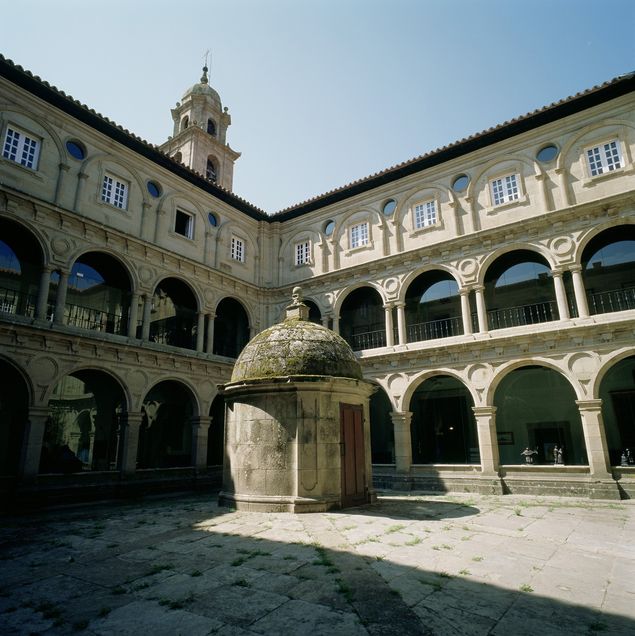 Parador Monforte de Lemos
To the east in the region of Castile y León is the palatial Parador León, a 16th century monastery with a red tiled roof and delicate stone decorations adorning its façade. Inside the hotel is no less impressive, with intricately carved stone arches and statues at every turn. The hotel once housed pilgrims on The Way of St. James, but now houses guests looking for a comfortable stay in a unique location in the heart of Spain.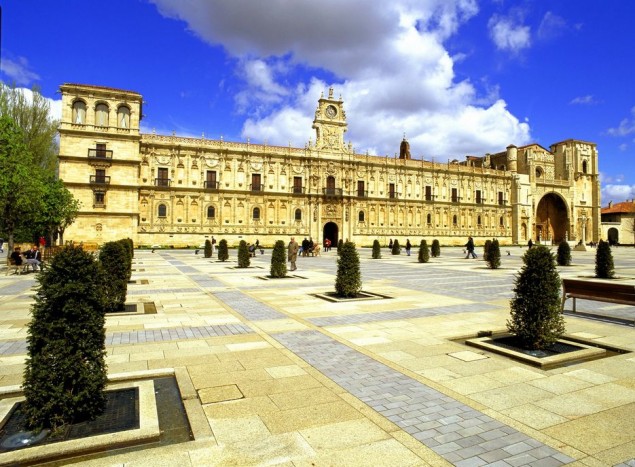 Parador León
The holidays are nearly here. Book your trip today!