Spanish Natural Pools near Paradores Hotels
We know you love the pools in our Paradores Luxury Hotels, but this time, we will show you some natural pools nearby Paradores hotels so you can know what it feels to take a dip in a cold or warm water natural pool. And don't worry, if the water is cold, afterwords come to our Parador and get warm in the spa, pools and terraces.
In different environments such as Santo Estevo in Galicia, Alarcón in Castilla-La Mancha, Tortosa in Cataluña and Plasencia in Cáceres, you will find some hidden and beautiful natural pools that will make thank nature for these paradises.
Termas de Outariz
The Termas de Outariz are located in the shore of the river Miño and close to Ourense. To visit this hot springs, you have two options: private or public. And what better way to visit the Termas de Outariz than by staying at the Parador de Santo Estevo, in which you will also be able to enjoy the spa of the hotel... Vacations full of water and relaxation.
The private part consists of Japanese baths in a Zen ambiance of peace and tranquility. There are two thermal circuits available, the Zen and the Zelta. The first one has a Japanese garden style and is formed by 6 pools made of wood and rocks, tranquil and relaxing. The second one is more like a thermal circuit in which bubbles, waterfalls and moving waters will help you releave tension and muscular pains. A 2-hour session in these Japanese hot springs costs 5,15 euros per person (*)
The public part, called Pozas Outariz is a complex of gardens and pools in the banks of the Miño river. The entrance is free and it has 2 parts, the Pozas de Outariz and the Burgas de Canedo. There are 3 pools of warm water and 1 of cold water surrounded by gardens, fountains and showers of hot and cold water. In the compound you will also find a bar, restrooms and other general services.
The easiest way to get from the Parador de Santo Estevo to the Termas de Outariz (both public and private) is by taking a 50-minutes' drive through the OU-0508 road.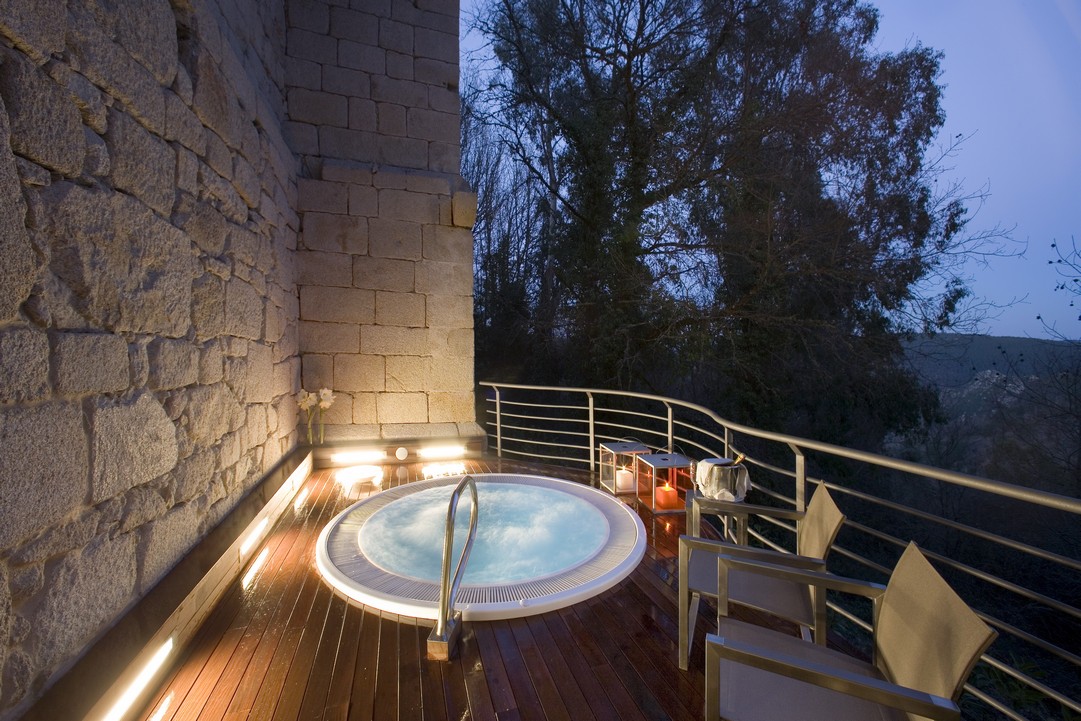 Parador de Santo Estevo
Book now at Parador de Santo Estevo
Chorreras del Rio Cabriel
Waterfalls, natural pools, crystalline waters and curious rock formations are what you will find in the Chorreras del Río Cabriel. Only 1 hour away from the Chorreras you will find the stunning Parador de Alarcón, a historic castle from the middle ages in the small and charming village of Alarcón, the best place to stay and discover what the province of Cuenca has to offer.
There are some options of guided tours through Las Chorreras del Río Cabriel if you want to get to know them deeply. If you decide to go by your own, be careful with the flood flow. Don't forget to take a swimming suit and a towel, water and snacks, comfortable clothe and shoes and of course, the cheers to enjoy this nature beauty.
The Parador de Alarcón and Las Chorreras del Rio Cabriel are approximately 60km from each other. It´s as easy as taking a 1-hour drive through the roads N-III and CUV-5014. When you arrive to the town of Enguídanos, the signs will take you to the natural pool, or you can also ask in the tourism office for more information.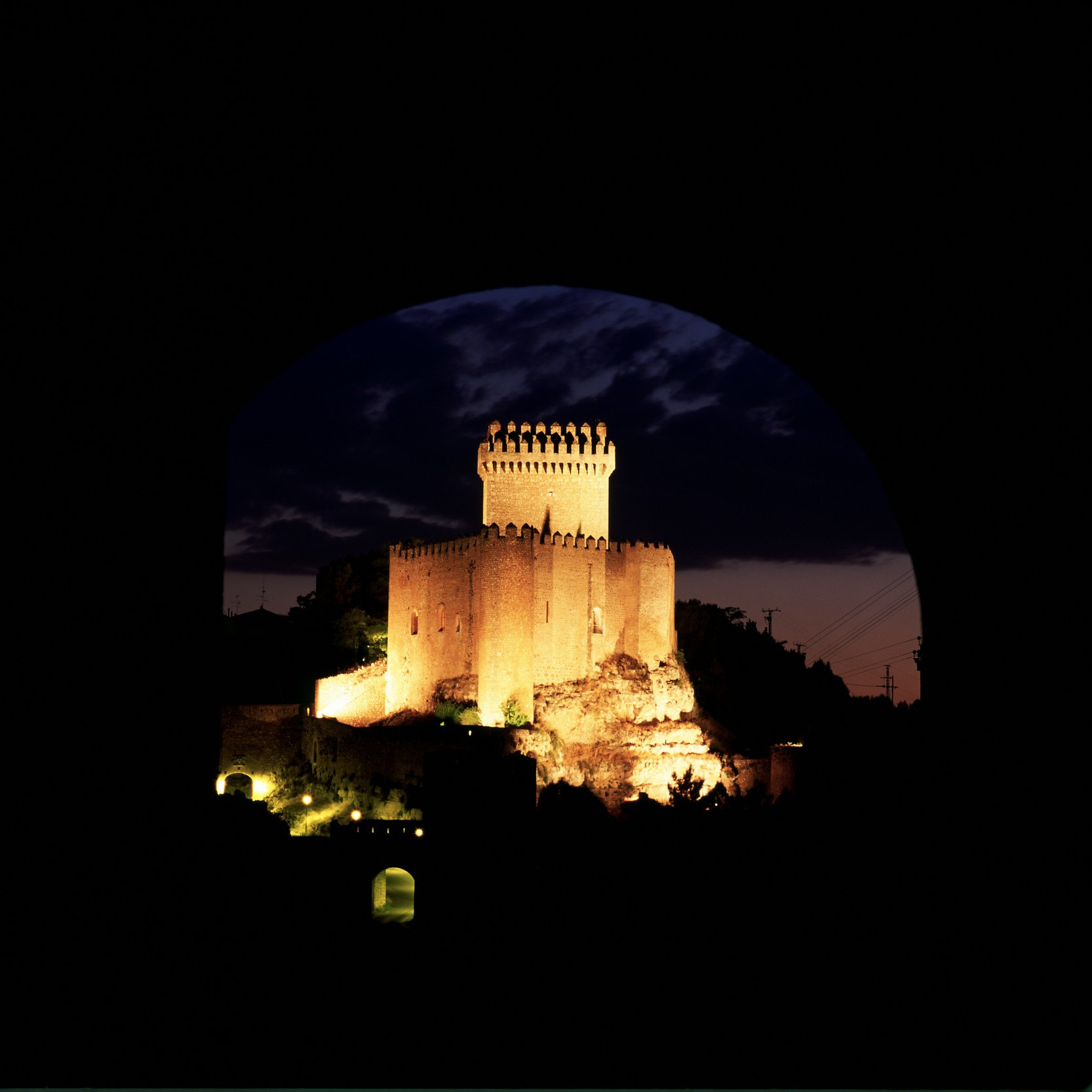 Parador de Alarcón
Book now at Parador de Alarcón
Balneario de Fontcalda
The natural spa of Fontcalda is located between the Sierra de la Mola y Sierra el Crestal. It's a source of water that comes from the Canaletes river and has a medium temperature of 28 degrees. Surrounded by big mountains, the water is clear and the ambiance is completely rural and natural... this is why we call them natural pools. Right next to the Balneario de Fontcalda there is a sanctuary that dates from the XIV century which celebrates masses during summer.
40km away from this natural paradise you will find the stunning Parador de Tortosa, overlooking the city and offering a combination of monumental beauty and natural areas... the perfect place to chill and relax after exploring the natural pools of Tarragona.
To get from the Parador de Tortosa to the Balneario you will have to take a 40km trip through de roads C-12 and C-43 for approximately 50 minutes.
Parador de Tortosa
Book now at Parador de Tortosa
Gargantas del Infierno
Located in the Valle del Jerte, between the Sierra de Tormantos and the Sierra de Gredos, las Gargantas del Infierno is a natural reserve in which you will find many cascades, waterfalls, streams and creeks. This landscape is really a natural paradise with crystalline waters. There are 2 main zones in the area called Los Pilones and Chorrero de la Virgen. The first one is specially known for its giant potholes which serve as pools, and the second one is characterized for the presence of a high waterfall.
Besides bathing, the area of Gargantas del Infierno is great for hiking. From the center of interpretation de la Garganta del Infierno you can start many routes for all levels of expertise.
If you want to visit this natural paradise, the best option is to stay at the Parador de Plasencia, a luxurious and modern hotel built in the former Santo Domingo Monastery which dates to the 15th century. The Parador is located only one hour away from the entrance of Las Gargantas del Infierno through the N-110 road.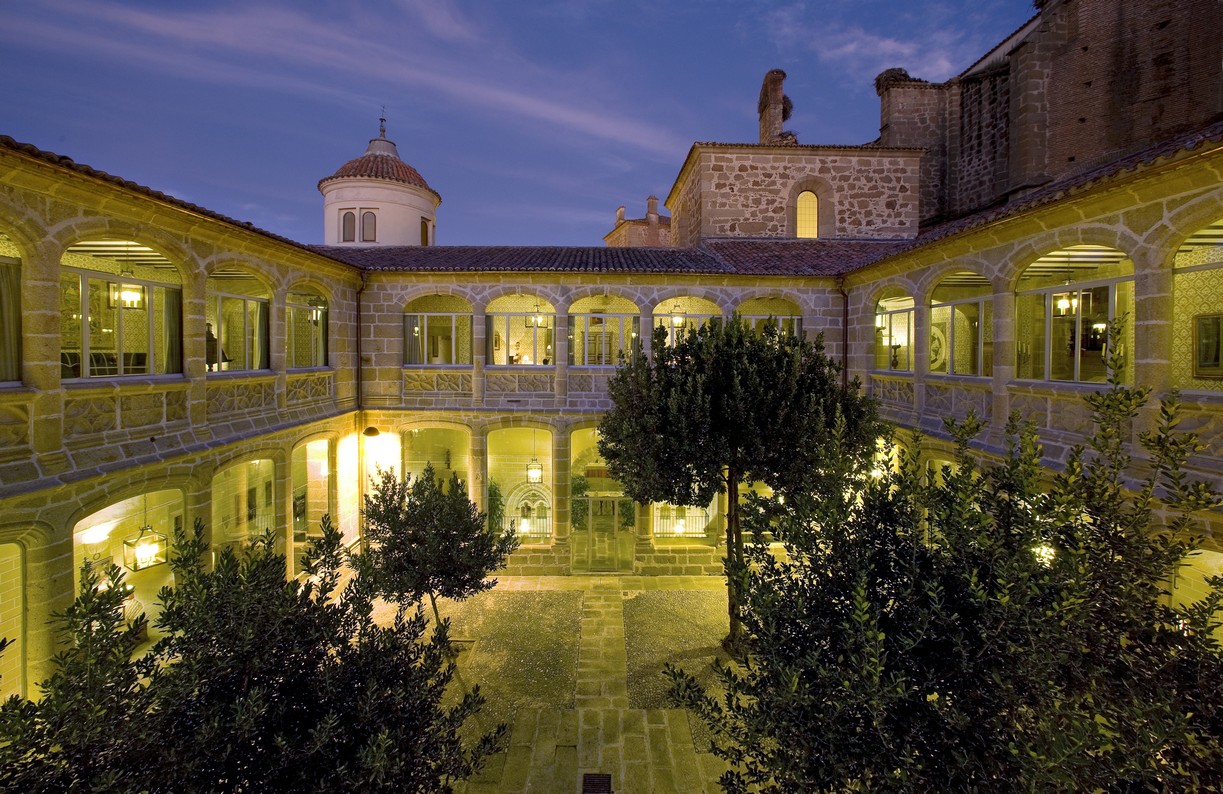 Parador de Plasencia
Book now at Parador de Plasencia
Now that you are convinced about visiting this stunning natural pools around Spain, check the nearby Paradores Luxury Hotels and choose the one you like the most.
At Paradores, we will provide you relaxation and rest after a day full of adventure!
Let´s go nature bonding!
(*) These prices may vary.