Sleep Like King Charles V at Parador Hondarribia
Revel in a one of a kind holiday in Spain with a visit to Parador Hondarribia, the authentic medieval fortress known as the Castle of Charles V. Dating back to the 10th century, this amazing stone building was once a key defence point against northern invaders.
Today, Parador Hondarribia's dramatic ramparts, vine-covered walls, and jaw dropping views of the Bay of Biscay provide visitors with welcome shelter in one of the most beautiful parts of the Spanish Basque Country, as well as ideal access to southern France. Paradores' luxury and historic hotels invite you to explore this verdant coastal land and enjoy a stay like no other at this grand castle on the water's edge.
A royal accommodation
A transit stop on the Way of Saint James pilgrimage route and a strategic point on the border between Spain and France, Hondarribia has always been a location of enormous importance, and its castle a fundamental part of its defence. Originally built in the 10th century, Parador Hondarribia's major expansion and current appearance was ordered by the Emperor-King Charles V during the Renaissance. Besides serving as a fortress and playing an important role in several wars, it would also host the Royal Family on numerous occasions, for example, during the wedding of the Spanish Infanta to Louis XIV in 1660.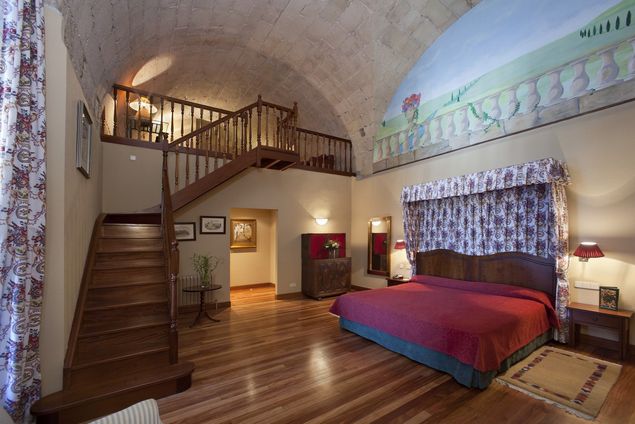 The suite at Parador Hondarribia
Building upon those noble origins, the Castle of Charles V has continued to host illustrious guests since its conversion into Parador Hondarribia. It's no surprise that stars like Sophia Loren and literary figures like Camilo José Cela have flocked here; the Parador's romantic courtyard and large spaces with coffered ceilings and wrought iron bars captivate the imagination, while the spectacular views of the French coast inevitably thrill the hearts of all its guests.
Fascinating surroundings
The Parador's location in the heart of Hondarribia's Old Quarter allows guests easy access to the town itself and numerous locations throughout the Basque Country. Enjoy a drink on the Parador's terrace before wandering down to the beach on Txingudi Bay or visit the numerous stately homes and palaces on Nagusia Street.
The Parador's terrace
Another option is to check out Zugarramurdi, the Navarrese town that hosted notorious witch trials in the 17th century, or Saint Jean de Luz in the French Basque Country, a popular surf spot.
Eager to live in a castle and experience the best of the North? Contact Parador Hondarribia today!