Parador El Saler's Classic Paella Valenciana
Paella is one of the most sought-after dishes for those who choose to holiday in Spain. Despite being a hallmark of Spanish cuisine, did you know that it's a specific regional delicacy? Indeed, paella -or paella valenciana, as it is more precisely denominated- is a wonder that originates in the area around Valencia, on Spain's southern Mediterranean coast.
While many variations have developed over the years, the most traditional version is made with meat, mainly rabbit and chicken, and slowly prepared with the rice that is such a hallmark of the region's cuisine. Curious to know how to cook it? Paradores' luxury and historic hotels is graceful enough to share Parador El Saler's classic recipe, which is always a sure-fire hit amongst its guests.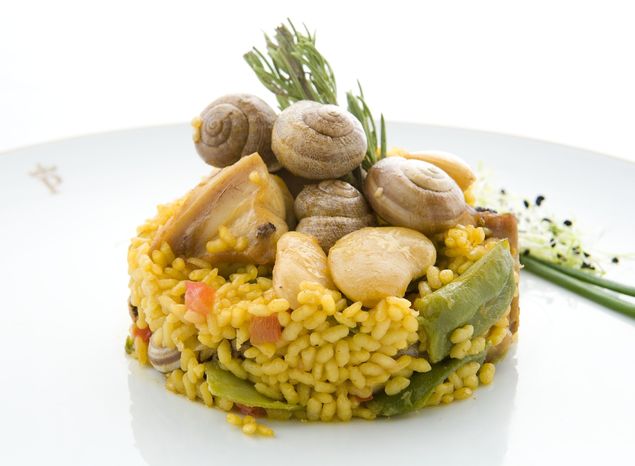 Paella at Parador El Saler
A Mediterranean treat
The key to a classic paella valenciana is in the ingredients. This main dish requires chicken (200 grams), rabbit (200 grams), virgin olive oil (4 tablespoons), snails (roughly 12 of them), green beans (100 grams), tomatoes (50 grams), white beans (100 grams), paprika (1 tablespoon), vegetable stock (1 litre), rice (400 grams), saffron (to taste), a single lemon, and a dash of salt. Naturally, all of this will come together in your authentic paella pan.
Start off by pouring the olive oil into the pan. Afterwards, add the rabbit and chicken pieces, and allow them to fry a bit. Later, add the snails, green and white beans, tomato, and paprika, and let them all cook.
Bring it to a simmer
Once all these ingredients are properly fried, it's time to add the vegetable broth, making sure it covers all the previously incorporated ingredients. Bring the mix to a simmer. When the meat is tender, add the rice and saffron, distributing the products evenly but not stirring the ingredients as they cook. Add seasoning according to your personal preference.
As soon as the rice is done, turn off the heat and let the dish sit for a few minutes. Now you're ready to enjoy your paella! Pour yourself a glass of vino joven or rosé wine then sit back and enjoy your Mediterranean escape.
Eager to taste traditional paella in the Valencian heartland? Book your visit to Parador El Saler today!