Luxury in San Ildefonso, Spain
When the royals wanted to leave the hustle and bustle of Madrid, they would retreat to a small town outside Segovia called La Granja de San Ildefonso. It's a small village set in the grandeur of nature and all the comforts a majestic palace can provide.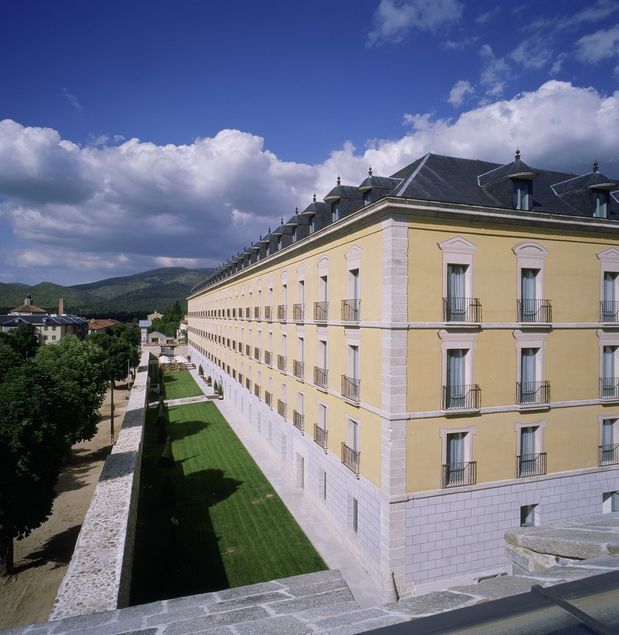 Parador La Granja
When visiting Madrid, a trip to La Granja is a must. You can wonder at the ornate beauty of the palace, enjoy a relaxing nature walk, and spend the night in Parador La Granja.

Local cuisine

Suckling pig is the most renowned gastronomic pleasure La Granja has to offer. Come hungry, as the carefully prepared tender meat is quite filling! Also from this region comes what the Spaniards call Judiones, or large butter beans. These legumes are served with all types of typical food from the region, from suckling pig to clams. Although originally brought over from America, they have adapted to Spain beautifully. They have taken on the characteristics of the region through the water, soil and sun, and these beans have become the jewel in the crown of La Granja cuisine.

How to spend your day

The small village packs a punch with plenty of activities to fill your day. It sits at the foot of the Guadarrama Mountains, ideal for long nature walks. Pack a lunch and put your hiking shoes on. Head up into the hills to feel the sun on your face and fresh air in your lungs.

The royal palace is not to be missed! They offer daily tours of the facilities. Built between 1721 and 1724, Phillip V hired various architects to design and build the Versailles-inspired royal residence. Wander through the extensive gardens before heading inside to see rooms adorned with paintings, elaborate tapestries and gigantic mirrors reminiscent of the era of King Phillip V.

The glass museum and Royal Collegiate Church are also worth a gander.

Parador La Granja

After a day spent exploring the town, relax in style in Parador La Granja. The luxury hotel is also a vantage point into history. Composed of two buildings, one was used as the housing for Princes Gabriel and Antonio. The other half was the lodgings for the King's Guard, there to protect the royal family from danger. Come savour mouth-watering meals in the restaurant and let the staff give you the full royal treatment.

Parador Segovia

La Granja is only 11 km from Parador Segovia, another fantastic luxury hotel. The town of Segovia is a World Heritage Site with plenty of its own landmarks to explore. The enormous aqueduct, still intact from the Roman rule over 2,000 years ago, is an impressive reminder of Spain's vast history.

Why not treat yourself and indulge in the luxury these towns and their hotels have to offer?