The Lilting Lullaby of the Sea at Parador Baiona
Room 242 at Parador Baiona is known as the Mirador del Rompeolas, one of the luxury hotel's most spacious rooms, with over 90 square metres of indulgence. This single room faces the setting sun in the West overlooking the Atlantic Ocean.
The medieval Galician fortress has walls who have witnessed timeless pursuits of glory by the many travellers and sea-explorers they have greeted. The beautiful building also hosts gorgeous weddings. The area is surrounded by an enchanting pine forest, and after a day's hike through the woods, you can enjoy the Spanish cuisine in the resort's restaurant.
Mirador del Rompeolas
Mirador del Rompeolas is a fantastic spot to view the breakwater against the ancient stone walls. The gentle descent of the sun over the ocean's horizon sparks an array of shades in the room that transform by the hour, ultimately fading into a dark violet. Watch the tinted blues of the sea sparkle as fishermen in the distance reap their day's work.
The regal bed spans 2x2m with a beautiful canopy. The romantic room would be an ideal getaway for honeymooners or anyone who fancies enough space for a waltz around the private lounge or a lengthy soak in a spa tub in the wide bathroom.
Parador Baiona: A Window through History
The glory of this small yet strategically important fortified Baiona sea port is marked by a long history of Greek, Phoenician and Roman colonies and cultural trade routes as well as Celtic influences in music and art.
Throughout the Medieval period, many invasions, by English and French alike, sought to conquer the castle and imperial fortress of the Monte Real peninsula. The fierce walls later met the invading armada of the Lusitanian king Alfonso against his cousin Emperor Alfonso VII-the first of the fraternal Spanish wars of the twelfth century. The medieval wars also brought Turkish and Algerian ships to shore.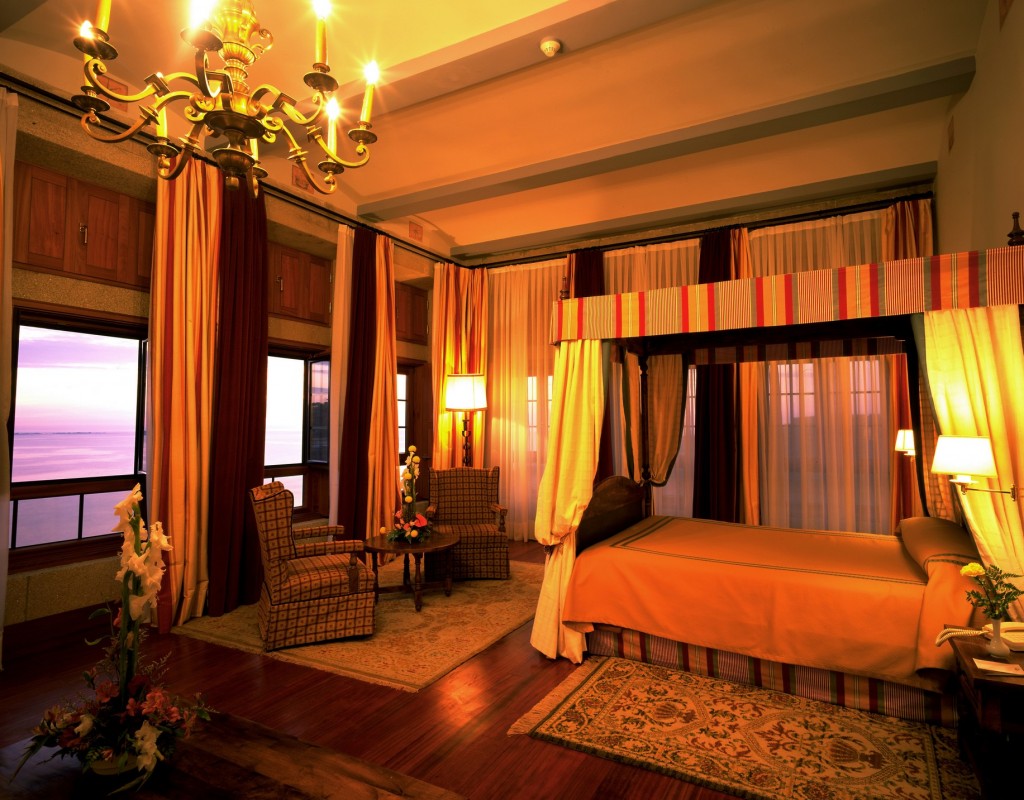 Suite with an amazing ocean view
The newest addition to Parador Baiona is its tapas bar that brings you the best of Galician gastronomy. This restaurant mixes the casual feel of a tapas bar with the quality food of fine dining. Exquisite and delicious dishes such as octopus soaked in olive oil, grilled or baked scallops, and a wide range of cheeses are just a few of the dishes that will tempt your palate.
So let the gentle waves help you drift off to sleep after a good meal, and enjoy your stay at the Mirador de Rompeolas.