Immortal Love in Parador Santo Estevo
Paradores' luxury and historic hotels are always located in unique buildings and incredible landscapes, ensuring that your holiday in Spain is as memorable as it is romantic. With excellent service and striking facilities, it's no surprise that many choose to celebrate their weddings in these fantastic locations.
Such was the case when Juan Carlos and Esther married at Parador Santo Estevo, a place that lives and breathes the concept of immortal love. The happy couple began their married life together against the backdrop of an ancient monastery and with a natural soundtrack provided by the breeze swaying the trees of the magnificent Galician forest surrounding the site.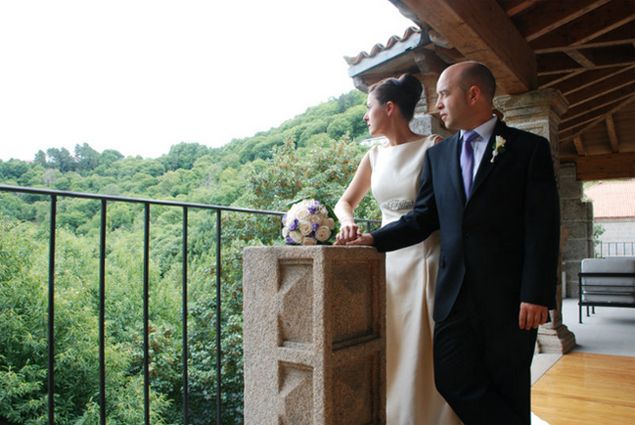 The happy couple admiring the forest surrounding Parador Santo Estevo
An imposing wonder
Located in the heart of the Sil River Canyon, Parador Santo Estevo is set within a beautiful monastery which was declared a Spanish National Historic-Artistic Monument in 1923. As a child, Esther regularly visited the monastery, playing inside its grand Romanesque, Gothic and Renaissance cloisters. When the time came for her to marry, she knew that she wanted this momentous occasion to take place in her childhood playground.
The same Claustro do Viveiro in which she had skipped in her youth played host to the romantic civil ceremony, which she attended dressed radiantly in a Rosa Clará designer dress and charming Gloria Ortiz shoes. Juan Carlos, meanwhile, wore an Argimiro Rodriguez suit and a mauve tie which perfectly complimented the bride's wedding bouquet.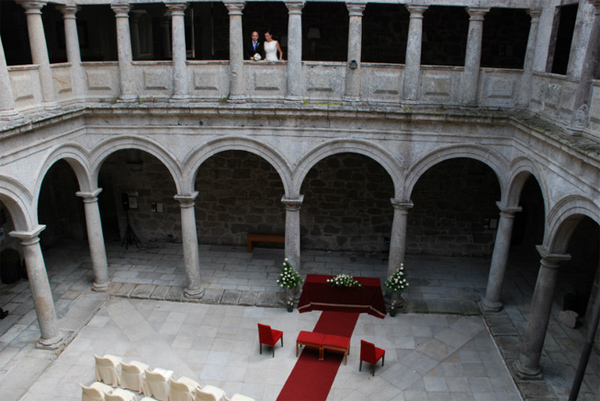 The Claustro de Viveiro where the civil ceremony was held
Lunch in the cloister
After the ceremony, the guests enjoyed glasses of cava and hearty laughs in the Claustro dos Bispos, where the cocktail was held.
The wedding party continued on to the Claustro dos Cabaleiros for a majestic lunch of crêpes stuffed with crab in saffron sauce; turbot in a bay leaf confit; potato and tomato pil pil; lime sorbet; beef tenderloin steak with potato cakes, cheese and asparagus; and desserts of fruit millefeuilles and Mirabelle biscuits. Exceptional regional wines accompanied the meal.
Later in the afternoon the happy couple set things off in the Salón dos Reis by dancing to Aerosmith's "I don't want to miss a thing." Guests danced the day away to the beats of a DJ, and were given gift-bottles of local orujo -a traditional Galician spirit- with which to remember the occasion.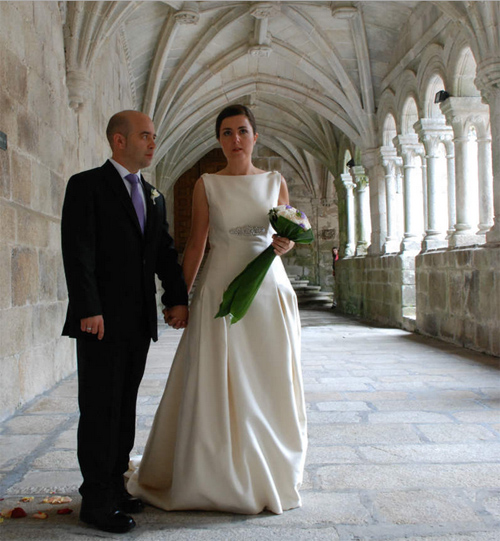 The newlyweds
Eager to plan your own nuptials in this striking location? Contact Parador Santo Estevo today!